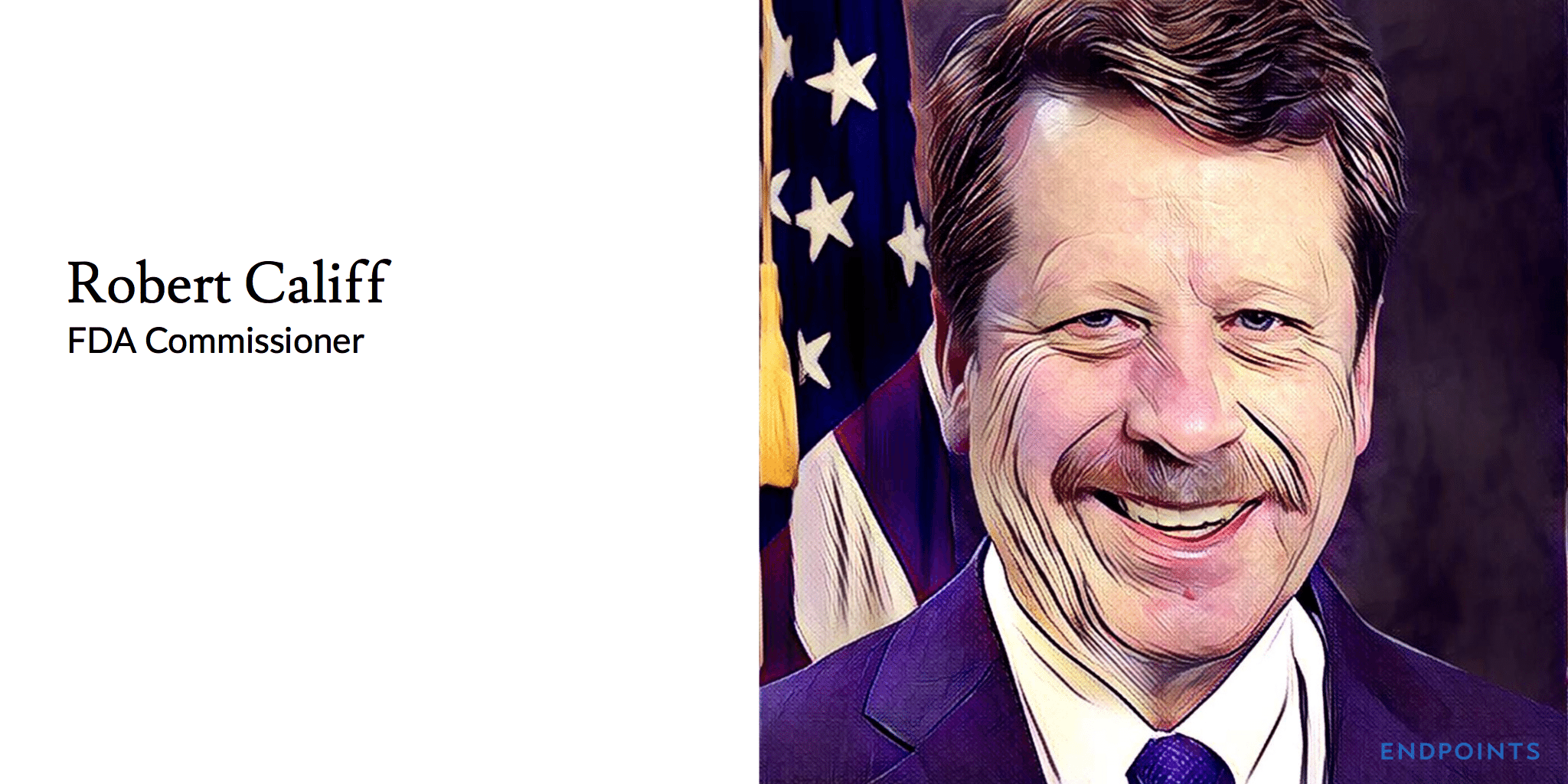 Clin­ton cam­paign staff: "We have start­ed the war with phar­ma!!"
Just one Tweet from Hillary Clin­ton drove biotech stocks down sharply last fall, the open­ing round in what would be a sav­age bear mar­ket for the in­dus­try. And her se­nior staffers in the cam­paign were deliri­ous.
Price goug­ing like this in the spe­cial­ty drug mar­ket is out­ra­geous. To­mor­row I'll lay out a plan to take it on. -H https://t.co/9Z0Aw7aI6h

— Hillary Clin­ton (@HillaryClin­ton) Sep­tem­ber 21, 2015
Clin­ton had jabbed Mar­tin Shkre­li hard for his de­ci­sion to jack up the price of Dara­prim by more than 5,000%, and the sharp, swift re­ac­tion on Wall Street to the mes­sage on drug prices was cheered by her se­nior pol­i­cy ad­vis­ers, ac­cord­ing to one of sev­er­al email ex­changes in­clud­ed in Wik­iLeaks hacked John Podes­ta files.

"FYI – We have start­ed the war with Phar­ma!!," ex­claimed Ann O'Leary re­gard­ing the press that fol­lowed. "Great!," replied out­side ad­vis­er Mandy Grun­wald.
A few weeks lat­er, though, Clin­ton strate­gist Jim Mar­go­lis was be­gin­ning to fret that Shkre­li hadn't caved on the price.

I'm a lit­tle ner­vous that we ran the spot and this dude is still stick­ing it to pa­tients. Has there been any fur­ther dis­cus­sion about this?
That wouldn't be the on­ly ex­change re­gard­ing Hillary Clin­ton's ad­ver­sar­i­al re­la­tion­ship with Big Phar­ma, which was care­ful­ly con­sid­ered in­side her cam­paign.
Last fall, as Hillary Clin­ton's cam­paign team was sound­ing out var­i­ous po­si­tions that would help high­light her stance on the phar­ma in­dus­try, the nom­i­na­tion of Robert Califf as FDA com­mis­sion­er pre­sent­ed a tempt­ing tar­get to at least one of her top ad­vis­ers.
A New York Times ar­ti­cle had raised the is­sue of Califf's ties to the in­dus­try, and O'Leary – a se­nior pol­i­cy ad­vis­er – saw it as a po­ten­tial open­ing for a po­lit­i­cal jab that would high­light Hillary Clin­ton's ea­ger­ness to stand up to Big Phar­ma, ac­cord­ing to one of the hacked emails that emerged in the John Podes­ta files re­leased by Wik­iLeaks.
O'Leary wrote: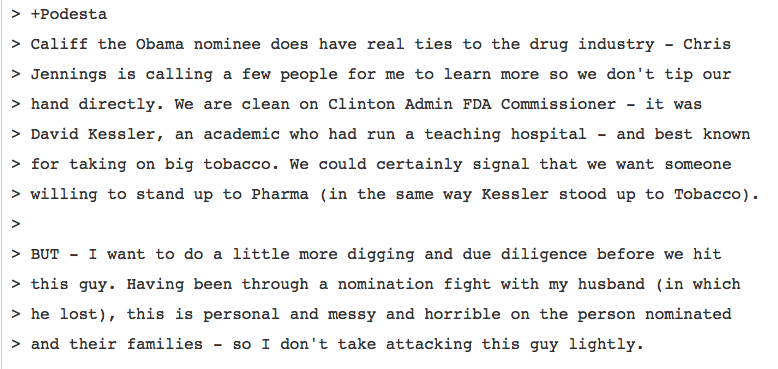 Califf the Oba­ma nom­i­nee does have re­al ties to the drug in­dus­try – Chris Jen­nings is call­ing a few peo­ple for me to learn more so we don't tip our hand di­rect­ly. We are clean on Clin­ton Ad­min FDA Com­mis­sion­er – it was David Kessler, an aca­d­e­m­ic who had run a teach­ing hos­pi­tal – and best known for tak­ing on big to­bac­co. We could cer­tain­ly sig­nal that we want some­one will­ing to stand up to Phar­ma (in the same way Kessler stood up to To­bac­co).

BUT – I want to do a lit­tle more dig­ging and due dili­gence be­fore we hit this guy. Hav­ing been through a nom­i­na­tion fight with my hus­band (in which he lost), this is per­son­al and messy and hor­ri­ble on the per­son nom­i­nat­ed and their fam­i­lies – so I don't take at­tack­ing this guy light­ly.
Clin­ton spokesman Bri­an Fal­lon not­ed that he liked the idea, not­ing that Joe Biden – a po­ten­tial con­tender for the nom­i­na­tion – would be re­quired to be in Califf's cor­ner.

Any up­date on this? As we con­sid­er fights that fit in­to the larg­er themes we are try­ing to pro­mote, this seems like a good fight to have.

Plus, the VP would be in a box of hav­ing to sup­port this nom­i­nee.
The email ex­change even­tu­al­ly pe­ters out, but it does un­der­score that Clin­ton all along in­tend­ed to help dis­tin­guish her can­di­da­cy by crit­i­ciz­ing the phar­ma in­dus­try, a po­si­tion that fell more nat­u­ral­ly in­to her lap when Mar­tin Shkre­li was be­ing pil­lo­ried for rais­ing the price of an old gener­ic drug more than 5,000%.
(Shehla Shakoor con­tributed to this sto­ry.)