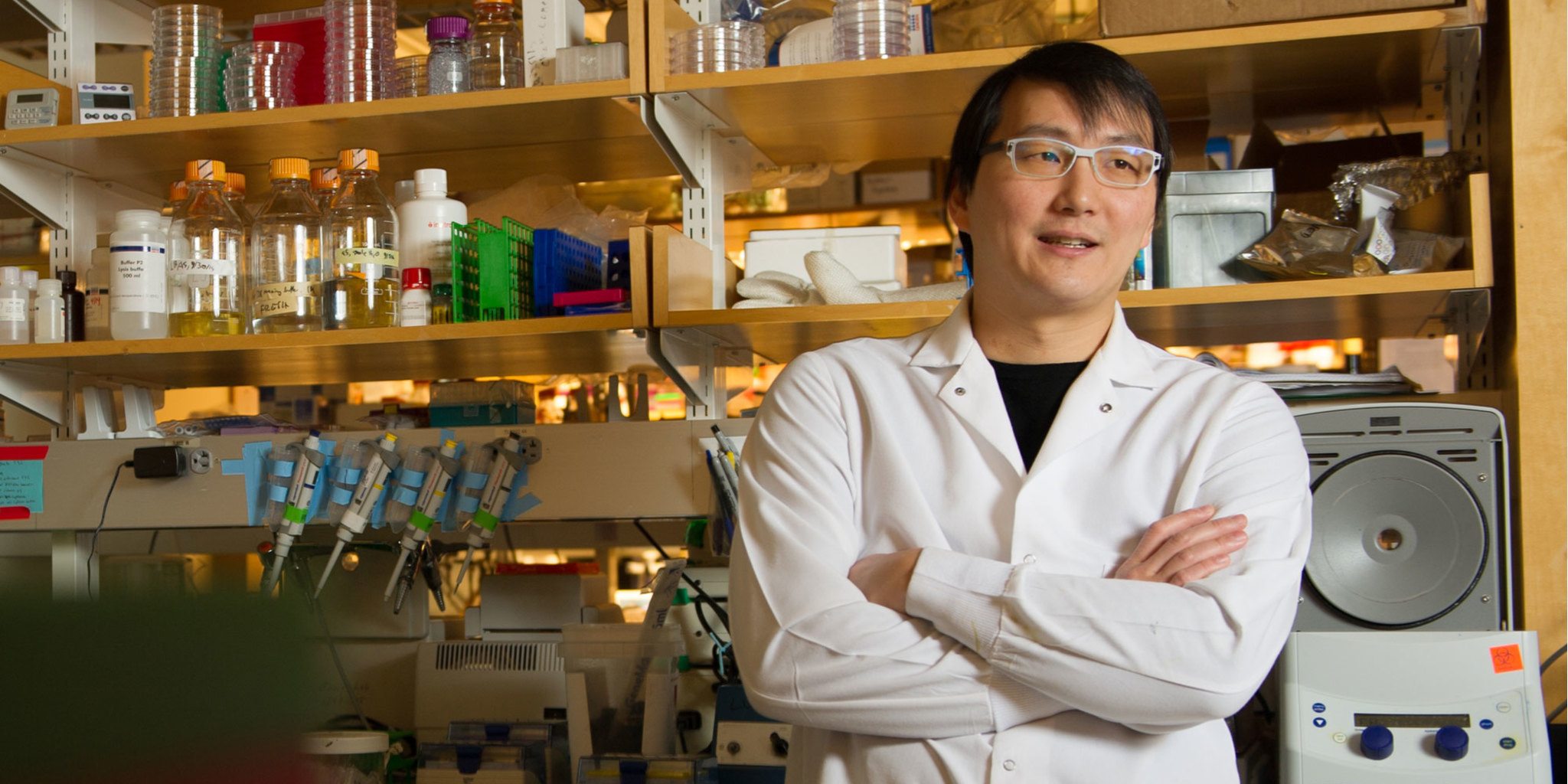 Com­put­er sci­ence and en­gi­neer­ing, meet drug R&D. MIT star Tim­o­thy Lu in­ter­twines tech­nolo­gies for an off­beat biotech launch
At 37, Tim­o­thy Lu's life and work has al­ready spanned sev­er­al sci­en­tif­ic dis­ci­plines and cul­tures. He's lived in Asia and the US, and af­ter gath­er­ing de­grees in elec­tri­cal en­gi­neer­ing and com­put­er sci­ence at MIT, he struck out to pick up his med­ical de­gree at Har­vard Med and then a PhD at the Har­vard-MIT Health Sci­ences and Tech­nol­o­gy Med­ical En­gi­neer­ing and Med­ical Physics Pro­gram.
Knit­ting that all to­geth­er at the Syn­thet­ic Bi­ol­o­gy Group at MIT, Lu has be­come one of the pi­o­neers in the field, tack­ling dis­ease by cre­at­ing a ge­net­ic cir­cuit pro­gram­ming plat­form that could one day start fix­ing the er­rant code in our ge­net­ics that trig­gers dis­ease.
Af­ter help­ing found a va­ri­ety of dif­fer­ent star­tups, Lu's fas­ci­na­tion with adap­tive ther­a­pies is push­ing him to launch a new biotech which is com­ing out for its first pub­lic bow af­ter rais­ing $53 mil­lion to cre­ate next-gen cell and gene ther­a­pies at a start­up dubbed Sen­ti Bio­sciences.
Lu is once again on the move, re­lo­cat­ing on sab­bat­i­cal to take the helm of the start­up in the Bay Area as its found­ing CEO. He's work­ing along­side co-founder Philip Lee, a bio­engi­neer­ing ex­pert with a Berke­ley PhD and an en­tre­pre­neur­ial record at Cel­lA­SIC, a mi­croflu­idics ven­ture which was snapped up by Mer­ck KGaA. Long­time men­tor and MIT pro­fes­sor Jim Collins — who helped found Syn­log­ic with Lu — is along for the ride. And cell en­gi­neer­ing ex­pert Wil­son Wong out of Boston Uni­ver­si­ty is al­so of­fer­ing in­put on the sci­ence.
"I've been work­ing in this area for quite a while," says Lu. "The field re­al­ly has evolved over the past 18 years. We are at the point where we can build fair­ly so­phis­ti­cat­ed ge­net­ic con­structs."
Fur­ther out on the time hori­zon, it may be pos­si­ble to one day cre­ate a net­work of dis­ease sen­sors that could trig­ger a re­sponse that would stop dis­ease be­fore it ever be­gins. But Lu and his team are acute­ly aware that they're in the prac­ti­cal prod­uct con­struc­tion phase, build­ing on ear­li­er work that, for in­stance, in­volved de­vel­op­ing an im­munomod­u­la­to­ry gene cir­cuit plat­form that "en­ables tu­mor-spe­cif­ic ex­pres­sion of im­munos­tim­u­la­tors" which could over­come the lim­i­ta­tions of anti­gen dri­ven ther­a­pies.
Lu stress­es that he has his eye on fil­ing an IND in the not too dis­tant fu­ture. Along the way he'd like to at­tract phar­ma part­ners. And the core team of 20 will now ex­pand to close to 40 staffers.
"Our goal is to pur­sue clin­i­cal ap­pli­ca­tions, move to­ward an IND," he says. And they have the fund­ing to get a lead can­di­date and get close to en­ter­ing the clin­ic in the next 2.5 to 3 years.
The team brings to­geth­er sci­en­tists and ad­vi­sors that al­so span nu­mer­ous fields, com­ing from MIT, the Wyss In­sti­tute at Har­vard, MD An­der­son, Boston Uni­ver­sityand ETH Zurich. His syn­di­cate al­so re­flects an un­usu­al blend of bio­phar­ma and some tech in­vestors you usu­al­ly don't find mix­ing in the drug de­vel­op­ment world. New En­ter­prise As­so­ci­ates led the round, with par­tic­i­pa­tion from 8VC, Am­gen Ven­tures, Pear Ven­tures, Lux Cap­i­tal, Men­lo Ven­tures, Allen & Com­pa­ny, Nest.Bio, Omega Funds, Good­man Cap­i­tal, and Life­Force Cap­i­tal.
"De­sign­ing ge­net­ic cir­cuits is not easy," Lu tells me. "It re­quires a lot of en­gi­neer­ing and plat­form build­ing to build, test and learn." The au­toma­tion and com­pu­ta­tion­al tools need­ed to make it work was the kind of sto­ry that res­onat­ed with tech in­vestors, he adds.
In the mean­time, his broth­er Jef­frey is al­so at work in the Bay Area build­ing En­gine Bio­sciences, which will fo­cus more on nat­ur­al ge­net­ic cir­cuits while Tim­o­thy Lu stays fo­cused more on syn­thet­ic tech.
---
Im­age: Tim­o­thy Lu. MIT CAM­PAIGN FOR A BET­TER WORLD