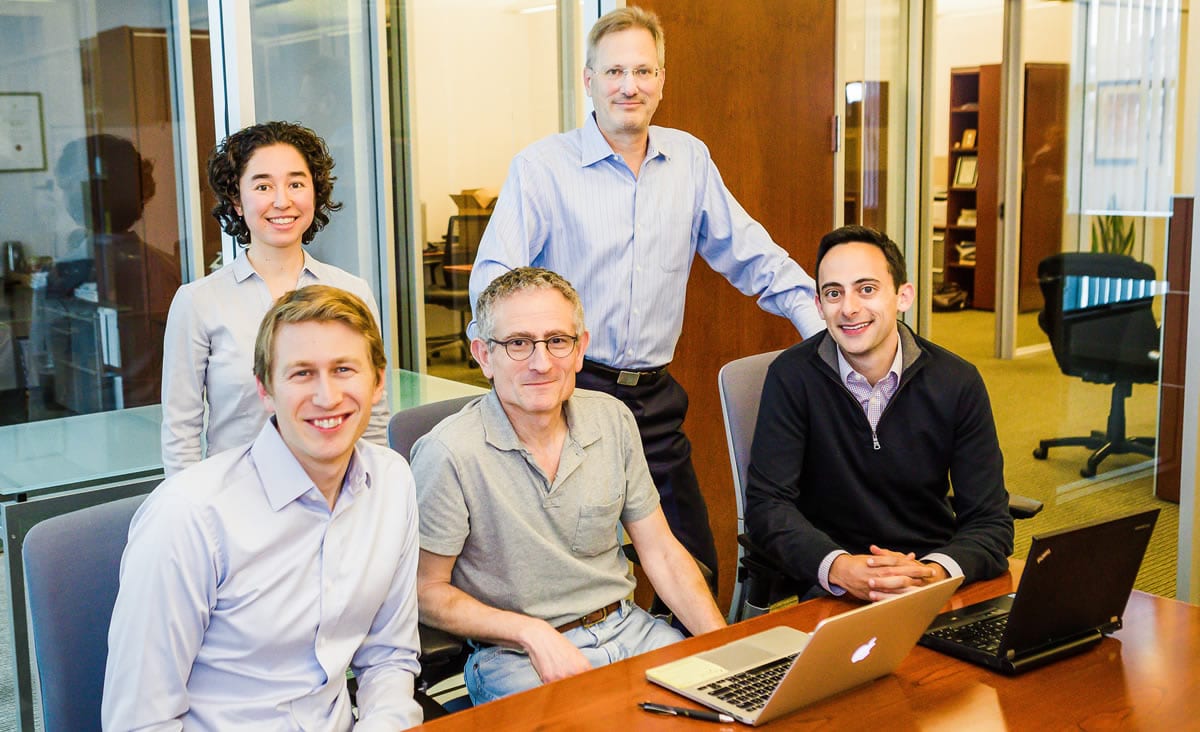 The venBio team. Front row, L-R: Aaron Royston, Corey Goodman, Richard Gaster; Back row, L-R: Yvonne Yamanaka, Robert Adelman
UP­DAT­ED: Corey Good­man's ven­Bio clos­es lat­est VC fund — this time to the tune of $550M — with a dozen or more in­vest­ments on deck
Some of the high­est-pro­file VCs on the West Coast have cob­bled to­geth­er an­oth­er im­pres­sive fund, one that has them more than halfway to a bil­lion dol­lars.
The San Fran­cis­co-based ven­Bio has closed its fourth life sci­ences fund at about $550 mil­lion, the firm an­nounced Thurs­day morn­ing, led by man­ag­ing part­ners Corey Good­man, Robert Adel­man, Aaron Roys­ton and Richard Gaster. ven­Bio is look­ing to sup­port be­tween 12 to 15 com­pa­nies with this fund, Good­man said in a state­ment, aim­ing to pro­vide "stronger sup­port for our port­fo­lio com­pa­nies in crossover rounds and at IPO."
Thurs­day's fund came in ex­ceed­ing its ini­tial tar­get, Roys­ton told End­points News, which gives ven­Bio more flex­i­bil­i­ty to get deeply in­volved in their port­fo­lio com­pa­nies. That's the biggest dif­fer­en­ti­at­ing fac­tor be­tween ven­Bio and oth­er VC firms, he said.
"There's a ton of cap­i­tal out there, and so for man­age­ment teams who just want cap­i­tal, there's a lot of op­tions and prob­a­bly a lot of cheap op­tions," Roys­ton told End­points. "The rea­son that some­one walk in­to ven­Bio's door to dis­cuss a cap­i­tal in­vest­ment is we're bring­ing some­thing to the ta­ble be­sides mon­ey."
Roys­ton added that ven­Bio's track record of team­build­ing, de­sign­ing clin­i­cal tri­als and un­der­stand­ing dif­fer­ent com­pa­ny's endgames spurred the over­sub­scrip­tion. They're fo­cus­ing on a sim­i­lar num­ber of in­vest­ments with this fourth raise, which comes in with about 40% more cash than its last life sci­ences fund.
The fund clos­ing al­so came with a pro­mo­tion for Gaster to the man­ag­ing part­ner lev­el.
Ven­Bio is no stranger to fund­ing promi­nent biotechs. Since its found­ing a decade ago, Good­man and his col­leagues have helped steer com­pa­nies like ALX On­col­o­gy to nine-fig­ure fundrais­es and IPOs. The firm al­so led in­vest­ment rounds in Aragon and Ser­agon, ac­quired by J&J and Roche, re­spec­tive­ly.
Since De­cem­ber, ALX has been deal­ing with a par­tial clin­i­cal hold for two Phase II stud­ies in ad­vanced head and neck squa­mous cell car­ci­no­ma. Reg­u­la­tors al­lowed the tri­als to be­gin but in­struct­ed ALX to cap to­tal en­roll­ment at 50 pa­tients, and can in­crease the cap once a non-clin­i­cal safe­ty study has been com­plet­ed. That study is cur­rent­ly un­der­way.
Over­all, ven­Bio says it's led 34 to­tal in­vest­ment rounds and raised near­ly $1.5 bil­lion over the 10-year span. Four of its port­fo­lio com­pa­nies have pushed drugs past the FDA fin­ish line, Adel­man said in a state­ment, with an­oth­er sev­en ex­per­i­men­tal drugs show­ing "promis­ing" ef­fi­ca­cy in late-stage tri­als.
Good­man him­self has been busy in the last year or so, and not just with ALX. Last De­cem­ber, he launched Tal­lac Ther­a­peu­tics with ALX's now-for­mer CSO Hong Wan in or­der to give a sep­a­rate can­cer-fight­ing idea its own at­ten­tion. Had the pro­gram stayed with ALX, the biotech like­ly would have be­come too crowd­ed, Good­man told End­points at the time.
Tal­lac, which got start­ed with a $62M Se­ries A, is aim­ing to de­vel­op con­ju­gates of an­ti­bod­ies and toll-like re­cep­tor ag­o­nists in the hopes of gen­er­at­ing in­nate and adap­tive im­mune re­spons­es in sol­id tu­mors. Their lead pro­gram is in IND-en­abling stud­ies, and they've al­so part­nered with ALX on an­oth­er can­di­date still in the pre­clin­i­cal stage.
Oth­er com­pa­nies ven­Bio has fund­ed in­clude Labrys Bi­o­log­ics, Au­rinia, Apel­lis, Turn­ing Point Ther­a­peu­tics, Pre­ci­sion Bio­sciences, Akero, Har­mo­ny Bio­sciences and Phar­varis.