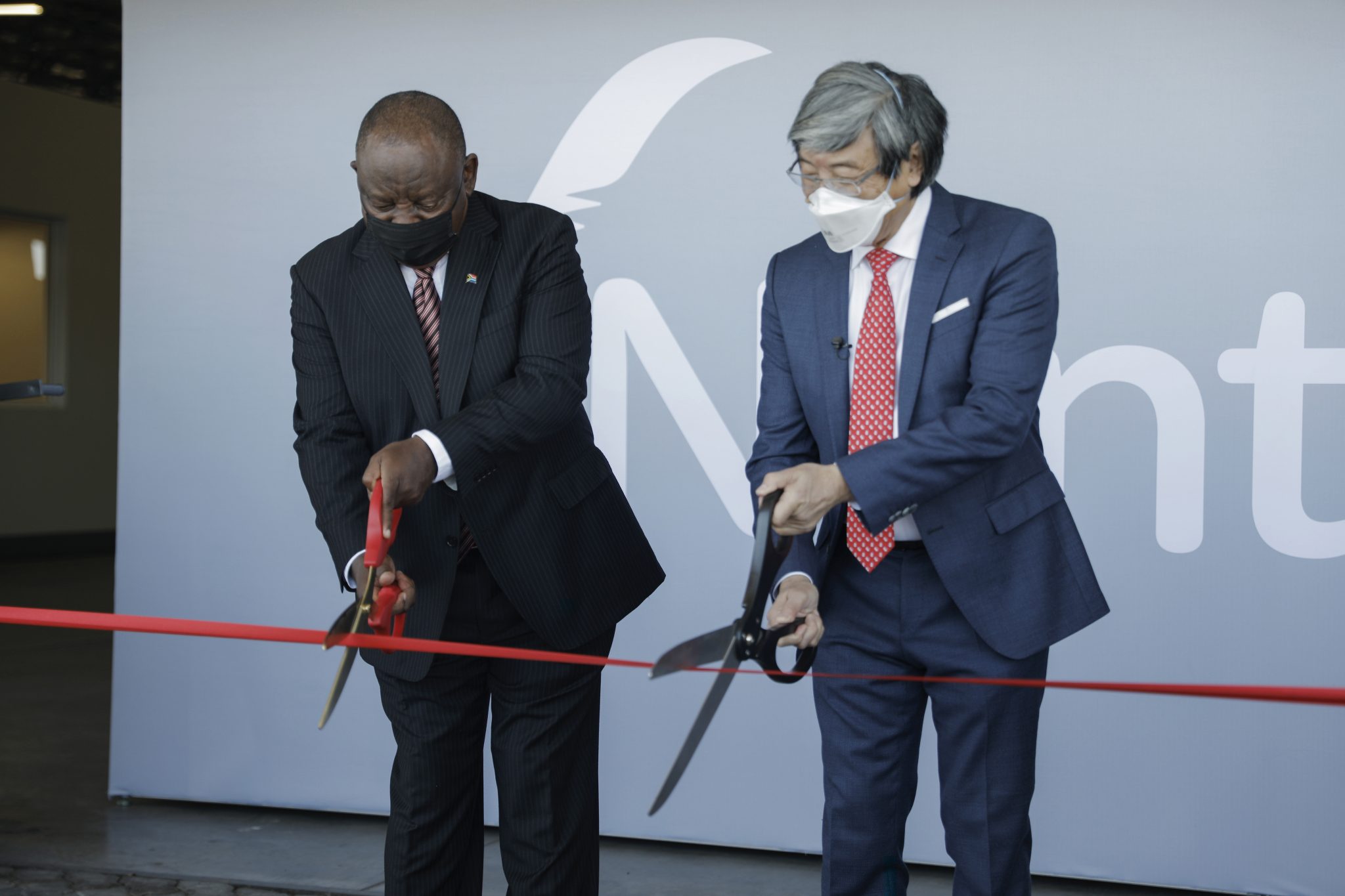 South African President Cyril Ramaphosa (L) and founder of NantWorks Patrick Soon-Shiong, right, cut the ribbon during the launch of NantSA, the future vaccine manufacturing campus in Brackengate, Cape Town, South Africa (Gianluigi Guercia/Pool Photo via AP)
Covid-19 man­u­fac­tur­ing roundup: New pro­duc­tion site opens in Africa; Sen­a­tor calls for test prices to be slashed
It looks like do­mes­tic man­u­fac­tur­ing of Covid-19 vac­cines is a step clos­er to re­al­i­ty for Africans af­ter a rib­bon cut­ting cer­e­mo­ny at the NantSA man­u­fac­tur­ing fa­cil­i­ty in Cape Town.
Patrick Soon-Sh­iong, a US bil­lion­aire who was born in South Africa, and Pres­i­dent Cyril Ramaphosa cut the rib­bon yes­ter­day at a plant large­ly fund­ed by Soon-Sh­iong.
"The COVID-19 pan­dem­ic has re­vealed the ex­tent of Africa's health chal­lenges. The pan­dem­ic has re­vealed the huge dis­par­i­ties that ex­ist with­in and be­tween coun­tries in ac­cess to qual­i­ty health­care, med­i­cines, di­ag­nos­tics and vac­cines," Ramaphosa said in a speech. "At the same time, the pan­dem­ic has re­vealed the depth of sci­en­tif­ic knowl­edge, ex­per­tise and ca­pac­i­ty on our con­ti­nent. It has shown what we are ca­pa­ble of when we work to­geth­er to mo­bi­lize all our re­sources to con­front a com­mon chal­lenge."
The launch was al­so for the start of Ac­cel­er­ate Africa's Ac­cess to Ad­vanced Health­care coali­tion. That aims to man­u­fac­ture a bil­lion dos­es of the vac­cine by 2025 and es­tab­lish an­oth­er man­u­fac­tur­ing site in sub-Sa­ha­ran Africa.
Even­tu­al­ly, the Cape Town site will al­so man­u­fac­ture drugs for can­cer treat­ments and oth­er phar­ma­ceu­ti­cals.
Ram­pa­hosa has pushed heav­i­ly for drug man­u­fac­tur­ers to waive in­tel­lec­tu­al prop­er­ty rights so a larg­er num­ber of coun­tries can place an or­der for vac­cines.
Africa has been left be­hind in many pub­lic health ef­forts, and the Covid-19 pan­dem­ic is no dif­fer­ent. At the end of Ju­ly, the first J&J shots pro­duced in South Africa en­tered arms — but those arms were not lo­cat­ed on the con­ti­nent but in Eu­rope as mil­lions of dos­es have been ex­port­ed.
Sen­a­tor calls for test prices to be slashed
Just days af­ter the US gov­ern­ment rolled out a plan to pro­vide Amer­i­cans with up to four free rapid anti­gen Covid-19 tests through the postal ser­vice, Sen. Ed Markey, D-MA. is call­ing for test man­u­fac­tur­ers and re­tail­ers to cut back on costs, and make the tests more af­ford­able.
Markey wrote to re­tail­ers like Ama­zon, CVS and Wal­mart, as well as a dozen man­u­fac­tur­ers, in­clud­ing Ab­bott, ask­ing for price in­for­ma­tion. In the let­ter, he high­lights a malar­ia test that is made by Ab­bott that sells for just 20 cents each, and says that the tech­nol­o­gy is sim­i­lar enough to sug­gest a low­er man­u­fac­tur­ing cost of the Covid-19 anti­gen tests.
"As we face an un­prece­dent­ed wave of COVID cas­es, man­u­fac­tur­ers and re­tail­ers must do more to en­sure con­sumers see rea­son­able prices for at-home tests," Markey wrote. "Emer­gency rooms, in­ten­sive care units, and health sys­tems are over­whelmed across the coun­try due to the surge of COVID-19 cas­es. Ex­pand­ed ac­cess to af­ford­able at-home test­ing can help to al­le­vi­ate this strain on our health sys­tem."
The tests can be made for as lit­tle as $2 each, ac­cord­ing to Mo­log­ic, a UK test mak­er.
Ed­i­tor's Note: For more news and ex­clu­sive cov­er­age from the man­u­fac­tur­ing beat, sub­scribe to the End­points Man­u­fac­tur­ing week­ly re­port in your read­er pro­file.