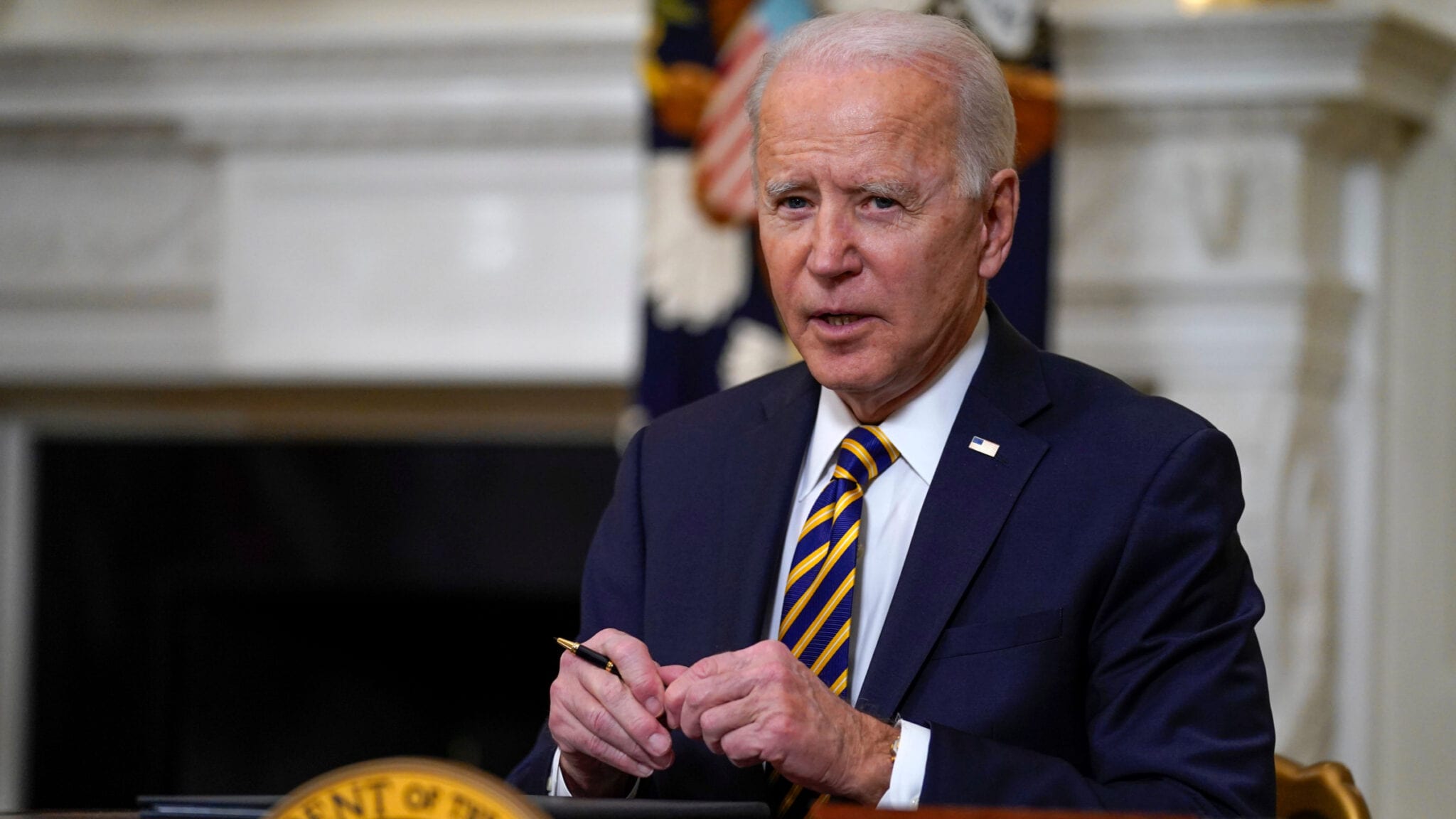 Joe Biden (Carolyn Kaster, AP Images)
Covid-19 roundup: Biden in­vests $1.7B to ad­dress Covid vari­ants; EU puts faith in Pfiz­er with new vac­cine deals
The Biden ad­min­is­tra­tion said Fri­day that it'll pump $1.7 bil­lion in­to var­i­ous pro­grams to ad­dress Covid-19 vari­ants as the orig­i­nal strain of Covid-19 makes up on­ly about half of all US cas­es to­day.
Most of those new funds, $1 bil­lion in to­tal, will go to ex­pand ge­nom­ic se­quenc­ing so the CDC, states and oth­er ju­ris­dic­tions can im­prove their ca­pac­i­ty to iden­ti­fy Covid mu­ta­tions and mon­i­tor the cir­cu­la­tion of vari­ants. Back in Feb­ru­ary, US labs were on­ly se­quenc­ing about 8,000 Covid-19 strains per week, al­though the rate of se­quenc­ing has in­creased sub­stan­tial­ly since then, the ad­min­is­tra­tion said.
In ad­di­tion, the ad­min­is­tra­tion will spend $400 mil­lion to launch six new Cen­ters of Ex­cel­lence in Ge­nom­ic Epi­demi­ol­o­gy, which will work in part­ner­ship with state health de­part­ments and aca­d­e­m­ic in­sti­tu­tions. "For ex­am­ple, the part­ner­ships could fo­cus on de­vel­op­ing new ge­nom­ic sur­veil­lance tools to bet­ter track pathogens of pub­lic health in­ter­est with the ob­jec­tive of de­vel­op­ing sur­veil­lance meth­ods to be used more wide­ly in the pub­lic health sys­tem. Ar­eas of fo­cus will like­ly in­clude bioin­for­mat­ic work­flows and the crit­i­cal in­te­gra­tion of ge­nom­ic and epi­demi­o­log­ic da­ta," the ad­min­is­tra­tion said.
An­oth­er $300 mil­lion will go to­ward build­ing and sup­port­ing a na­tion­al bioin­for­mat­ics in­fra­struc­ture to bet­ter con­nect the dots be­tween how pathogens spread and mu­tate. This fund­ing al­so will sup­port train­ing to in­crease se­quenc­ing in clin­i­cal set­tings and ex­pand CDC's Bioin­for­mat­ics Fel­low­ship pro­gram. — Zachary Bren­nan
EU adds 50m new Pfiz­er dos­es
As months of ten­sion be­tween As­traZeneca and the EU fi­nal­ly boil over, EC pres­i­dent Ur­su­la von der Leyen has an­nounced the bloc is now putting its faith in Pfiz­er/BioN­Tech.
The EC has reached an agree­ment with Pfiz­er and BioN­Tech to speed up the de­liv­ery of their vac­cine to the bloc, von der Leyen said in a state­ment Wednes­day. An ad­di­tion­al 50 mil­lion dos­es are set to be de­liv­ered in Q2, which were ini­tial­ly sched­uled for de­liv­ery in Q4. That'll bring the bloc's to­tal Q2 sup­ply to 250 mil­lion dos­es of the Pfiz­er/BioN­Tech jab.
The EC is al­so strik­ing a third con­tract with the com­pa­nies for 1.8 bil­lion more dos­es be­tween 2021 and 2023.
"I want to thank BioN­Tech-Pfiz­er," von der Leyen said. "It has proven to be a re­li­able part­ner. It has de­liv­ered on its com­mit­ments, and it is re­spon­sive to our needs."
Ten­sions flared be­tween the EU and As­traZeneca back in Feb­ru­ary, when an EU of­fi­cial said the com­pa­ny would miss its sup­ply tar­get by about half. CEO Pas­cal So­ri­ot said the con­tracts are not legal­ly bind­ing due to a "best ef­fort" clause in the text. But in March, Italy blocked the de­liv­ery of about 250,000 dos­es of the As­traZeneca/Ox­ford vac­cine to Aus­tralia — the first such in­ter­ven­tion in vac­cine ex­ports af­ter the EU in­tro­duced new rules gov­ern­ing such ship­ments in late Jan­u­ary.
Since then, a list of coun­tries have paused the roll­out of As­traZeneca's vac­cine due to re­ports of blood clots. Last week, the EMA ac­knowl­edged a link be­tween the jab and rare but some­times fa­tal blood clots, sug­gest­ing they should be list­ed as a side ef­fect.
Von der Leyen said on Wednes­day:
At a cer­tain point in time, we might need boost­er jabs to re­in­force and pro­long im­mu­ni­ty; and if es­cape-vari­ants oc­cur, we will need to de­vel­op vac­cines that are adapt­ed to new vari­ants; and we will need them ear­ly and in suf­fi­cient quan­ti­ties. Hav­ing this in mind we need to fo­cus on tech­nolo­gies that have proven their worth. mR­NA vac­cines are a clear case in point.
Pfiz­er CEO Al­bert Bourla says a boost­er shot could be need­ed in near fu­ture — re­port
As coun­tries strug­gle to get vac­cines in arms, Pfiz­er CEO Al­bert Bourla says it's like­ly a third dose will be need­ed in the next six to 12 months.
Bourla told CN­BC's Bertha Coombs on April 1 that in ad­di­tion to a boost­er dose in the near fu­ture, it's pos­si­ble peo­ple will need to get vac­ci­nat­ed against Covid-19 an­nu­al­ly, much like the sea­son­al flu. The in­ter­view wasn't made pub­lic un­til Thurs­day.
This is on par with what Mod­er­na CEO Stéphane Ban­cel told End­points News ear­li­er this week: Be­cause the virus is like­ly to mu­tate very quick­ly in the next cou­ple years, there may be a need for "sev­er­al boosts," es­pe­cial­ly for peo­ple at high risk.
"We think over time, maybe a boost per year might be enough, es­pe­cial­ly if com­bined with your flu boosts," Ban­cel said.
Mod­er­na re­leased pre­clin­i­cal da­ta this week sug­gest­ing its vari­ant-spe­cif­ic boost­ers pro­duced a suf­fi­cient im­mune re­sponse against con­cern­ing vari­ants.
Ear­li­er this month, Pfiz­er said its BioN­Tech-part­nered jab demon­strat­ed "strong pro­tec­tion" six months af­ter the sec­ond dose, with an over­all ef­fi­ca­cy rate of 91.3% and an over 95% ef­fi­ca­cy rate against se­vere dis­ease. Mod­er­na said its own up­dat­ed re­view con­firms the jab is more than 90% ef­fec­tive against all cas­es, and over 95% ef­fec­tive against se­vere cas­es.
Take­da's Fi­razyr flops I-SPY tri­al with crit­i­cal­ly ill Covid-19 pa­tients
An­oth­er day, an­oth­er re­pur­posed Covid-19 treat­ment fail­ure.
Quan­tum Leap Health­care Col­lab­o­ra­tive is drop­ping Take­da's Fi­razyr (icat­i­bant) from its I-SPY tri­al af­ter a da­ta mon­i­tor­ing com­mit­tee con­clud­ed that it had a low prob­a­bil­i­ty of re­duc­ing pa­tients' time to re­cov­ery or mor­tal­i­ty when added to razuprotafib and apremi­last.
Re­searchers not­ed no safe­ty con­cerns, Quan­tum Leap said in a state­ment.
The I-SPY Tri­als were de­signed to rapid­ly screen promis­ing ex­per­i­men­tal Covid-19 treat­ments and iden­ti­fy the most ef­fec­tive. Fi­razyr, ap­proved for acute at­tacks of hered­i­tary an­gioede­ma (HAE), was giv­en to pa­tients every 8 hours for 6 days, in com­bi­na­tion with the "back­bone" ther­a­py. Af­ter all pa­tients reached a 28-day fol­low-up, da­ta sug­gest­ed there was a low prob­a­bil­i­ty that the drug made a dif­fer­ence com­pared to the con­trol arm.
"While this drug did not meet our high bar for im­prov­ing time to re­cov­ery in this pop­u­la­tion, the I-SPY COVID Tri­al was suc­cess­ful in quick­ly achiev­ing its ob­jec­tive of rul­ing out a ben­e­fi­cial ef­fect of icat­i­bant on the pri­ma­ry end­point of time to re­cov­ery," Derek Rus­sell, co-chap­er­one of the icat­i­bant arm in the I-SPY tri­al, said in a state­ment.
"The study will con­tin­ue to eval­u­ate oth­er agents with the po­ten­tial to im­prove the grave out­comes of this pop­u­la­tion," he added.
For a look at all End­points News coro­n­avirus sto­ries, check out our spe­cial news chan­nel.