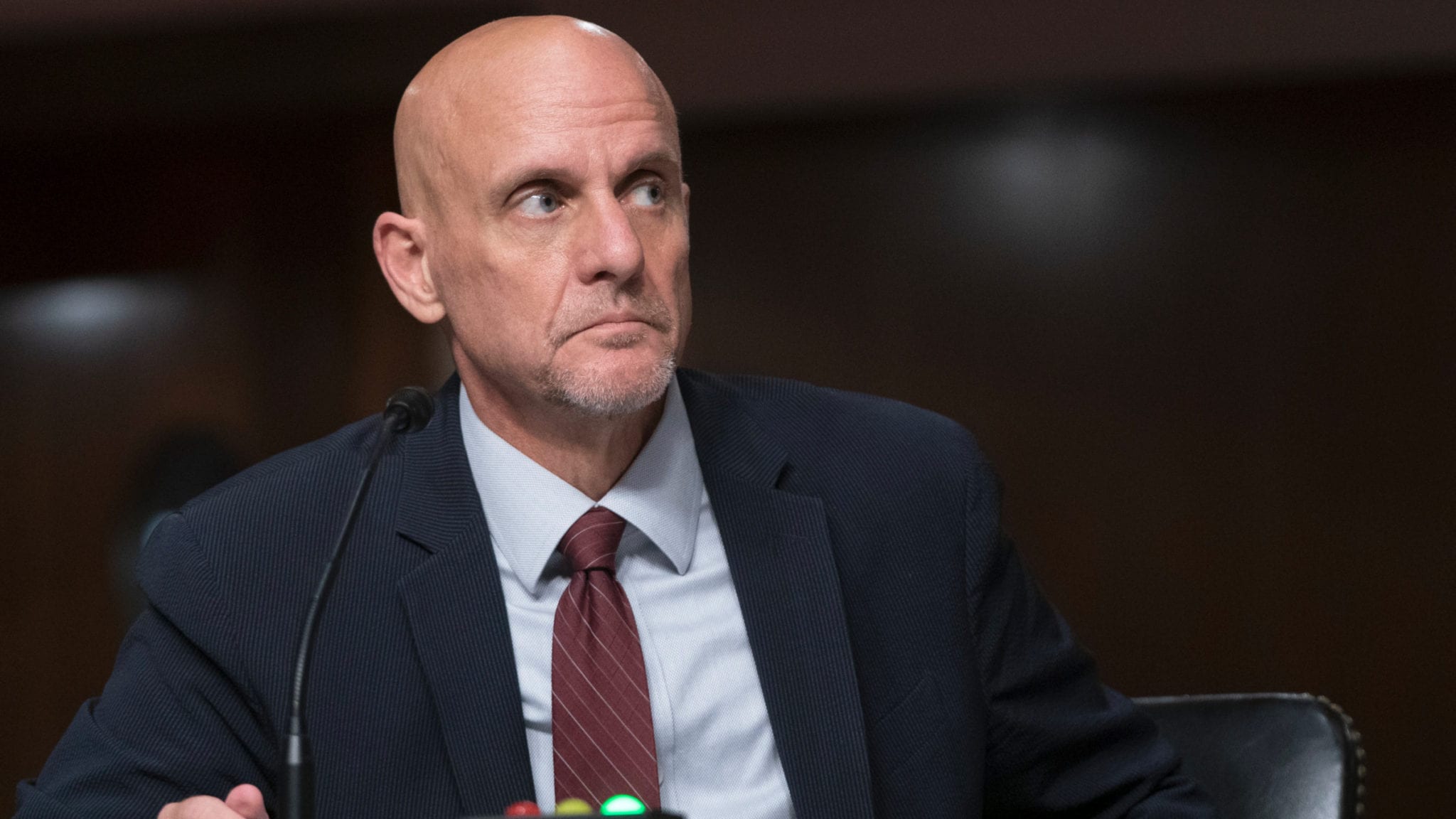 FDA commissioner Stephen Hahn (AP Images)
Covid-19 roundup: FDA all but re­jects changes to au­tho­rized vac­cine plans; Is­rael ap­proves Mod­er­na's vac­cine as coun­tries race to get shots in arms
Just one day af­ter OWS chief Mon­cef Slaoui said he had pushed the FDA to con­sid­er halv­ing Mod­er­na's Covid-19 vac­cine dos­es to coun­ter­act dis­tri­b­u­tion lags, the agency poured cold wa­ter on the no­tion Mon­day night, as well as on oth­er po­ten­tial al­ter­na­tives.
The idea of chang­ing au­tho­rized vac­cine dos­es or sched­ules for any Covid-19 vac­cine is "pre­ma­ture" and not sup­port­ed by avail­able da­ta, FDA chief Stephen Hahn and CBER di­rec­tor Pe­ter Marks said in a joint state­ment. Hahn said reg­u­la­tors have been fol­low­ing the re­cent de­bates and news re­ports about try­ing to get more peo­ple vac­ci­nat­ed more quick­ly, but not­ed al­ter­ing any au­tho­rized pro­ce­dure amounts to a "sig­nif­i­cant risk" for pub­lic health.
While the pair said the dis­cus­sions raised rea­son­able ques­tions, none of the pro­pos­als are cur­rent­ly backed by the avail­able ev­i­dence. In ad­di­tion to cut­ting Mod­er­na's vac­cine dose in half, po­ten­tial ideas in­clud­ed ex­tend­ing the time be­tween dos­es, re­duc­ing the num­ber of dos­es and mix­ing and match­ing dif­fer­ent vac­cines.
Re­gard­ing the half-dose or sin­gle-dose vac­cine plans, Hahn and Marks point­ed to the lack of un­der­stand­ing the "depth and du­ra­tion" of pro­tec­tion that might pro­vide.
"There is some in­di­ca­tion that the depth of the im­mune re­sponse is as­so­ci­at­ed with the du­ra­tion of pro­tec­tion pro­vid­ed," they said. "If peo­ple do not tru­ly know how pro­tec­tive a vac­cine is, there is the po­ten­tial for harm be­cause they may as­sume that they are ful­ly pro­tect­ed when they are not, and ac­cord­ing­ly, al­ter their be­hav­ior to take un­nec­es­sary risks."
When it comes to de­lay­ing the sec­ond dos­es of vac­cines, the duo ap­peared to re­fer to re­ports claim­ing that Pfiz­er and BioN­Tech's vac­cine may pro­vide some pro­tec­tion af­ter just one shot. But they not­ed that with­in Pfiz­er's late-stage tri­al, on­ly a small per­cent­age of vol­un­teers — about 2% — did not re­ceive the sec­ond dose at the pre­scribed three-week in­ter­val, and those in­di­vid­u­als were on­ly fol­lowed for a short pe­ri­od of time. In Mod­er­na's Phase III study, rough­ly 8% of par­tic­i­pants got their sec­ond shot lat­er than the four-week mark.
"We can­not con­clude any­thing de­fin­i­tive about the depth or du­ra­tion of pro­tec­tion af­ter a sin­gle dose of vac­cine from the sin­gle dose per­cent­ages re­port­ed by the com­pa­nies," the state­ment reads.
The FDA's state­ment comes af­ter Slaoui told Face the Na­tion on Sun­day that he would be in fa­vor of slash­ing the Mod­er­na vac­cine dose from 100 μg to 50 μg in or­der to al­low more peo­ple ac­cess to the jabs. He had cit­ed da­ta from the biotech's clin­i­cal tri­als that showed adults aged 18 to 55 who re­ceived the low­er dos­es showed an "iden­ti­cal im­mune re­sponse" com­pared to the high­er lev­el.
Com­pli­cat­ing mat­ters fur­ther was the UK's de­ci­sion to de­lay the sec­ond dose of the Pfiz­er/BioN­Tech and As­traZeneca vac­cines — the lat­ter of which is not yet au­tho­rized in the US.
Vac­cine roll­out has proved chal­leng­ing and is lag­ging be­hind ini­tial fed­er­al pro­jec­tions, with on­ly 4.2 mil­lion Amer­i­cans re­ceiv­ing their first shots as of Sat­ur­day, per the CDC. Health of­fi­cials had aimed for 20 mil­lion dos­es ad­min­is­tered by the end of 2020, but the CDC's num­bers are like­ly high­er due to re­port­ing lags. — Max Gel­man
Is­rael ap­proves Mod­er­na's vac­cine as coun­tries race to get shots in arms
Is­rael has be­come the third coun­try to au­tho­rize Mod­er­na's mR­NA Covid-19 vac­cine, be­hind the US and Cana­da.
The coun­try's Min­istry of Health au­tho­rized the vac­cine on Mon­day, based on a rolling sub­mis­sion of da­ta in­clud­ing an analy­sis from a piv­otal Phase III study an­nounced on Nov. 30, ac­cord­ing to Mod­er­na. Is­rael's MOH has se­cured 6 mil­lion dos­es, with the first de­liv­er­ies ex­pect­ed short­ly.
"To­day's au­tho­riza­tion is a land­mark mo­ment in our com­pa­ny's his­to­ry and in the glob­al fight against COVID-19," Mod­er­na CEO Stéphane Ban­cel said in a state­ment. " We hope to con­tin­ue to see au­tho­riza­tions in ad­di­tion­al mar­kets in the com­ing days, weeks and months," he added lat­er.
Mod­er­na's vac­cine can­di­date is cur­rent­ly un­der reg­u­la­to­ry re­view in the EU, Sin­ga­pore, Switzer­land and the UK. The EMA's com­mit­tee for hu­man med­i­cines (CHMP) met on Mon­day to dis­cuss the vac­cine, but the agency tweet­ed that the dis­cus­sion has not con­clud­ed and will con­tin­ue on Wednes­day.
EMA's com­mit­tee for hu­man med­i­cines (CHMP) dis­cus­sion on COVID-19 vac­cine Mod­er­na has not con­clud­ed to­day. It will con­tin­ue on Wednes­day 6th Jan­u­ary 2021. No fur­ther com­mu­ni­ca­tion will be is­sued to­day by EMA.

— EU Med­i­cines Agency (@EMA_News) Jan­u­ary 4, 2021
Back in De­cem­ber, the Eu­ro­pean Com­mis­sion ex­er­cised an op­tion to pur­chase 80 mil­lion ad­di­tion­al dos­es of Mod­er­na's shot, bring­ing its com­mit­ment to 160 mil­lion dos­es. The US gov­ern­ment struck a deal about a week pri­or for an ex­tra 100 mil­lion dos­es, dou­bling the amount of vac­cine they'll re­ceive from Mod­er­na next year.
Mod­er­na has said their jab like­ly pro­tects against a new vari­ant of the coro­n­avirus de­tect­ed in the UK and in Col­orado, which sci­en­tists be­lieve is more con­ta­gious. The com­pa­ny is run­ning ad­di­tion­al tests to con­firm. — Nicole De­Feud­is
For a look at all End­points News coro­n­avirus sto­ries, check out our spe­cial news chan­nel.