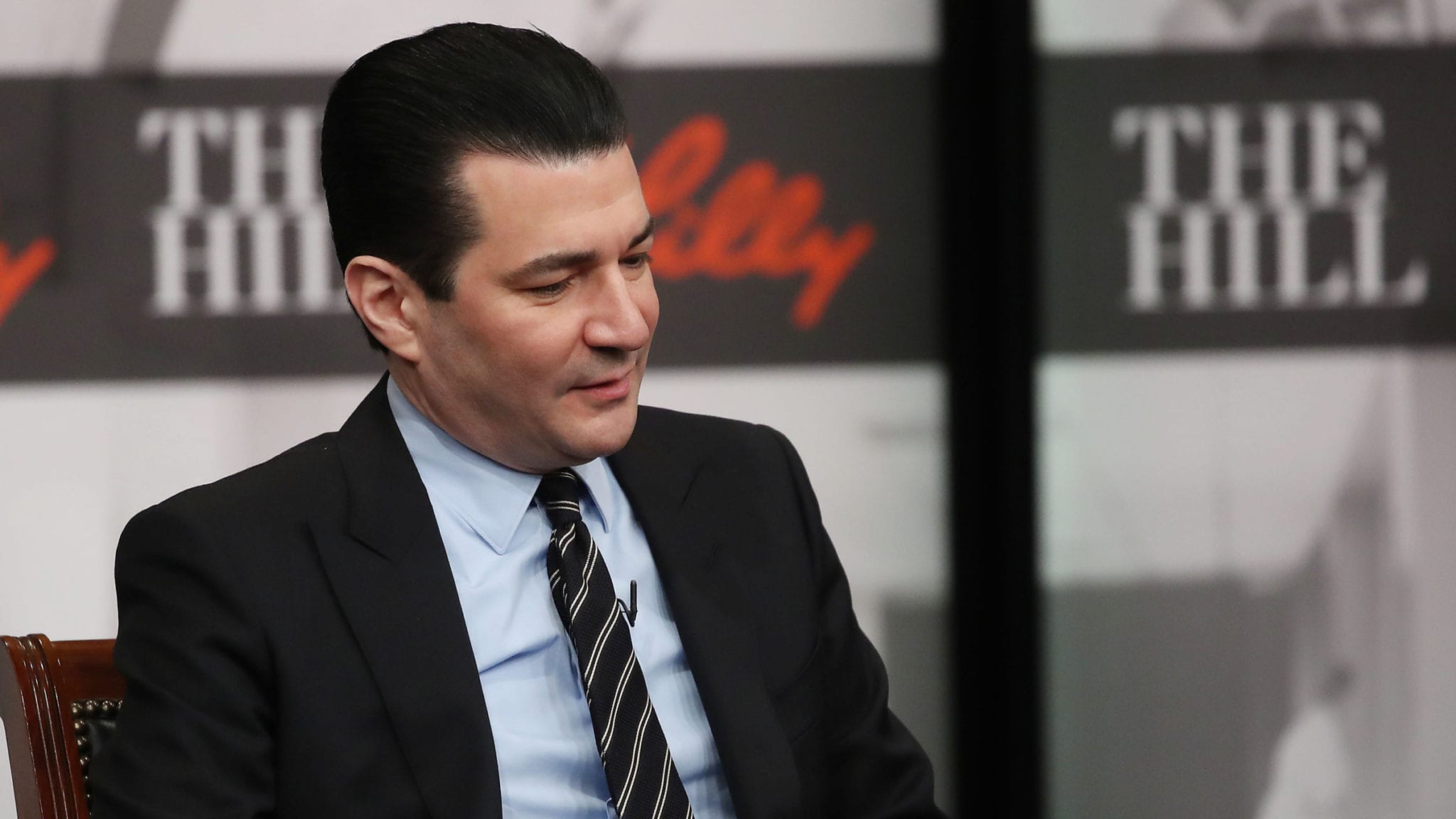 Scott Gottlieb (Getty Images)
Covid-19 roundup: FDA com­mis­sion­ers call for more 'con­cert­ed ef­fort' on con­va­les­cent plas­ma R&D; Re­gen­eron boosts case for an­ti­body cock­tail with new an­i­mal da­ta
Four for­mer FDA com­mis­sion­ers have co­a­lesced around a cen­tu­ry-old treat­ment they be­lieve can give the best weapon against Covid-19: Con­va­les­cent plas­ma.
Writ­ing in The Wash­ing­ton Post, for­mer FDA com­mis­sion­ers Mark Mc­Clel­lan, Mar­garet Ham­burg, Robert Califf and Scott Got­tlieb said that while more work needs to be done to prove it's safe and ef­fec­tive, con­va­les­cent plas­ma was a "promis­ing treat­ment" that "could help mil­lions of pa­tients with the nov­el coro­n­avirus both here and abroad." They warned, though, that for it to be­come an ef­fec­tive tool in the US' Covid-19 re­sponse, a more "con­cert­ed ef­fort" is need­ed to re­cruit donors and run tri­als.
"But if this is go­ing to work, we need to do it right," they wrote.
The for­mer FDA com­mis­sion­ers are hard­ly the first to call for a fo­cus on plas­ma. The ap­proach has been used to com­bat vi­ral and bac­te­r­i­al out­breaks since be­fore the Span­ish flu and Chi­nese re­searchers turned to it to treat coro­n­avirus pa­tients as ear­ly as Jan­u­ary. In March, amid ef­forts by re­searchers at Johns Hop­kins, the FDA gave emer­gency clear­ance both to start con­va­les­cent plas­ma tri­als and to give out the ther­a­py un­der emer­gency use. Pres­i­dent Trump pro­mot­ed the ther­a­py at the Amer­i­can Red Cross last week. It in­volves tak­ing an­ti­body-rich serum from the blood of pa­tients who have re­cov­ered from Covid-19 and trans­fer­ring it to new­ly in­fect­ed pa­tients to boost their im­mune re­sponse.
The ex-com­mis­sion­ers, though, called for those ef­forts to be more di­rect­ed. So far, over 40,000 Amer­i­cans have re­ceived plas­ma through a joint pro­gram be­tween HHS and the Mayo Clin­ic, yet there still has yet to be a large ran­dom­ized tri­al to de­ter­mine if the ther­a­py works and on which pa­tients. The for­mer com­mis­sion­ers com­pared the cur­rent sit­u­a­tion to the one doc­tors faced in the spring with hy­drox­y­chloro­quine, where there was a the­o­ry for why it should work but lit­tle da­ta.
"Thou­sands of covid-19 pa­tients have been treat­ed with plas­ma, but we are not much clos­er to de­fin­i­tive­ly an­swer­ing those ques­tions," they wrote.
The com­mis­sion­ers not­ed, though, that ef­forts were un­der­way. They tout­ed the work of The Fight Is In Us, coali­tion that is en­cour­ag­ing more peo­ple to do­nate their plas­ma.
Some of those ef­forts are al­ready un­der­way. The NIH is about to start tri­als test­ing plas­ma, along with mon­o­clon­al an­ti­bod­ies. And Johns Hop­kins re­ceived $35 mil­lion last week from the DoD for na­tion­wide clin­i­cal tri­als. The com­mis­sion­ers not­ed, though, that on­ly a small frac­tion of Covid-19 pa­tients can en­ter those tri­als. They called for larg­er, co­or­di­nat­ed stud­ies, cit­ing as an ex­am­ple the UK Re­cov­ery stud­ies that showed hy­drox­y­chloro­quine didn't work and the steroid dex­am­etha­sone did.
"We can't waste pre­cious time and put peo­ple at risk by treat­ing them with ther­a­pies that don't work or miss op­por­tu­ni­ties to col­lect da­ta and de­ter­mine when a treat­ment is ben­e­fi­cial," they wrote. — Ja­son Mast
Re­gen­eron posts an­i­mal da­ta, rais­ing hopes for an­ti­bod­ies as both pro­phy­lac­tic and treat­ment
New da­ta from an­i­mal stud­ies of Re­gen­eron's an­ti­body cock­tail sug­gest it can both pre­vent and treat Covid-19, boost­ing the com­pa­ny's case as it moves through Phase II/III pro­grams.
The find­ings in rhe­sus macaques and ham­sters — which have not been peer re­viewed — al­so echo pre­dic­tions by ex-FDA com­mis­sion­er Scott Got­tlieb and Lu­ciana Bo­rio, the for­mer di­rec­tor of med­ical and biode­fense pre­pared­ness at the Na­tion­al Se­cu­ri­ty Coun­cil, that an­ti­bod­ies will be the bridge to a vac­cine.
Not on­ly did the an­ti­bod­ies low­er vi­ral load in the an­i­mals, they al­so re­duced virus in­duced pathol­o­gy. Re­gen­eron sci­en­tists aren't shy about stress­ing the sig­nif­i­cance here.
"The abil­i­ty of REGN-COV2 to al­most com­plete­ly block de­tec­tion of subge­nom­ic species of SARS-COV-2 RNA match­es or ex­ceeds the ef­fects re­cent­ly shown in vac­cine ef­fi­ca­cy stud­ies us­ing the same an­i­mal mod­els," the team, led by Chris­tos Kyrat­sous, wrote. "Ad­di­tion­al­ly, the ob­served ac­cel­er­at­ed re­duc­tion of up­per air­way virus load in rhe­sus macaques treat­ed with REGN-COV2 con­trasts the lack of im­pact on vi­ral load in remde­sivir treat­ed an­i­mals, where re­duced vi­ral load could on­ly be ob­served in low­er air­ways with no dif­fer­ences in nasal vi­ral RNA lev­els."
In the study, rhe­sus macaques served as a mod­el for tran­sient and mild dis­ease while the gold­en ham­ster typ­i­cal­ly man­i­fests a much more se­vere form ac­com­pa­nied by rapid weight loss and se­vere lung in­jury, the re­searchers wrote. For the pro­phy­lac­tic set­ting, they test­ed two dos­es (50 mg/kg and 0.3 mg/kg) and ex­posed the an­i­mals to the virus 3 days af­ter an­ti­body ad­min­is­tra­tion.
When armed with the an­ti­bod­ies, which bind to dif­fer­ent epi­topes on the coro­n­avirus spike pro­tein, the an­i­mals were able to with­stand even a high­er vi­ral chal­lenge.
Com­pared to place­bo, REGN-COV2 al­so helped an­i­mals clear the virus faster when giv­en one day post-in­fec­tion. Then there's the clean safe­ty pro­file, with no ev­i­dence of an­ti­body-me­di­at­ed en­hance­ment of dis­ease.
All of this points to the po­ten­tial of clin­i­cal ben­e­fit, and Re­gen­eron doesn't have to wait long to con­firm it. A tri­al in­volv­ing non-hos­pi­tal­ized pa­tients is slat­ed for com­ple­tion in No­vem­ber and the study for hos­pi­tal­ized pa­tients will wrap next Jan­u­ary, but the first cut of da­ta could al­ways emerge ear­li­er.
In an ide­al sce­nario, the da­ta will sup­port an emer­gency use au­tho­riza­tion, at which point Re­gen­eron will have tens to hun­dreds of thou­sands of dos­es lined up. Hav­ing nabbed the first ther­a­peu­tic con­tract from Op­er­a­tion Warp Speed to­tal­ing $450 mil­lion, the biotech has been ramp­ing up its man­u­fac­tur­ing to de­liv­er an es­ti­mat­ed 70,000 to 300,000 treat­ment dos­es and around 420,000 to 1.3 mil­lion pre­ven­tion dos­es as ear­ly as late sum­mer. — Am­ber Tong
DoD shines a spot­light on GM-CSF, of­fer­ing $35M to bankroll PhII stud­ies
GM-CSF, or gran­u­lo­cyte macrophage-colony stim­u­lat­ing fac­tor, is emerg­ing as the next tar­get for drug re­pur­pos­ing af­ter a slate of IL-6 ther­a­pies sput­tered out.
Lex­ing­ton, MA-based Part­ner Ther­a­peu­tics has se­cured a $35 mil­lion con­tract with the US De­part­ment of De­fense to test its in­haled re­com­bi­nant GM-CSF, Leukine, for Covid-19 pa­tients who ex­pe­ri­ence acute hy­pox­emia.
The biotech plans to launch the first of two Phase stud­ies in Au­gust 2020, eval­u­at­ing the drug in treat­ing Covid-19 as­so­ci­at­ed acute hy­pox­emic res­pi­ra­to­ry fail­ure, with oxy­gena­tion and per­cent of pa­tients in­tu­bat­ed as the key met­rics. The fund­ing will al­so sup­port reg­u­la­to­ry fil­ings and ex­pan­sion of pro­duc­tion ca­pac­i­ty.
These new da­ta will sup­ple­ment re­sults from more than 60 pa­tients who have been en­rolled in a tri­al PTx is con­duct­ing in Bel­gium.
"GM-CSF is es­sen­tial for lung health. Emerg­ing da­ta sug­gest that COVID-19 is as­so­ci­at­ed with im­mune dys­func­tion in­clud­ing de­fi­cien­cy of alve­o­lar macrophages and GM-CSF," said De­ba­sish Roy­chowd­hury, chief med­ical of­fi­cer at PTx. "Treat­ment with Leukine may con­fer ben­e­fit to pa­tients with acute res­pi­ra­to­ry dis­tress and po­ten­tial­ly re­duce long term com­pli­ca­tions."
Glax­o­SmithK­line brought some at­ten­tion to the tar­get when the phar­ma gi­ant an­nounced in May that it would test its rheuma­toid arthri­tis drug otil­imab for Covid-19, with a goal to block a key cy­tokine and ease the ef­fect of an in­fec­tion on the lungs. The NIH lent more cre­dence to the con­cept re­cent­ly by adding Hu­mani­gen's lenzilum­ab to a mas­ter pro­to­col com­par­ing a com­bo with remde­sivir to remde­sivir alone. — Am­ber Tong
For a look at all End­points News coro­n­avirus sto­ries, check out our spe­cial news chan­nel.