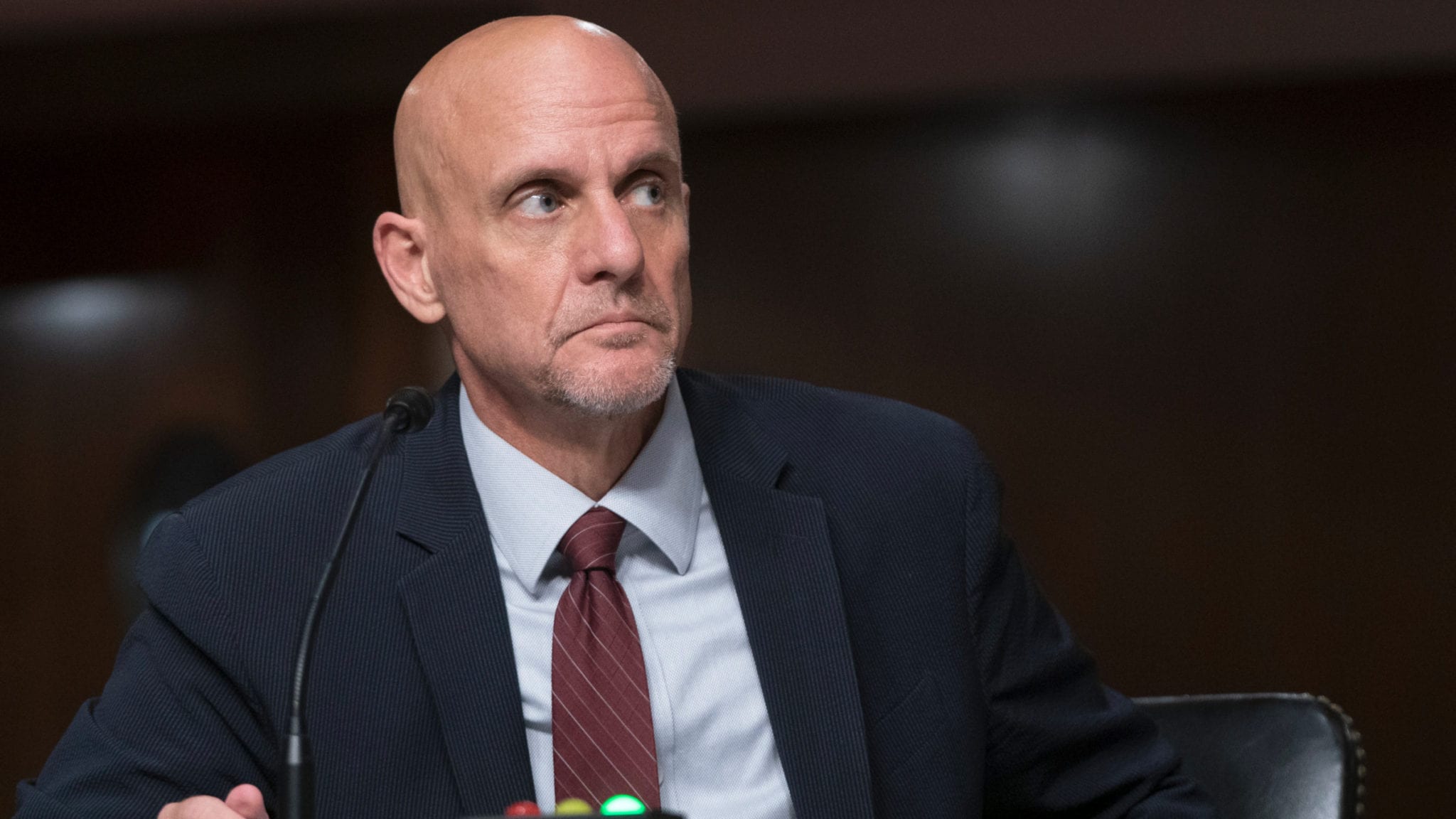 Stephen Hahn, FDA commissioner (AP Images)
Covid-19 roundup: FDA seeks vac­cine ad­comm meet­ings on Dec. 8-10 — re­port; Hahn to make all EUA da­ta pub­lic
With Pfiz­er re­leas­ing its com­plet­ed Phase III ef­fi­ca­cy and safe­ty da­ta Wednes­day morn­ing, the FDA is re­port­ed­ly ask­ing its ad­comm to set aside dates in ear­ly De­cem­ber to dis­cuss Covid-19 vac­cines.
The ad­comm will like­ly con­vene on Dec. 8, 9 and 10 to go over not on­ly Pfiz­er's vac­cine can­di­date, but al­so Mod­er­na's, ac­cord­ing to a CN­BC re­port. The plans are not yet fi­nal­ized, per two sources quot­ed in the sto­ry.
Pfiz­er said in a press re­lease Wednes­day morn­ing that the com­pa­ny and its part­ner BioN­Tech have reached the num­ber of con­firmed Covid-19 cas­es to com­plete its late-stage tri­al. Ini­tial da­ta show the vac­cine 95% ef­fec­tive at pre­vent­ing Covid-19, and 94.5% ef­fec­tive in old­er adults.
The pair have al­so crossed the FDA's key safe­ty thresh­old of two-months fol­low-up and will sub­mit for an emer­gency use au­tho­riza­tion "with­in days," they said.
Mod­er­na, which like Pfiz­er is us­ing mR­NA tech­nol­o­gy to de­vel­op its vac­cine, an­nounced Mon­day the in­ter­im re­sults from its Phase III study, say­ing their can­di­date was 94.5% ef­fec­tive. The com­pa­ny is al­so ex­pect­ed to re­lease fi­nal da­ta soon and sub­mit its own EUA short­ly there­after. — Max Gel­man
Amid pres­sure, FDA promis­es to make all da­ta for EUAs pub­lic
In an ef­fort to shore up pub­lic con­fi­dence, FDA chief Stephen Hahn said in a state­ment Tues­day that the agency will be mak­ing pub­lic all da­ta and in­for­ma­tion re­lat­ed to emer­gency use au­tho­riza­tions for Covid-19 vac­cines and drugs.
The move comes af­ter polls have shown grow­ing wor­ry among Amer­i­cans that pol­i­tics has been put be­fore sci­ence and that ear­ly vac­cines may not see full adop­tion due to con­cerns they've been rushed. In or­der to coun­ter­act this, Hahn said reg­u­la­tors have al­ready tak­en sev­er­al steps, in­clud­ing host­ing a vac­cine ad­comm and cre­at­ing ed­u­ca­tion­al ma­te­ri­als to ex­plain the steps of the drug and vac­cine de­vel­op­ment process­es.
Tues­day's move just marks an­oth­er step in re­as­sur­ing the pub­lic, Hahn said.
"Let me be clear on a cru­cial point — the is­suance of an EUA is based on da­ta and sci­ence," Hahn said. "For an EUA to be au­tho­rized, FDA's ca­reer sci­en­tists con­duct a rig­or­ous eval­u­a­tion of cur­rent­ly avail­able sci­en­tif­ic ev­i­dence about a med­ical prod­uct."
Hahn added that should new da­ta come about, the agency can adapt or re­voke an EUA, which it has done pre­vi­ous­ly dur­ing the pan­dem­ic.
Lead­ing up to this month's elec­tion, pub­lic health of­fi­cials had faced pres­sure from Pres­i­dent Don­ald Trump, who made get­ting a vac­cine out be­fore No­vem­ber as one of his key cam­paign promis­es. That didn't hap­pen, how­ev­er, with Pfiz­er and Mod­er­na both re­leas­ing the first ef­fi­ca­cy da­ta for their Phase III vac­cine stud­ies af­ter the elec­tion was called for Joe Biden.
The Trump ad­min­is­tra­tion has tak­en oth­er steps to pres­sure the FDA, with HHS Sec­re­tary Alex Azar open­ly plot­ting Hahn's ouster at one point, and bris­tled af­ter Hahn tough­ened vac­cine re­quire­ments in late Sep­tem­ber. Pfiz­er had orig­i­nal­ly aimed for just 32 con­firmed cas­es in its first analy­sis, prompt­ing CEO Al­bert Bourla to say the com­pa­ny would know if it worked by Oc­to­ber. But af­ter speak­ing with reg­u­la­tors, they bumped that up to 62. Ul­ti­mate­ly, they reg­is­tered 94 cas­es. — Max Gel­man
Study says Sino­vac vac­cine in­duces quick im­mune re­sponse, but low­er an­ti­body count
Chi­nese biotech Sino­vac pub­lished peer-re­viewed re­sults for its Covid-19 vac­cine can­di­date Coro­n­aVac on Wednes­day, with da­ta show­ing the vac­cine trig­gered a quick im­mune re­sponse in pa­tients.
But the same da­ta al­so il­lus­trat­ed that the lev­el of an­ti­bod­ies pro­duced was low­er than in those who had re­cov­ered from the dis­ease. The re­sults, com­ing from Sino­vac's Phase I/II tri­al en­rolling more than 700 in­di­vid­u­als, were pub­lished in full in The Lancet.
"In sum­ma­ry, Coro­n­aVac was well tol­er­at­ed and in­duced hu­moral re­spons­es against SARS-CoV-2, which sup­port­ed the ap­proval of emer­gency use of Coro­n­aVac in Chi­na and in three phase 3 stud­ies," the au­thors of the pa­per wrote. "The pro­tec­tive ef­fi­ca­cy of Coro­n­aVac re­mains to be de­ter­mined."
Wednes­day's pa­per comes af­ter the com­pa­ny re­leased topline Phase I/II re­sults in June, which said the vac­cine safe­ly pro­duced an­ti­bod­ies in more than 90% of vol­un­teers. The vac­cine has been de­scribed as old school, us­ing a chem­i­cal­ly in­ac­ti­vat­ed virus in the hopes of cre­at­ing a pro­tec­tive an­ti­body re­sponse.
Sino­vac is one of two Chi­nese com­pa­nies, along with Sinopharm, test­ing a Covid-19 vac­cine in Phase III stud­ies. Cur­rent­ly, Sino­vac is con­duct­ing mul­ti­ple Phase III tri­als in Brazil, In­done­sia and Turkey, and its vac­cine was one of the can­di­dates au­tho­rized by the Chi­nese gov­ern­ment in Ju­ly to be ad­min­is­tered to some med­ical pro­fes­sion­als and bor­der of­fi­cers.
Last week, Brazil halt­ed its Phase III Sino­vac tri­al af­ter the death of a tri­al par­tic­i­pant, but the hold was lift­ed af­ter it was de­ter­mined the in­di­vid­ual died by sui­cide.
Sino­vac is cur­rent­ly 5th in End­points News' Covid-19 vac­cine race track­er. — Max Gel­man
For a look at all End­points News coro­n­avirus sto­ries, check out our spe­cial news chan­nel.