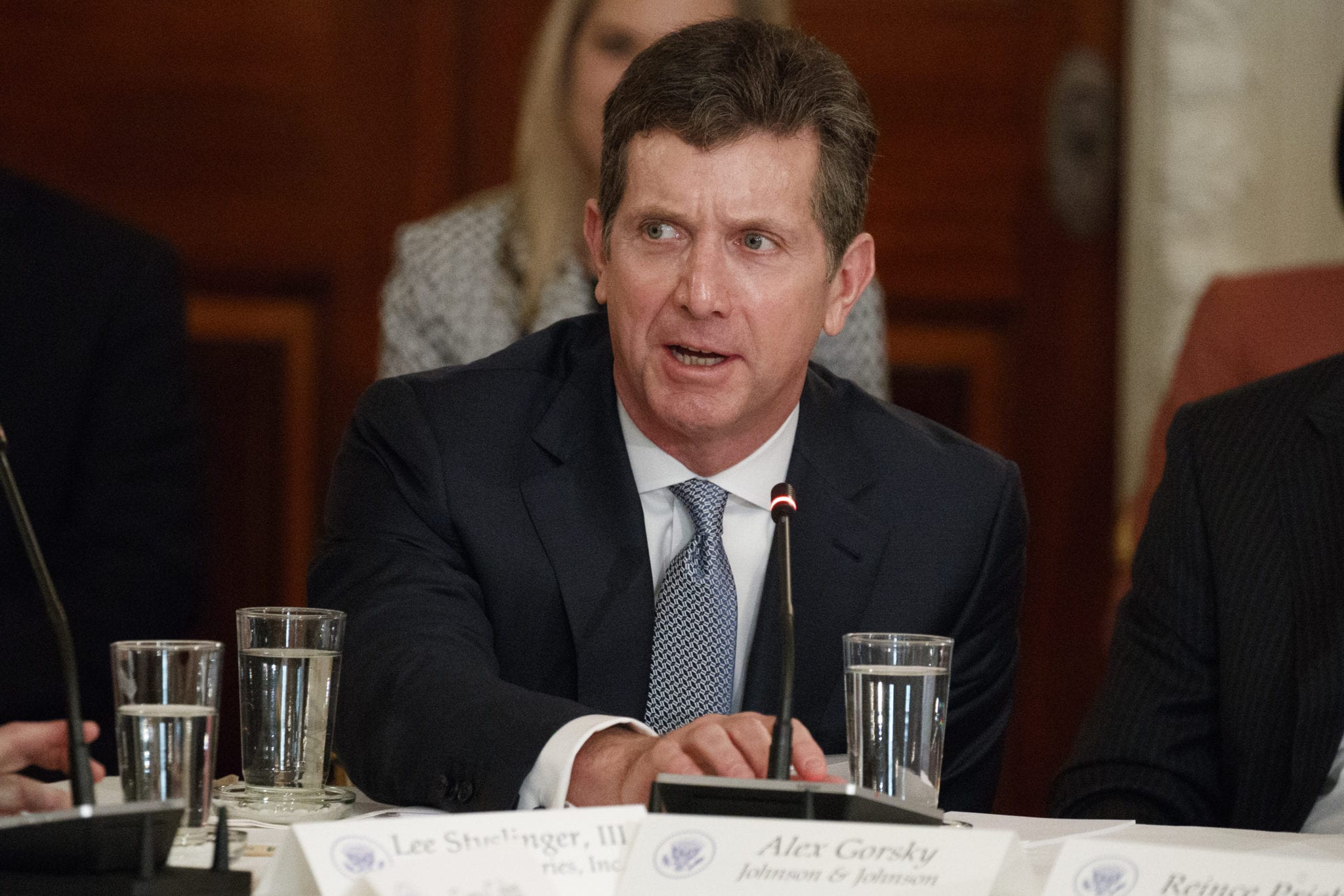 Alex Gorsky, J&J CEO (Evan Vucci/AP Images)
Covid-19 roundup: J&J en­ters PhI­II with a two-dose reg­i­men to play safe; As­traZeneca, Ox­ford tout promis­ing da­ta in el­der­ly
John­son & John­son had the first sin­gle-dose Covid-19 vac­cine to en­ter Phase III tri­als — but to be cau­tious, the phar­ma is launch­ing a sec­ond Phase III study eval­u­at­ing the can­di­date in a two-dose reg­i­men.
"Janssen's COVID-19 vac­cine pro­gram has been de­signed to be ex­treme­ly thor­ough and dri­ven by sci­ence," the com­pa­ny an­nounced on Sun­day. "As such, we are in­ves­ti­gat­ing mul­ti­ple dos­es and dos­ing reg­i­mens to eval­u­ate their long-term ef­fi­ca­cy."
The sec­ond study, dubbed EN­SEM­BLE 2, will run in par­al­lel with J&J's on­go­ing 60,000-per­son tri­al for its sin­gle-dose reg­i­men. It'll en­roll up to 30,000 vol­un­teers in Bel­gium, Colom­bia, France, Ger­many, the Philip­pines, South Africa, Spain, the UK and the US.
When asked by David Ruben­stein, pres­i­dent of The Eco­nom­ic Club of Wash­ing­ton DC, which reg­i­men will po­ten­tial­ly hit the mar­ket first, J&J CEO Alex Gorsky said in an in­ter­view that the com­pa­ny is "go­ing to have to find out more through some of the test­ing."
Ear­ly-stage in­ter­im re­sults showed the sin­gle dose trig­gered a "ro­bust im­mune re­sponse" and was well-tol­er­at­ed, ac­cord­ing to J&J.
"We're try­ing to de­ter­mine … where we would be able to iden­ti­fy the best bal­ance of ef­fi­ca­cy, safe­ty, and of course it al­so has an im­pact on the num­ber of vac­cine shots that would be avail­able, par­tic­u­lar­ly dur­ing the course of 2021," Gorsky said.
Last week, the com­pa­ny part­nered with Unit­ed­Health Group to speed up en­roll­ment in the Phase III tri­al of its sin­gle-dose reg­i­men, which has on­ly en­rolled a few thou­sand par­tic­i­pants, ac­cord­ing to a Reuters re­port. The slow en­roll­ment is par­tial­ly due to a brief pause caused by the un­ex­plained ill­ness of a par­tic­i­pant. The tri­al re­sumed late last month, and J&J an­nounced there was "no ev­i­dence that the vac­cine can­di­date caused the event."
BAR­DA kicked in an­oth­er $454 mil­lion last week to sup­port the Phase III vac­cine tri­al, and J&J com­mit­ted an­oth­er $604 mil­lion.
"Do you get asked every 15 min­utes or is it every 30 min­utes when their vac­cine is go­ing to be avail­able?" Ruben­stein jok­ing­ly asked Gorsky dur­ing their in­ter­view, which was live-streamed on Twit­ter.
"It's about every 30 sec­onds or every 5 min­utes at the very least," Gorsky re­spond­ed with a smile. "The short an­swer would be not soon enough," he added, be­fore com­mend­ing sci­en­tists for their ef­forts. — Nicole De­Feud­is
As­traZeneca, Ox­ford touts promis­ing PhII vac­cine da­ta in el­der­ly
Teas­ing Phase III re­sults ex­pect­ed in a few weeks, As­traZeneca and Ox­ford say new­ly pub­lished Phase II da­ta sug­gest that their vac­cine in­duces sim­i­lar lev­els of im­mune re­sponse in the el­der­ly as younger adults.
Re­port­ing in the Lancet, in­ves­ti­ga­tors say that among 560 healthy vol­un­teers, 240 were over the age of 70 (200 of them re­ceived the Covid-19 vac­cine, while oth­ers were as­signed to a meningo­coc­cal jab). The oth­er 320 were even­ly split be­tween the 18-55 and 56-69 age groups, with the ma­jor­i­ty re­ceiv­ing ChA­dOx1 nCoV-19, which is al­so known as AZD1222.
"ChA­dOx1 nCoV-19 ap­pears to be bet­ter tol­er­at­ed in old­er adults than in younger adults and has sim­i­lar im­muno­genic­i­ty across all age groups af­ter a boost dose," they con­clud­ed.
Whether that trans­lates to ef­fi­ca­cy will on­ly be known when As­traZeneca hits the thresh­old for in­ter­im analy­sis of its Phase III study. Af­ter a weeks-long halt to its late-stage tri­al in the US due to a se­vere ad­verse event, the phar­ma gi­ant had re­sumed dos­ing in late Oc­to­ber.
At the cut­off, 13 se­ri­ous ad­verse events had been record­ed in the Phase II por­tion of the tri­al, but none were con­sid­ered re­lat­ed to ei­ther vac­cine.
Like Pfiz­er/BioN­Tech and Mod­er­na, As­traZeneca is test­ing a two-dose reg­i­men in late-stage stud­ies. But rather than mR­NA, its can­di­date uti­lizes a re­com­bi­nant ade­n­ovirus vec­tor to slip in a gene for the spike pro­tein of SARS-CoV-2.
By 14 days af­ter the boost dose, 208 of 209 par­tic­i­pants get­ting that reg­i­men de­vel­oped neu­tral­iz­ing an­ti­bod­ies, while T cell re­spons­es peaked at day 14 af­ter a sin­gle dose. — Am­ber Tong
Turkey set to pre-or­der Sino­vac's vac­cine amid PhI­II stud­ies
Sino­vac has found a new cus­tomer in Turkey, whose health min­is­ter said the gov­ern­ment is close to sign­ing a con­tract to buy at least 20 mil­lion dos­es of its Covid-19 vac­cine. Turkey is host­ing one of its late-stage tri­als.
Brazil, where Sino­vac is con­duct­ing a Phase III study, was the first to strike such a pur­chase deal with the Chi­nese com­pa­ny. Sino­vac's vac­cine con­sists of an in­ac­ti­vat­ed virus.
Turkey is re­port­ed­ly al­so work­ing on buy­ing dos­es of Pfiz­er and BioN­Tech's mR­NA vac­cine — the first Covid-19 can­di­date to be proven 95% ef­fec­tive in a large-scale tri­al.
While Sino­vac has yet to gen­er­ate ef­fi­ca­cy da­ta, the com­pa­ny has al­ready se­cured emer­gency use ap­proval in Chi­na. Pre­lim­i­nary re­sults from ear­li­er stud­ies in­di­cat­ed that its jab trig­gered a quick im­mune re­sponse, al­though the lev­el of an­ti­bod­ies pro­duced were low­er than in peo­ple who have re­cov­ered from the virus.
"We will be able to pro­cure at least 10 mil­lion dos­es of the Chi­nese vac­cine in De­cem­ber. We want to in­crease this num­ber. It will be just as much in Jan­u­ary, too," Turk­ish health min­is­ter Fahret­tin Ko­ca was quot­ed as say­ing by the state-run Anadolu news agency, per Reuters.
He added that Turkey would get 1 mil­lion dos­es if talks with Pfiz­er and BioN­Tech go through, but there are talks to bring the num­ber up to 25 mil­lion. Pfiz­er and BioN­Tech have com­mit­ted at least 570 mil­lion dos­es through sup­ply agree­ments world­wide, with the US and the EU mak­ing the largest or­ders. — Am­ber Tong
For a look at all End­points News coro­n­avirus sto­ries, check out our spe­cial news chan­nel.