Covid-19 roundup — Re­gen­eron zooms in on cock­tail; BioN­Tech shares sky­rock­et on quick Pfiz­er al­liance
On the morn­ing af­ter the Bay Area or­dered res­i­dents of six coun­ties to "shel­ter in place" amid vary­ing lev­els of lock­down around the world, here are the lat­est in­dus­try up­dates:
— Lead­ing the hunt for an­ti­bod­ies that can neu­tral­ize the coro­n­avirus that caus­es Covid-19, Re­gen­eron said it's as­sem­bled a large pool of can­di­dates — hun­dreds of an­ti­bod­ies — from which it will se­lect two to make a "cock­tail treat­ment." While the an­ti­bod­ies are be­ing se­lect­ed, the com­pa­ny will get its Ve­lociMab plat­form in place to pre­pare cell lines for clin­i­cal-scale pro­duc­tion. Re­gen­eron en­vi­sions en­ter­ing hu­man stud­ies in a cou­ple months, with a goal to pro­duce "hun­dreds of thou­sands of pro­phy­lac­tic dos­es per month" by the end of sum­mer. All of this comes a lit­tle over a month af­ter Re­gen­eron first threw its name in­to the coro­n­avirus R&D hat. Fol­low­ing this same ap­proach has led the biotech to an Ebo­la reg­i­men that best­ed three oth­er treat­ments. In ad­di­tion to de­vel­op­ing an­ti­bod­ies that can serve both as treat­ment and as a pro­phy­lax­is be­fore peo­ple are ex­posed to SARS-CoV-2 (an ap­proach Vir is al­so tak­ing), Re­gen­eron has al­so rushed its IL-6 drug Kez­vara — ap­proved for arthri­tis — in­to a late-stage tri­al test­ing its abil­i­ty to tack­le the lung in­flam­ma­tion that re­sults from the vi­ral in­fec­tion.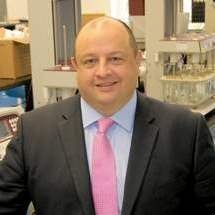 Ash­leigh Palmer
— Al­most a year ago Proven­tion Bio be­gan what Jef­frey Blue­stone called the "re­al hard work" on the res­ur­rect­ed di­a­betes drug teplizum­ab, dos­ing the first pa­tient with new­ly di­ag­nosed type 1 di­a­betes with the an­ti-CD3 an­ti­body. The work has just got­ten hard­er as the Covid-19 pan­dem­ic is forc­ing the biotech to tem­porar­i­ly pause ran­dom­iz­ing and treat­ing new pa­tients — while those cur­rent­ly tak­ing the ther­a­py com­plete their course. This de­lay, though, does not hin­der Proven­tion's plan to wrap up its rolling BLA sub­mis­sion for the at-risk pop­u­la­tion by the end of the year. That was part­ly sup­port­ed by Phase II da­ta sug­gest­ing teplizum­ab de­layed di­a­betes di­ag­noses for pa­tients who ap­pear poised to de­vel­op the dis­ease. The Phase III PRO­TECT study was de­signed to see if the drug could help pa­tients who al­ready have di­a­betes — such as to low­er their de­pen­dence on in­sulin. "Our de­ci­sion was not based on any study-re­lat­ed COVID-19 in­fec­tions or oth­er safe­ty events, but rather a pre­pon­der­ance of cau­tion re­lat­ing to the on­go­ing pan­dem­ic, and our con­cern for the well-be­ing of re­cent­ly di­ag­nosed T1D pe­di­atric pa­tients and their care­givers," CEO Ash­leigh Palmer said in a state­ment. "The de­mands on med­ical in­sti­tu­tions and their clin­i­cians dur­ing this un­prece­dent­ed glob­al cri­sis were al­so a main con­sid­er­a­tion in this de­ci­sion."
— Shut­downs are be­com­ing more com­mon, and they've been fill­ing the BioTwit­ter chan­nel:
I have been CEO of @MERUS­NV, a Dutch/US biotech com­pa­ny, for on­ly 11 weeks. I have now in­struct­ed our team to temp. close down our lab­o­ra­to­ry re­search ac­tiv­i­ties, by Wednes­day March 18. We plan to con­tin­ue to sup­port clin­i­cal tri­al ac­tiv­i­ties and pa­tients dur­ing this time. 1/n

— Bill Lund­berg (@aslund­berg) March 17, 2020
— In the year of coro­n­avirus, there's no time to dot every i and cross every t in a bio­phar­ma deal. Ear­ly Tues­day Pfiz­er and BioN­Tech $BN­TX were ready to hitch up on one of the big mes­sen­ger RNA vac­cine pro­grams aimed at the dev­as­tat­ing spread of Covid-19. And they made it clear they were rolling ahead of any for­mal sig­na­tures on a fi­nal con­tract. Qui­et­ly re­vealed just days ago, BioN­Tech says that BNT162 should be ready to go in the clin­ic by the end of next month. It fol­lows a lead­ing mR­NA ef­fort from Mod­er­na as well as a hur­ry-up project from Cure­Vac, where the re­volv­ing door at the CEO suite is spin­ning. The col­lab­o­ra­tion work starts now, with a plan to uti­lize mul­ti­ple R&D sites across both com­pa­nies in the US and Ger­many, where BioN­Tech is based. They ex­pect to fi­nal­ize the de­tails of their part­ner­ship in the next few weeks. If there are any ba­sics in the let­ter of agree­ment, they're not talk­ing about it yet. In the mean­time, BioN­Tech's shares rock­et­ed up 55%.
— In the spir­it of do­na­tions, Bio­gen said its phil­an­thropic arm has com­mit­ted $10 mil­lion to sup­port Covid-19 re­lief ef­forts in the US and around the world. "We are deeply af­fect­ed by the im­pact of COVID-19 glob­al­ly and we un­der­stand the crit­i­cal im­por­tance of ac­cess to test­ing and oth­er ma­te­ri­als to sup­port health­care providers," said CEO Michel Vounatsos, who's now pre­sid­ing over the hard­est-hit drug­mak­er in the in­dus­try. A strat­e­gy meet­ing held at Boston Mar­riott Long Wharf has led to the in­fec­tion of 100 Bio­gen staffers and their house­hold con­tacts in Mass­a­chu­setts, where a to­tal of 197 cas­es have been re­port­ed as of Mon­day af­ter­noon — and that's not count­ing oth­er lo­cal trans­mis­sion. In ad­di­tion to pro­vid­ing med­ical equip­ment and sup­plies to Part­ners Health­Care and sup­port­ing two lo­cal hos­pi­tals in their front line work, Bio­gen's funds will al­so go to­ward ex­pend­ing test­ing op­tions, eas­ing the strains on med­ical sys­tems, of­fer­ing train­ing and se­cur­ing ac­cess to ne­ces­si­ties like food in places such as North Car­oli­na, where at least five Bio­gen staffers have been test­ed pos­i­tive af­ter at­tend­ing the lead­er­ship gath­er­ing.
— Amid warn­ings that peo­ple who get mild symp­toms of Covid-19 and re­cov­er are dri­ving the spread of the dis­ease, sci­en­tists at the Uni­ver­si­ty of Min­neso­ta are turn­ing their fo­cus to this par­tic­u­lar pop­u­la­tion. They are launch­ing a new clin­i­cal tri­al to see if an old malar­ia drug — chloro­quine or hy­drox­y­chloro­quine — is a bet­ter post-ex­po­sure pro­phy­lax­is than the cur­rent stan­dard of care: ob­ser­va­tion. The tri­al will en­roll 1,500 in­di­vid­u­als who have had ex­po­sure to a Covid-19 case with­in 3 days, name­ly ei­ther health­care work­ers of house­hold con­tacts. The Uni­ver­si­ty of Ox­ford is plan­ning a sim­i­lar study with 10,000 par­tic­i­pants in May. Clin­i­cians in Chi­na and Aus­tralia have re­port­ed en­cour­ag­ing re­sults treat­ing Covid-19 pa­tients with chloro­quine.
— Chi­nese sci­en­tists may now be­gin test­ing a sub­unit vac­cine de­vel­oped by the Acad­e­my of Mil­i­tary Med­ical Sci­ences in col­lab­o­ra­tion with CanSi­no Bi­o­log­ics. The Hong Kong-list­ed com­pa­ny said its can­di­date us­es a repli­ca­tion-de­fec­tive ade­n­ovirus type 5 as a vec­tor to ex­press the spike pro­tein on SARS-CoV-2. It's al­so be­gun pre-screen­ing of healthy vol­un­teers in an­tic­i­pa­tion of the tri­al, which was green­light­ed Mon­day night. CanSi­no has pre­vi­ous­ly worked with Wei Chen, the se­nior bio­engi­neer cred­it­ed with lead­ing the re­search work, on Chi­na's first Ebo­la vac­cine.
For a look at all End­points News coro­n­avirus sto­ries, check out our spe­cial news chan­nel.