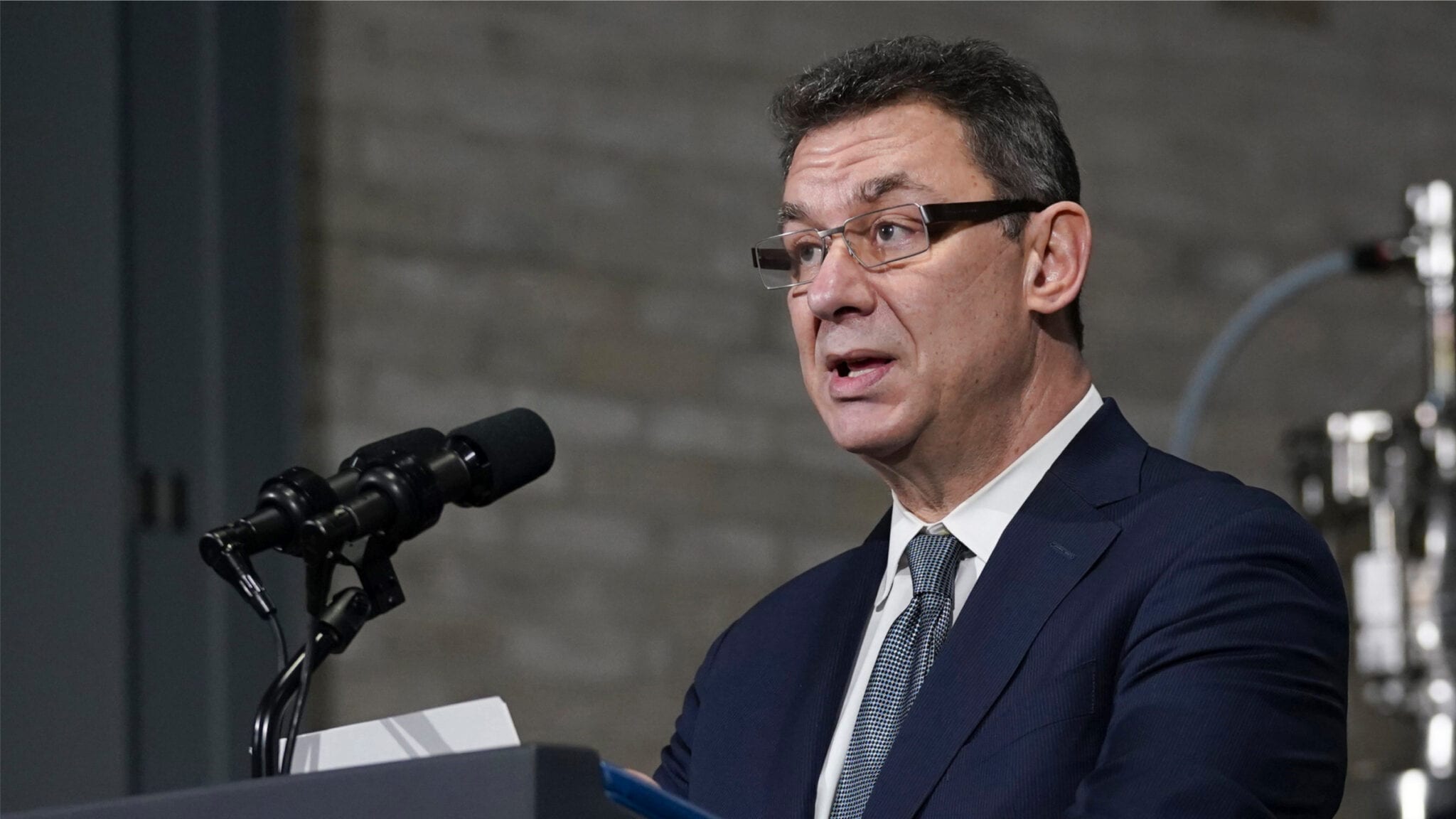 Albert Bourla, Pfizer CEO (Evan Vucci/AP Images)
Covid-19 roundup: Pfiz­er to sup­ply US with 200M more vac­cines as UK study finds high­er an­ti­bod­ies in 8-10 week in­ter­vals
The US gov­ern­ment has pur­chased 200 mil­lion more dos­es of the Pfiz­er/BioN­Tech vac­cine, the com­pa­nies an­nounced Fri­day morn­ing.
Pfiz­er and BioN­Tech ex­pect to de­liv­er 110 mil­lion of the ad­di­tion­al dos­es by Dec. 31, with the re­main­ing 90 mil­lion dos­es to be de­liv­ered no lat­er than April 30, 2022.
"Un­der this con­tract, the U.S. Gov­ern­ment is pay­ing ~$24 a dose for the Pfiz­er-BioN­Tech COVID-19 Vac­cine. The price for this or­der ac­counts for the ad­di­tion­al in­vest­ment nec­es­sary to pro­duce, pack­age and de­liv­er new for­mu­la­tions of the vac­cine, as well as the in­creased cost as­so­ci­at­ed with de­liv­er­ing the vac­cine in small­er pack sizes to fa­cil­i­tate de­liv­ery at in­di­vid­ual provider of­fices, in­clud­ing pe­di­a­tri­cians," a Pfiz­er spokesman told End­points News.
The US gov­ern­ment has the op­tion to ac­quire an up­dat­ed ver­sion of the vac­cine to ad­dress po­ten­tial vari­ants, as well as new for­mu­la­tions of the vac­cine, if avail­able and au­tho­rized.
The Pfiz­er vac­cine is like­ly to con­vert its EUA in­to a full ap­proval some­time soon, po­ten­tial­ly in Au­gust or Sep­tem­ber, ac­cord­ing to FDA's top vac­cine of­fi­cial Pe­ter Marks. Pres­i­dent Biden made a sim­i­lar time­line es­ti­mate dur­ing a CNN town hall on Wednes­day evening.
The US has now pur­chased 500 mil­lion dos­es of the Pfiz­er vac­cine for do­mes­tic use, and an­oth­er 500 mil­lion for do­nat­ing to the world's poor­est coun­tries and oth­er al­lies.
El­i­gi­ble US res­i­dents will con­tin­ue to re­ceive the vac­cine for free, Pfiz­er said. — Zachary Bren­nan
Pfiz­er/BioN­Tech shots pro­duce high­er an­ti­bod­ies af­ter 8-10 week in­ter­vals — study
The UK is tout­ing the re­sults of a new study that it says vin­di­cates the coun­try's de­ci­sion to space out Covid-19 vac­cine dos­es ear­li­er in the pan­dem­ic.
An in­ter­val of eight to 10 weeks be­tween Pfiz­er/BioN­Tech shots re­sults in high­er neu­tral­iz­ing an­ti­body lev­els than the three-week span test­ed in clin­i­cal tri­als, ac­cord­ing to a Bloomberg re­port. Though the find­ings have yet to be peer-re­viewed, re­searchers found dou­ble the an­ti­bod­ies af­ter 10 weeks com­pared to three weeks.
Fund­ed by the UK's De­part­ment of Health and So­cial Care, the study looked at the im­mune re­spons­es of 503 British health­care work­ers. About three quar­ters of the par­tic­i­pants were women.
The find­ings come af­ter Britain orig­i­nal­ly ap­proved the Pfiz­er/BioN­Tech shot in ear­ly De­cem­ber 2020 ahead of the FDA and oth­er reg­u­la­to­ry au­thor­i­ties, and sub­se­quent­ly rolled out a plan to space out vac­cine dos­es in or­der to get as many peo­ple as it could their first shots.
Re­gard­ing the best in­ter­val be­tween dos­es, "eight weeks is prob­a­bly the sweet spot," Uni­ver­si­ty of Ox­ford study lead Su­san­na Dunachie said at a news con­fer­ence, per Bloomberg. In ad­di­tion to boost­ing an­ti­body lev­els, the study al­so re­port­ed­ly found an im­proved re­sponse from helper T cells.
But the find­ings al­so re­lat­ed one sig­nif­i­cant draw­back as the UK and oth­er coun­tries face an­oth­er pan­dem­ic wave amidst the delta vari­ant's surge: In­di­vid­u­als saw a de­cline in an­ti­body lev­els be­tween their first and sec­ond shots, par­tic­u­lar­ly against Delta. Re­gard­less, both the short and long in­ter­vals in be­tween dos­es lead to strong re­al-world pro­tec­tion against the virus, re­searchers said. — Max Gel­man
Japan's prime min­is­ter press­es Bourla for more vac­cines
As the Sum­mer Olympics get un­der­way in Japan on Fri­day, the coun­try's prime min­is­ter is press­ing Pfiz­er to speed up vac­cine de­liv­er­ies.
Japan leader Yoshi­hide Suga re­port­ed­ly met with CEO Al­bert Bourla ear­ly Fri­day in or­der to ask for an ac­cel­er­at­ed vac­cine sched­ule to the coun­try, per a Reuters re­port on Japan­ese me­dia. Suga is at­tempt­ing to se­cure shots that were orig­i­nal­ly sched­uled to ar­rive in Oc­to­ber, with lo­cal gov­ern­ments around the coun­try strug­gling with sup­ply.
Ac­cord­ing to the Reuters vac­cine track­er, on­ly 35% of Japan's pop­u­la­tion has re­ceived their first vac­cine dose, a slow­er start com­pared to oth­er high-in­come na­tions.
The re­port comes with Japan kick­ing off the Olympics open­ing cer­e­mo­ny Fri­day amidst a swath of con­tro­ver­sies and lo­gis­ti­cal is­sues. Af­ter orig­i­nal­ly post­pon­ing the Games by a year due to the pan­dem­ic, Japan has seen a sig­nif­i­cant rise in cas­es re­cent­ly due to the Delta vari­ant. Though the coun­try had orig­i­nal­ly planned to al­low a lim­it­ed num­ber of spec­ta­tors, the Olympics are now tak­ing place in large­ly emp­ty sta­di­ums and are­nas.
More than 110 ath­letes and Olympics work­ers have al­so test­ed pos­i­tive in the days lead­ing up to the Games, ac­cord­ing to the New York Times, and Japan was forced to dis­miss its open­ing cer­e­mo­ny cre­ative di­rec­tor af­ter footage emerged of him mak­ing fun of the Holo­caust in a 1990s standup rou­tine.
A brouha­ha has al­so emerged over the card­board beds Japan has set up in the Olympic Vil­lage, in what it says is an ef­fort to lim­it in­ti­ma­cy be­tween ath­letes while the pan­dem­ic surges. — Max Gel­man
For a look at all End­points News coro­n­avirus sto­ries, check out our spe­cial news chan­nel.