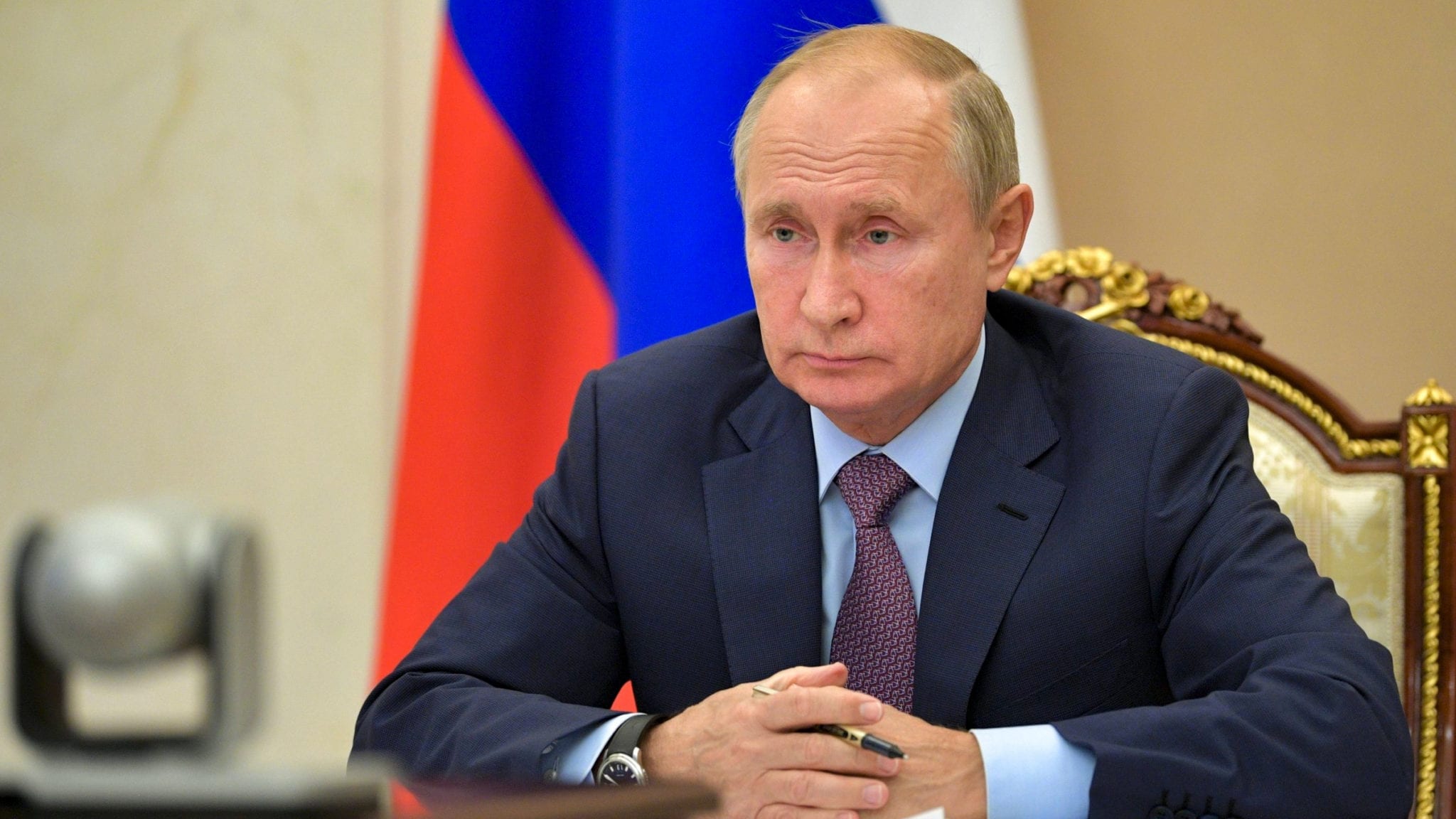 Russian president Vladimir Putin in a video conference meeting at his Moscow residence, Oct. 14, 2020. Putin says a second Covid-19 vaccine has been approved after the US was dubious of the first. (Alexei Druzhinin, Sputnik, Kremlin Pool Photo via AP)
Covid-19 roundup: Rus­sia ap­proves sec­ond vac­cine, Putin says; Ad­vo­ca­cy groups ask WTO to waive patent rights
Rus­sia has ap­proved a sec­ond Covid-19 vac­cine, pres­i­dent Vladimir Putin an­nounced Wednes­day. Like its first, the coun­try's new vac­cine did not un­der­go large-scale tri­als be­fore ap­proval.
Putin said that the vac­cine comes from the Siber­ian biotech Vec­tor State Vi­rol­o­gy and Biotech­nol­o­gy Cen­ter, al­so a for­mer So­vi­et bioweapons re­search lab, ac­cord­ing to the Wall Street Jour­nal. The in­sti­tu­tion plans to be­gin a 40,000-pa­tient tri­al soon.
So far, Russ­ian health of­fi­cials have not elab­o­rat­ed on the vac­cine's ear­ly tri­al re­sults nor its ap­proval process, per the Moscow Times. The vac­cine us­es pep­tide-based anti­gens to train the body's im­mune sys­tem to fight the virus, the coun­try's patent of­fice pre­vi­ous­ly said. Deputy prime min­is­ter Tatyana Go­liko­va added dur­ing the an­nounce­ment that a third Russ­ian vac­cine could come some­time in De­cem­ber.
Rus­sia be­came the first coun­try to ap­prove a Covid-19 vac­cine in Au­gust with its Sput­nik V pro­gram, but drew heavy crit­i­cism from sci­en­tists in oth­er coun­tries af­ter Rus­sia grant­ed the ap­proval with­out a Phase III tri­al. The orig­i­nal an­nounce­ment, as well as Rus­sia's of­fer to col­lab­o­rate on fu­ture tri­als, drew par­tic­u­lar scorn in the US with one of­fi­cial say­ing at the time, "There's no way in hell the US tries this on mon­keys, let alone peo­ple."
The coun­try has since re­leased some da­ta from ear­ly clin­i­cal tri­als from the shot, but none of the stud­ies so far have been deemed suf­fi­cient to sup­port au­tho­riza­tion else­where. Moscow has since reached deals with Brazil, In­dia and Mex­i­co to sell dos­es of Sput­nik V.
Near­ly 400 ad­vo­ca­cy groups ask WTO to waive Covid-re­lat­ed patent rights
A coali­tion of ad­vo­ca­cy groups across the globe band­ed to­geth­er Wednes­day to ask the World Trade Or­ga­ni­za­tion to waive some patent rights for Covid-19 vac­cines and treat­ments to al­low eas­i­er ac­cess for de­vel­op­ing coun­tries.
About 400 groups signed on to the let­ter in sup­port of a pro­pos­al from In­dia and South Africa ear­li­er this month. The waiv­er would lift some rules for patents, in­dus­tri­al de­signs, copy­rights, and pro­tec­tion of trade se­crets in or­der to en­sure a "glob­al so­lu­tion" to the pan­dem­ic. The WTO is meet­ing this week.
Wednes­day's let­ter ex­press­es con­cern that some of the rich­est coun­tries have en­tered in­to se­cre­tive pacts with phar­ma­ceu­ti­cal com­pa­nies that have pre­vent­ed less wealthy na­tions from see­ing mean­ing­ful ac­cess to Covid-19 treat­ments. The or­ga­ni­za­tions specif­i­cal­ly point to the world­wide short­age of Gilead's remde­sivir, which they note was de­vel­oped with some pub­lic funds, as a re­sult from places like the US and UK buy­ing up most of the sup­ply.
They al­so wrote that while As­traZeneca has pledged to pro­duce its vac­cine can­di­date at cost dur­ing the pan­dem­ic, the com­pa­ny has the abil­i­ty to uni­lat­er­al­ly de­clare the pan­dem­ic over and start gen­er­at­ing a prof­it.
The let­ter reads, in part:
These re­stric­tive busi­ness strate­gies have di­rect­ly trans­lat­ed in­to ex­or­bi­tant pric­ing and prof­i­teer­ing. With en­tire health sys­tems al­ready over­whelmed by COVID-19 and with gov­ern­ments fac­ing a loom­ing eco­nom­ic cri­sis, the health bud­gets of many coun­tries sim­ply can­not sus­tain high­ly priced COVID-19 med­ical prod­ucts. These re­al­i­ties will al­so hin­der pro­duc­tion by any com­pe­tent man­u­fac­tur­er and im­pede the full free­dom to col­lab­o­rate, in de­vel­op­ing, pro­duc­ing, im­port­ing and ex­port­ing the need­ed med­ical prod­ucts.
At the cen­ter of the dis­pute is a WTO agree­ment known as the Trade-Re­lat­ed As­pects of In­tel­lec­tu­al Prop­er­ty Rights, or TRIPS. Go­ing in­to ef­fect orig­i­nal­ly in 1995, TRIPS was amend­ed in 2001 to al­low some patent rights to be sus­pend­ed in the name of pub­lic health by way of man­u­fac­tur­ing low­er-cost gener­ics.
For a look at all End­points News coro­n­avirus sto­ries, check out our spe­cial news chan­nel.