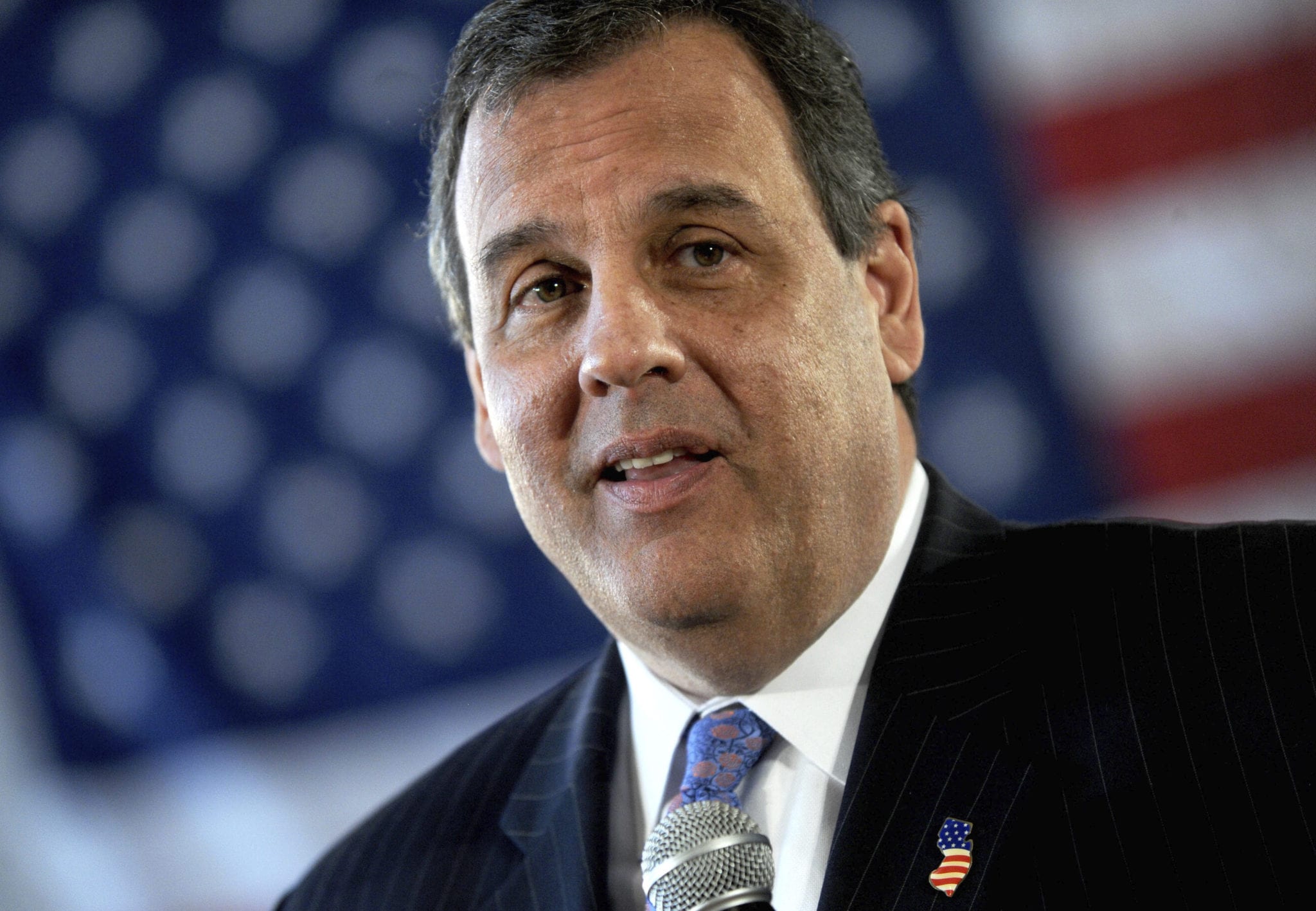 Chris Christie has recovered after testing positive for Covid-19 (AP Images)
Covid-19 roundup: Can Ab­b­Vie's dis­ap­point­ing NASH drug ceni­crivi­roc find suc­cess fight­ing cy­tokine storms?; Trump al­ly Chris Christie says he re­ceived Lil­ly's an­ti­body cock­tail
Af­ter get­ting passed down the line to Ab­b­Vie through a cou­ple of biotech buy­outs, the phar­ma gi­ant is now in line to see if their drug ceni­crivi­roc can score a suc­cess in the glob­al war against Covid-19.
The NIH has se­lect­ed this drug — which has proven un­der­whelm­ing as a NASH-tar­get­ed ther­a­py — as one of 3 it will test in a new adap­tive study dubbed AC­TIV-1 Im­mune Mod­u­la­tors, which is look­ing for new ways to fight off the cy­tokine storms that kill some pa­tients.
The oth­er 2 drugs se­lect­ed from among 130 can­di­dates are the high pro­file im­mune mod­u­la­tors Rem­i­cade and Oren­cia. So far re­pur­pos­ing ex­ist­ing drugs for the virus has of­ten proved frus­trat­ing­ly dis­ap­point­ing. But no­body's aban­doned that ap­proach yet. Armed with BAR­DA cash, in­ves­ti­ga­tors at the NIH say these 3 have pro­files in­di­cat­ing their po­ten­tial in com­bat­ing one of the most threat­en­ing as­pects of Covid-19. There's al­so enough drug avail­able to add an ex­tra study.
All pa­tients en­rolled in the study will get remde­sivir, now un­der a cloud af­ter a new WHO study con­clud­ed it pro­vides no ev­i­dent ben­e­fit to pa­tients, as well as con­va­les­cent plas­ma and dex­am­etha­sone — if the doc­tors in­volved be­lieve it will help.
Why ceni­crivi­roc?
The late-stage drug has pro­vid­ed un­der­whelm­ing ev­i­dence of ef­fi­ca­cy in NASH — like most every­thing else thrown against NASH — af­ter Brent Saun­ders picked it up at Al­ler­gan in the $1.7 bil­lion To­bi­ra buy­out. Ab­b­Vie in­her­it­ed the pro­gram with the rest of the Al­ler­gan pipeline fol­low­ing its own buy­out.
The drug is a dual-re­cep­tor an­tag­o­nist, tar­get­ing CCR2 and CCR5, which pro­vides a ra­tio­nale that it can help the worst off pa­tients ad­mit­ted to the hos­pi­tal.
This isn't the on­ly adap­tive tri­al ex­am­in­ing how this drug per­forms against Covid-19. It was al­so tapped along­side Ote­zla and Fi­razyr for I-SPY COVID back in Au­gust, where re­searchers are look­ing for ways to fight acute res­pi­ra­to­ry dis­tress syn­drome.
An­oth­er pos­si­ble rem­e­dy for cy­tokine storm has been pre­sent­ed by the an­ti-GM-CSF class of drugs, where Hu­mani­gen and GSK, among oth­ers, are test­ing drugs that have po­ten­tial specif­i­cal­ly to fight back against the most se­vere im­mune re­ac­tions. For Hu­mani­gen, the pan­dem­ic has of­fered a vir­tu­al re­birth for the com­pa­ny, af­ter watch­ing its shares trade OTC for some time.
Hu­mani­gen's drug lenzilum­ab was cho­sen for an­oth­er NIH study on Covid-19 ear­li­er, which al­so added the IL-23 drug Skyrizi (risankizum­ab) from Ab­b­Vie and Boehringer In­gel­heim. — John Car­roll
Chi­na push­es ex­per­i­men­tal vac­cines out­side tri­als
Sino­vac and Chi­na Na­tion­al Biotec Group may not be test­ing their Covid-19 vac­cines, but the com­pa­nies are al­ready ex­pand­ing its reach to the Chi­nese pop­u­la­tion through emer­gency use pro­vi­sions.
As well as spawn­ing a light­ning-speed vac­cine de­vel­op­ment pro­gram, the pan­dem­ic has trig­gered an un­prece­dent­ed vac­ci­na­tion cam­paign in Chi­na, where at least 350,000 peo­ple are re­port­ed to have re­ceived an in­oc­u­la­tion out­side of clin­i­cal tri­als. Since the vac­cines re­main un­proven, ex­perts have cau­tioned that it could pro­vide a false sense of se­cu­ri­ty or worse, lead­ing to surges in side ef­fects that are not prop­er­ly mon­i­tored.
Ji­ax­ing, a city lo­cat­ed just south of Shang­hai with a pop­u­la­tion of over 3 mil­lion, is of­fer­ing Sino­vac's ex­per­i­men­tal vac­cine to high-risk groups and res­i­dents who have "emer­gency needs." The price, lo­cal me­dia re­port­ed, is RMB$200 ($29.87) per shot for a two-dose reg­i­men.
Chi­na Na­tion­al Biotec Group, on the oth­er hand, is of­fer­ing its jabs (it's de­vel­op­ing two) for free to stu­dents who are study­ing abroad — much as it gave ac­cess to over­seas work­ers of state-owned en­ter­pris­es and med­ical work­ers with­in the coun­try.
More than 168,000 peo­ple had signed up for the pro­gram on­line and over 91,000 are be­ing con­sid­ered, AP re­port­ed, cit­ing a no­tice on CN­BG's web­site that's since been re­moved.
In com­par­i­son, its Phase III tri­als are en­rolling a to­tal of 40,000 vol­un­teers across the Unit­ed Arab Emi­rates, Bahrain, Pe­ru and Mo­roc­co. Sino­vac, which is con­duct­ing tri­als in Brazil and In­done­sia, among oth­ers, is en­rolling sim­i­lar num­bers. — Am­ber Tong
Trump al­ly Chris Christie says he re­ceived Lil­ly's an­ti­body cock­tail
When he was hos­pi­tal­ized for Covid-19, Pres­i­dent Don­ald Trump said he asked for Re­gen­eron's ex­per­i­men­tal an­ti­body cock­tail — and re­ceived it. And now one of his long­time al­lies re­vealed he's re­ceived a ri­val an­ti­body treat­ment from Eli Lil­ly.
Chris Christie, the for­mer gov­er­nor of New Jer­sey, was be­lieved to have been in­fect­ed at the Rose Gar­den cer­e­mo­ny that An­tho­ny Fau­ci has called a su­per-spread­er event. Hav­ing re­cov­ered from the in­fec­tion — af­ter 7 days in in­ten­sive care — he thanked his doc­tors and "the man­u­fac­tur­ers of Remde­sivir and the Eli Lil­ly mon­o­clon­al an­ti-body cock­tail for giv­ing me ac­cess to their ex­tra­or­di­nary treat­ments."
Trump, who was al­so giv­en remde­sivir, had since lav­ished praise on both Re­gen­eron's and Eli Lil­ly's drugs, promis­ing to au­tho­rize them quick­ly and make them avail­able for free to the Amer­i­can pub­lic.
Both Trump and Christie had se­cured ac­cess through com­pas­sion­ate use re­quests, some­thing bio­phar­ma com­pa­nies don't typ­i­cal­ly like and are not oblig­ed to com­ply.
As the drugs are still be­ing test­ed in clin­i­cal tri­als and not yet wide­ly avail­able — Re­gen­eron has 50,000 dos­es cur­rent­ly while Lil­ly ex­pects to have 100,000 some time in Oc­to­ber — bioethi­cists and watch­dogs have ques­tioned the ethics be­hind giv­ing Trump spe­cial ac­cess.
"When it's the pres­i­dent of the Unit­ed States, of course, that gets — ob­vi­ous­ly — gets our at­ten­tion," Re­gen­eron CEO Len Schleifer had told Katie Thomas at the New York Times.
With Christie, how­ev­er, the stakes ap­pear dif­fer­ent. It is not im­me­di­ate­ly clear what stan­dards Lil­ly ap­plied in grant­i­ng his re­quest.
Lil­ly's pro­gram is un­der a cloud of un­cer­tain­ty af­ter the NIH halt­ed a tri­al test­ing its an­ti­body, which was co-de­vel­oped with Ab­Cellera, over a safe­ty con­cern — while FDA in­spec­tors took is­sue with qual­i­ty con­trol at a man­u­fac­tur­ing plant. — Am­ber Tong
First au­tho­rized vac­cines may be met with re­luc­tant Amer­i­cans, poll sug­gests
About 70% of reg­is­tered vot­ers sur­veyed said they would take a Covid-19 vac­cine, al­though many want to wait un­til it has been avail­able for a while to see if there are ma­jor prob­lems or side ef­fects, a new Wall Street Jour­nal/NBC News poll shows.
The sur­vey found that 20% of re­spon­dents said they would take a vac­cine as soon as one be­comes avail­able, while about half the re­spon­dents want­ed to wait un­til they learned more in­for­ma­tion about the shot.
The lat­est re­sults echo ear­li­er sen­ti­ments amid a cam­paign to de­vel­op im­mu­niza­tions at un­prece­dent­ed speed and come af­ter ac­cu­sa­tions of politi­ciza­tion from all sides. Crit­ics have lam­bast­ed Pres­i­dent Don­ald Trump's pub­lic promise to de­liv­er a vac­cine by Elec­tion Day and sound­ed alarm on the pres­sure he ap­pears to be push­ing on FDA com­mis­sion­er Stephen Hahn — while Trump has sug­gest­ed with­out ev­i­dence that there's a "deep state" work­ing in­side the agency to de­lay a vac­cine au­tho­riza­tion. — Am­ber Tong
For a look at all End­points News coro­n­avirus sto­ries, check out our spe­cial news chan­nel.