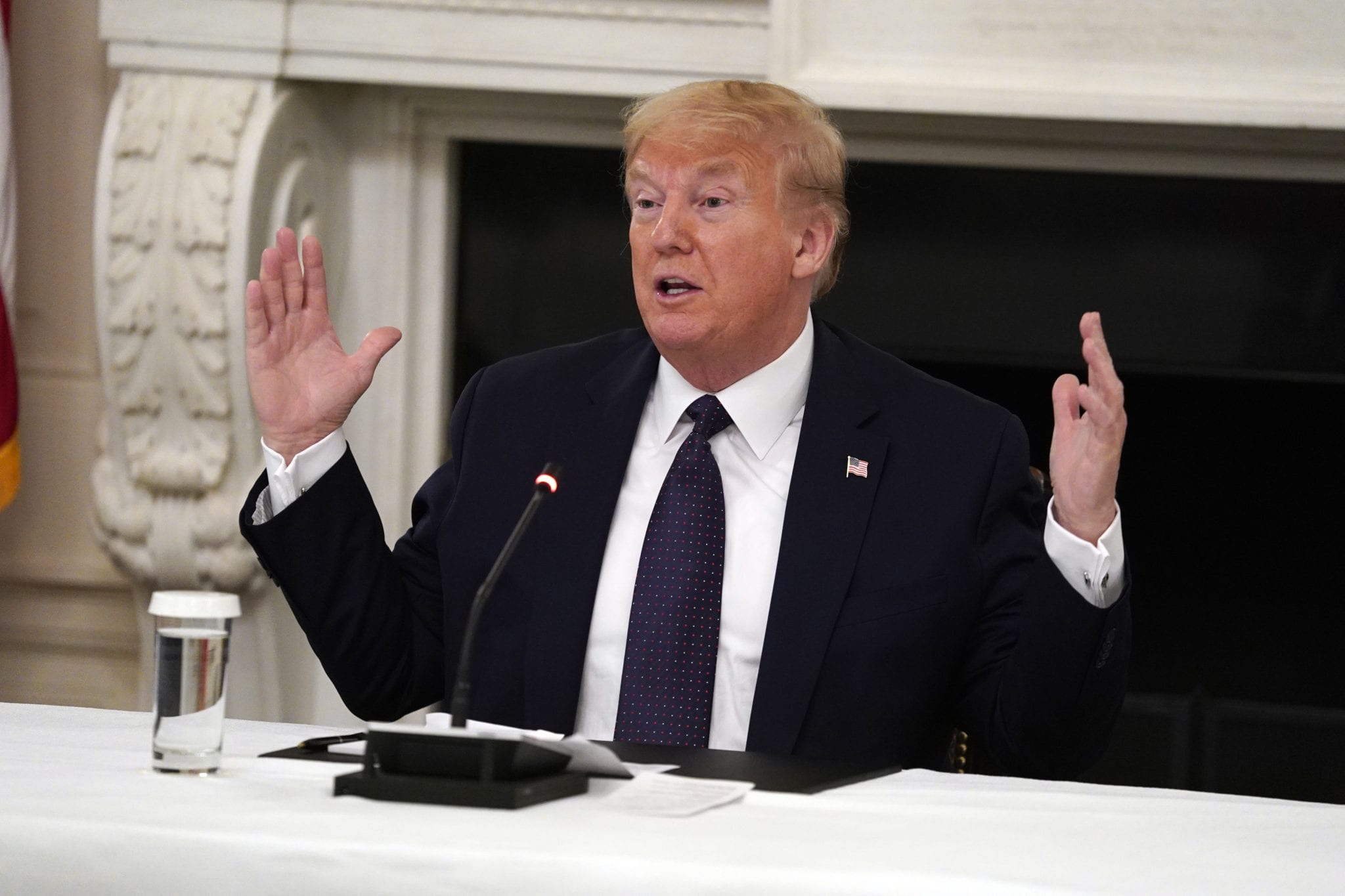 President Donald Trump speaks during a meeting with restaurant industry executives about the coronavirus response, in the State Dining Room of the White House, Monday, May 18, 2020, in Washington. (Evan Vucci, AP Images)
Covid-19 roundup: Trump says he's been tak­ing hy­drox­y­chloro­quine for days; Mod­er­na rais­es $1.3B on the heels of ground­break­ing da­ta
A cou­ple of months af­ter he start­ed tout­ing hy­drox­y­chloro­quine as a po­ten­tial treat­ment for Covid-19 on thin ev­i­dence, Pres­i­dent Don­ald Trump re­vealed that he's been tak­ing the an­ti-malar­ia drug for a lit­tle over a week.
Trump's pub­lic pro­mo­tion of the drug — as well as his aides' be­hind-the-scenes work to push for wider use — has been the cen­ter of a whistle­blow­er com­plaint in which Rick Bright, the for­mer chief of BAR­DA, al­leged he was oust­ed for re­sist­ing the pres­sure to en­dorse the un­proven ther­a­py and chloro­quine, a sim­i­lar com­pound.
The FDA pro­vid­ed the emer­gency use au­tho­riza­tion that paved the way for wider use in late March but lim­it­ed the man­date to the hos­pi­tal set­ting. With­in a month, it al­so is­sued a safe­ty warn­ing with­in a month, ad­vis­ing physi­cians to close­ly screen and mon­i­tor pa­tients to help mit­i­gate the risks of heart rhythm prob­lems.
At a press con­fer­ence on Mon­day, Trump at­tacked Bright, say­ing "there's a lot of bad things com­ing out about him" and point­ing out that he had signed the ap­pli­ca­tion for the EUA, be­fore piv­ot­ing to prais­ing hy­droxy.
The pres­i­dent said he's tak­ing hy­drox­y­chloro­quine as a pro­phy­lac­tic, a use that's be­ing in­ves­ti­gat­ed among front­line health­care work­ers and oth­ers at high risk of get­ting ex­posed to the virus.
"I hap­pen to be tak­ing it. I hap­pen to be tak­ing it. I'm tak­ing it, hy­drox­y­chloro­quine. Right now, yeah. A cou­ple weeks ago I start­ed tak­ing it. Be­cause I think it's good, I heard a lot of good sto­ries … I take a pill every day," he said, adding: "I think peo­ple should be al­lowed to."
When pressed, he cit­ed "a lot of pos­i­tive calls about it" as the source of his con­fi­dence that the drug would have a pre­ven­ta­tive ef­fect, even though he main­tains he's not been ex­posed. Call­ing the neg­a­tive VA study a "very un­sci­en­tif­ic re­port," he re­it­er­at­ed the pre­vi­ous line: "What have you got to lose?" — Am­ber Tong
Bol­stered by PhI up­date, Mod­er­na quick­ly snags $1.35B raise
The fron­trun­ner sta­tus in the race to de­vel­op a vac­cine against Covid-19 is prov­ing lu­cra­tive for Mod­er­na, which has raised $1.34 bil­lion in a pub­lic of­fer­ing.
The Cam­bridge, MA-based biotech pro­posed to sell and then quick­ly priced 17,600,000 shares at $76 a pop. While that would have marked a 15% pre­mi­um on the stock price Mon­day morn­ing, the re­lease of pre­lim­i­nary re­sults from the on­go­ing Phase I tri­al of its mR­NA SARS-CoV-2 vac­cine boost­ed it well be­yond that in­to the $80 ter­ri­to­ry.
From the pro­pos­al to the pric­ing, Mod­er­na took mere­ly hours to com­plete the ex­er­cise, il­lus­trat­ing the de­mand for its shares.
It's not just in­vestors who are bet­ting on Mod­er­na. BAR­DA has in­ject­ed $483 mil­lion in­to the clin­i­cal and man­u­fac­tur­ing ops, in the hopes of get­ting the pro­duc­tion ca­pac­i­ty in place for a large-scale roll­out. — Am­ber Tong
Ahead of pric­ing strat­e­gy un­veil­ing, Gilead re­port­ed­ly do­nates more dos­es of remde­sivir
As an­a­lysts' an­tic­i­pa­tion con­tin­ues to build re­gard­ing how Gilead would price remde­sivir, the com­pa­ny has pledged to do­nate more dos­es of the an­tivi­ral.
The new do­na­tion would bring the to­tal vials for the fed­er­al gov­ern­ment from 607,000 to 940,000, STAT re­port­ed cit­ing the HHS. That means 30,000 to 55,000 more pa­tients could be treat­ed, de­pend­ing on how long their course of treat­ment is.
But Gilead won't be of­fer­ing the drug — the on­ly treat­ment to have shown clin­i­cal ben­e­fit in a place­bo-con­trolled study and one that's been au­tho­rized for emer­gency use — for free for­ev­er. SVB Leerink an­a­lyst Ge­of­frey Porges, who host­ed a vir­tu­al fire­side chat with Gilead CFO An­drew Dick­in­son and SVP of HIV & emerg­ing in­fec­tions Di­ana Brainard, had this to re­port:
The ini­tial do­nat­ed sup­ply of remde­sivir to the US and for­eign gov­ern­ments is ex­pect­ed to be de­plet­ed in June or Ju­ly, and Gilead an­tic­i­pates un­veil­ing a pric­ing strat­e­gy be­fore that oc­curs. The com­pa­ny in­tends to piv­ot to a com­mer­cial mod­el, and stat­ed that in­vestors should ex­pect remde­sivir prod­uct sales in H2.
— Am­ber Tong
For a look at all End­points News coro­n­avirus sto­ries, check out our spe­cial news chan­nel.