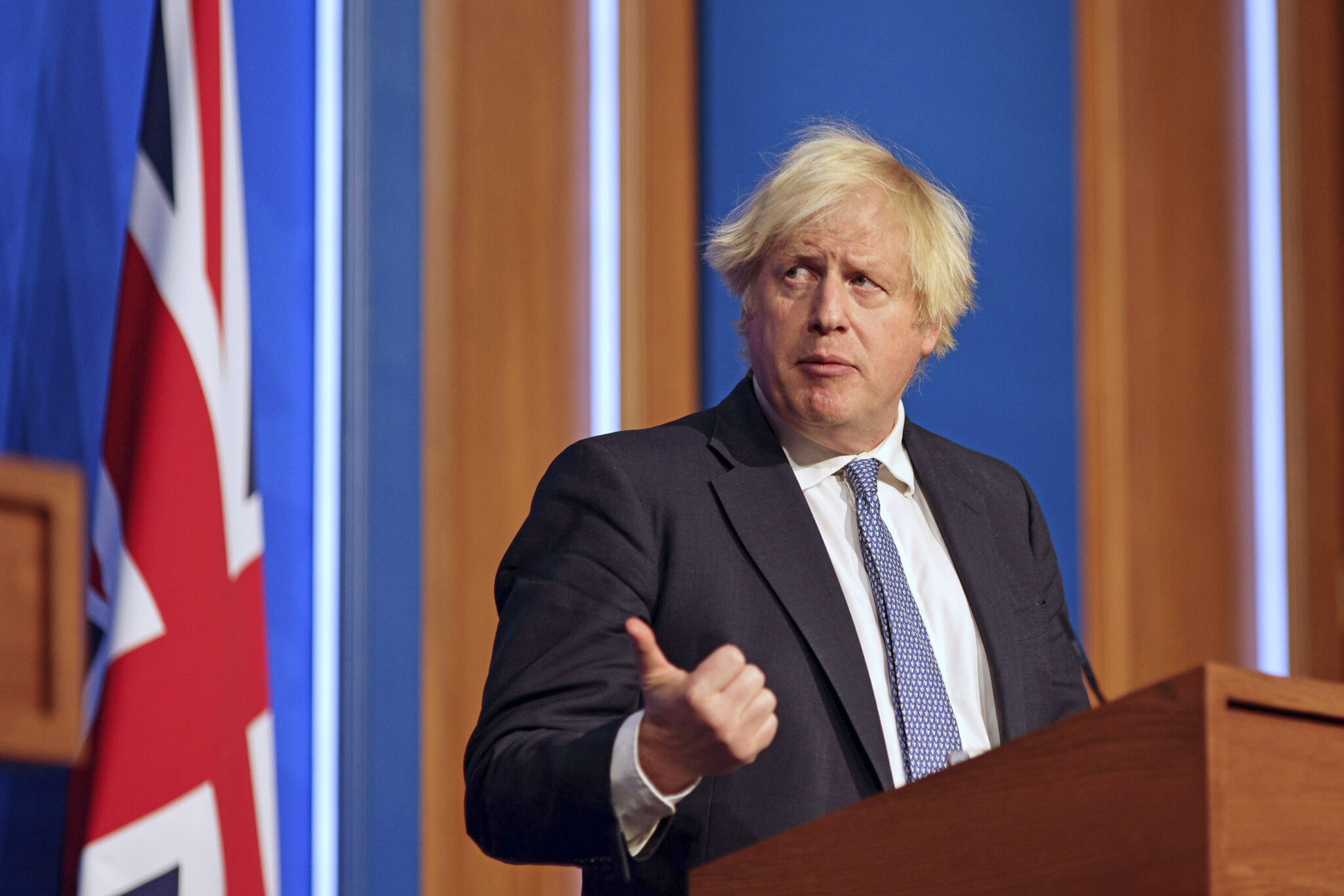 Boris Johnson at a press conference Dec. 8, after discussions on restrictions as a result of the Omicron variant (Adrian Dennis/Pool via AP Images)
Covid-19 roundup: UK preps for a wave of Omi­cron cas­es; Bourla sug­gests a fourth dose might be nec­es­sary
With re­ports of Omi­cron cas­es in over 50 coun­tries, and at least 19 US states, some re­gions like the UK are now ex­pect­ing a rapid rise of Omi­cron as com­mu­ni­ty spread takes off.
While the UK has on­ly seen about 800 Omi­cron cas­es so far, the gov­ern­ment's Health Se­cu­ri­ty Agency warned that if the re­cent growth rate con­tin­ues, "we ex­pect to see at least 50 per­cent of Covid-19 cas­es to be caused by the Omi­cron vari­ant in the next two to four weeks," ac­cord­ing to the New York Times.
John Ed­munds, an epi­demi­ol­o­gist at the Lon­don School of Hy­giene & Trop­i­cal Med­i­cine, said that plan B mea­sures an­nounced by PM Boris John­son were "ab­solute­ly not an over­re­ac­tion" even if Omi­cron turned out to be milder than the cur­rent dom­i­nant vari­ant, ac­cord­ing to The Guardian.
Ed­munds told a Roy­al So­ci­ety of Med­i­cine we­bi­nar Thurs­day that it was "ex­treme­ly like­ly" there's more Omi­cron in com­mu­ni­ties, adding, "With the speed of spread of this virus, we may well have re­al­ly sig­nif­i­cant num­bers of cas­es by Christ­mas."
Mean­while, CDC di­rec­tor Rochelle Walen­sky said Wednes­day that her staff is "avail­able 24/7, as they have been through­out this en­tire pan­dem­ic, to pro­vide in-per­son and re­mote tech­ni­cal sup­port for the pub­lic health re­sponse to the Omi­cron vari­ant, in­clud­ing in­ves­ti­ga­tions of the epi­demi­o­log­ic and clin­i­cal char­ac­ter­is­tics of Omi­cron or oth­er SARS-CoV-2 in­fec­tions."
An­tho­ny Fau­ci, Pres­i­dent Biden's top in­fec­tious dis­ease ex­pert, added at the brief­ing, "We are do­ing live virus and pseu­do virus as­says that might be ready for in­ter­pre­ta­tion in the mid­dle of next week for the pseu­do virus and prob­a­bly the end of next week for the live virus­es. We'll be able to de­ter­mine whether or not an­ti­bod­ies in­duced by our vac­cines lose their ca­pa­bil­i­ty of ef­fec­tive­ness with Omi­cron."
Be­tween Nov. 26 and Dec. 6, CDC has worked with with more than 25 ju­ris­dic­tions on sus­pect­ed and con­firmed cas­es of the Omi­cron vari­ant, Walen­sky said.
Pfiz­er CEO Bourla sug­gests the need for a fourth vac­cine dose to fight Omi­cron
Da­ta on the Omi­cron vari­ant that are com­ing in the next two weeks will of­fer an ac­cu­rate look at whether Pfiz­er's vac­cine can stand up to the new, more in­fec­tious vari­ant, Pfiz­er CEO Al­bert Bourla told CN­BC yes­ter­day.
"When we see re­al-world da­ta, will de­ter­mine if the Omi­cron is well cov­ered by the third dose and for how long. And the sec­ond point, I think we will need a fourth dose," Bourla said. Al­though, Bourla's opin­ion is con­flict­ed by his po­si­tion and ob­vi­ous in­ter­est in sell­ing as many vac­cine dos­es as pos­si­ble.
Bourla pre­vi­ous­ly said that a fourth dose like­ly wouldn't be need­ed un­til a year af­ter the third, but he said this new, faster time­line is be­cause of Omi­cron.
The push comes as Fau­ci has al­so now in­di­cat­ed that an Omi­cron-tar­get­ed vac­cine might not be nec­es­sary.
While stress­ing that he was hy­poth­e­siz­ing, Fau­ci sug­gest­ed in an in­ter­view with STAT News that it's pos­si­ble the cur­rent vac­cines will pro­vide enough pro­tec­tion against Omi­cron.
For a look at all End­points News coro­n­avirus sto­ries, check out our spe­cial news chan­nel.