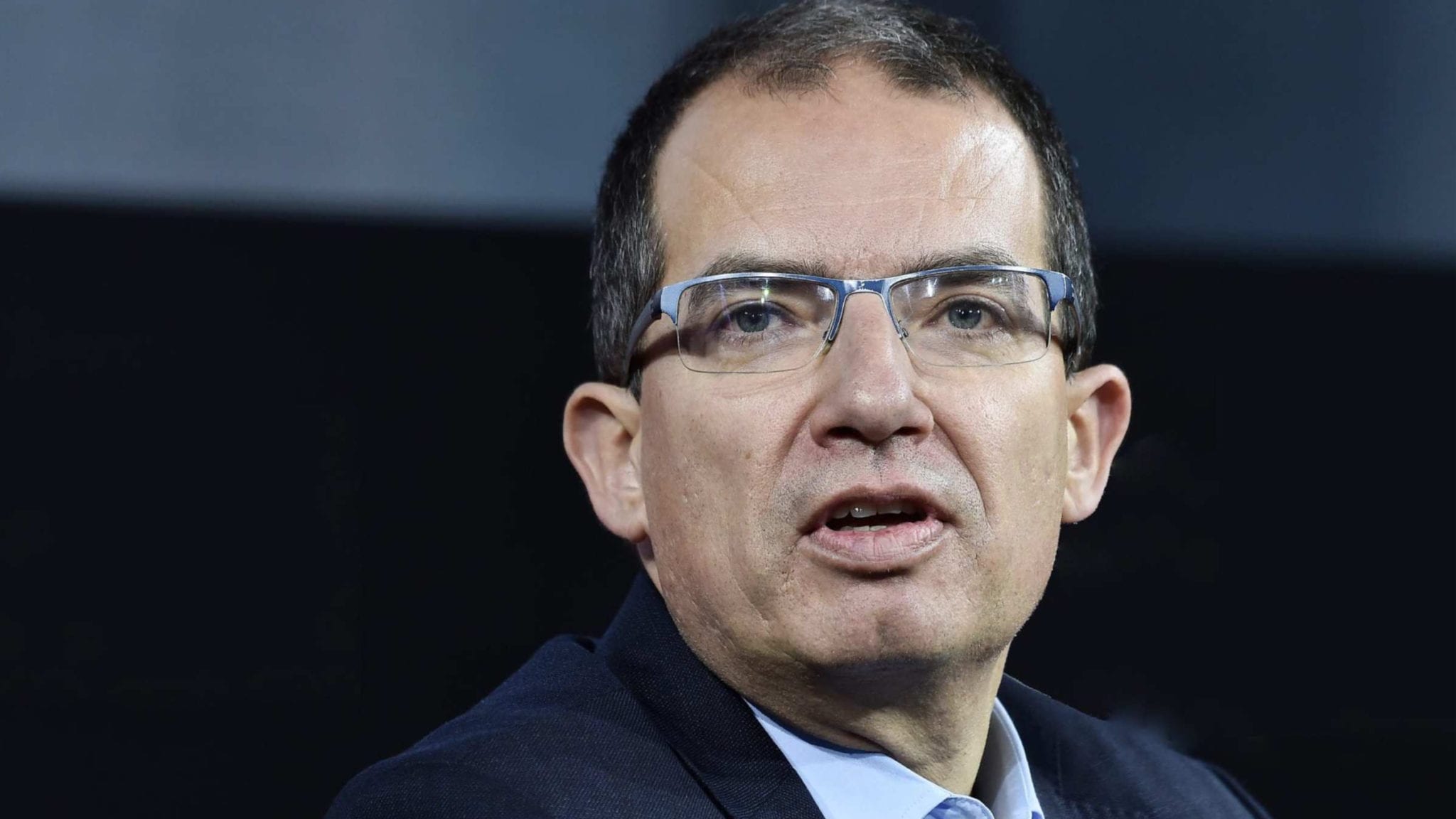 Stéphane Bancel, Moderna CEO (Steven Ferdman/Getty Images)
Covid-19 roundup: Mod­er­na vac­cine kicks up an­ti­bod­ies against Delta vari­ant; UK study val­i­dates mix-and-match ap­proach for Pfiz­er-As­traZeneca
In an con­tin­ued ef­fort to mon­i­tor the ef­fec­tive­ness of its Covid-19 vac­cine, Mod­er­na has rolled out the lat­est slate of neu­tral­iza­tion da­ta against dif­fer­ent vari­ants — in­clud­ing the Delta vari­ant first iden­ti­fied in In­dia.
The da­ta were pub­lished on the preprint serv­er bioRx­iv as the Delta vari­ant has en­gulfed a num­ber of coun­tries, lead­ing to resur­gence of in­fec­tions.
De­ploy­ing a well-doc­u­ment­ed method, in­ves­ti­ga­tors took blood sam­ples from eight par­tic­i­pants of Mod­er­na's Phase I tri­al one week af­ter their sec­ond dose of mR­NA-1273, and pit­ted them against pseudovirus en­gi­neered to bear fea­tures of vari­ants of con­cerns (VOCs), in­clud­ing the "the Be­ta vari­ant (B.1.351, first iden­ti­fied in South Africa), three lin­eage vari­ants of B.1.617 (first iden­ti­fied in In­dia), in­clud­ing the Kap­pa (B.1.617.1) and the Delta vari­ants (B.1.617.2); the Eta vari­ant (B.1.525, first iden­ti­fied in Nige­ria); and the A.23.1 and A.VOI.V2 vari­ants first iden­ti­fied in Ugan­da and An­go­la, re­spec­tive­ly."
They then com­pared the neu­tral­iz­ing an­ti­body lev­els to that of the wild type virus first dis­cov­ered in Wuhan.
They re­port­ed:
Among VOCs test­ed, serum-elicit­ed neu­tral­iza­tion of the B.1.1.7 (Al­pha) vari­ant was com­pa­ra­ble to D614G; a range of re­duced neu­tral­iza­tion titers com­pared to D614G were ob­served for oth­er VOCs in­clud­ing the B.1.351 (Be­ta), B.1.617.2 (Delta), and P.1 (Gam­ma) vari­ants, with re­duc­tions rang­ing from 2.1-fold to 8.4-fold.
To Mod­er­na CEO Stéphane Ban­cel, the da­ta are "en­cour­ag­ing" in that they sup­port his vac­cine's sta­tus as an ef­fec­tive "pri­ma­ry se­ries vac­cine" even against new­ly de­tect­ed vari­ants.
The biotech is al­so study­ing a mul­ti­va­lent boost­er can­di­date, which they're call­ing mR­NA-1273.211, con­tain­ing both the orig­i­nal vac­cine and a new jab de­signed to tar­get the Be­ta vari­ant. — Am­ber Tong
UK study val­i­dates mix-and-match ap­proach for Pfiz­er-As­traZeneca
Some of the first da­ta for a mix-and-match vac­cine reg­i­men are in, and they're en­cour­ag­ing for the UK and much of Eu­rope.
The Ox­ford study, called Com-COV, found that ad­min­is­ter­ing a shot of Pfiz­er/BioN­Tech vac­cine as a sec­ond dose af­ter the As­traZeneca vac­cine pro­duced stronger im­mune re­spons­es than giv­ing two shots of the As­traZeneca vac­cine.
The re­sults, which fo­cused on dos­ing at four-week in­ter­vals, are per­haps un­sur­pris­ing giv­en that Pfiz­er's vac­cine has ap­peared more ef­fec­tive across the board than the As­traZeneca jab. But, giv­en the per­snick­ety, un­pre­dictable na­ture of the im­mune sys­tem, they were not as­sured.
The re­sults pro­vide the first good da­ta to sup­port what the UK and broad swaths of Eu­rope are al­ready do­ing: Amid short­ages of As­traZeneca dos­es and con­cerns about its con­nec­tion to rare but se­ri­ous blood clots, those na­tions al­lowed or en­cour­aged peo­ple who re­ceived a shot of their jab to use an mR­NA shot for their sec­ond dose.
The study in­di­cat­ed, though, that not all com­bi­na­tions were cre­at­ed equal. A shot of As­traZeneca then a shot of Pfiz­er pro­duced a bet­ter an­ti­body re­sponse, but a shot of Pfiz­er then As­traZeneca pro­duced a high­er T cell re­sponse.
The same study is now ex­am­in­ing the re­sults of giv­ing the vac­cines 12 weeks apart. That sched­ule aligns with how the vac­cines have been rolled out in the UK and some da­ta sug­gest the As­traZeneca vac­cine works bet­ter when giv­en at longer in­ter­vals. — Ja­son Mast
Lead­ing Chi­nese vac­cine proves safe in chil­dren
One of the lead­ing Chi­nese-made vac­cines ap­pears to be safe and to in­duce an­ti­bod­ies in chil­dren, po­ten­tial­ly adding an­oth­er tool, along­side the Pfiz­er and Mod­er­na shots, to pro­tect those un­der the age of 18.
Sino­vac pub­lished da­ta in The Lancet Mon­day show­ing that its in­ac­ti­vat­ed virus vac­cine elicit­ed an­ti­bod­ies in 96% of 550 chil­dren and ado­les­cents in Chi­na. Mild or mod­er­ate ad­verse events were rel­a­tive­ly un­com­mon com­pared to oth­er vac­cines, with 26% of vol­un­teers re­port­ing one such event, and there was on­ly one se­ri­ous ad­verse event — a case of pneu­mo­nia.
Al­though Sino­vac is one of the least ef­fi­ca­cious Covid-19 vac­cines au­tho­rized in any coun­try, with Phase III da­ta show­ing around 51% pro­tec­tion against symp­to­matic dis­ease, it still ap­peared large­ly pro­tec­tive against hos­pi­tal­iza­tion or death and has be­come a key pil­lar of vac­ci­na­tion cam­paigns in coun­tries across Asia. The com­pa­ny claims to have de­liv­ered more than 600 mil­lion dos­es as of June 1. — Ja­son Mast
For a look at all End­points News coro­n­avirus sto­ries, check out our spe­cial news chan­nel.