The Cancer Research Institute is shining a light on the explosive growth of cell therapies in the clinic, spotlighting China's virtual overnight success in grabbing a lead role in the field. And they're asking the world's cancer drug development companies to adopt a new approach that will help the industry manage a finite number of potential trial patients while pointing researchers to the most likely avenue for doing something important — rather than just frittering away badly needed resources.
The nonprofit CRI recently quantified the proliferation of I/O agents in the clinic, capturing our attention with the news that 164 PD-1/L1 therapies were in the pipeline, looking to whittle away at the blockbuster leaders from Merck and Bristol-Myers Squibb. Now we learn from an update in Nature Reviews Drug Discovery — penned by a team that includes Jill O'Donnell‐Tormey and Aiman Shalabi — that they tracked down 753 cell therapies, with 375 in the clinic.
That figure is up 87% in just 6 months, with 350 added to the pipeline around the world.
The tally reveals that "378 are in preclinical phase, 160 in phase I, 205 in phase II, 6 in phase II and 4 approved (2 in the US, 1 in South Korea and 1 in Italy)," reports the CRI. "Interestingly, 404 of the 753 agents are chimeric antigen receptor (CAR) T cell therapies."
Not surprisingly, the US is in the clear lead here, with 344 programs. But China is number two, and catching up fast, with 203. In a field where academic centers frequently play a lead role in demonstrating their potential, 125 of China's programs — 62% — are in the hands of academics.
Here's a look at the global playing field: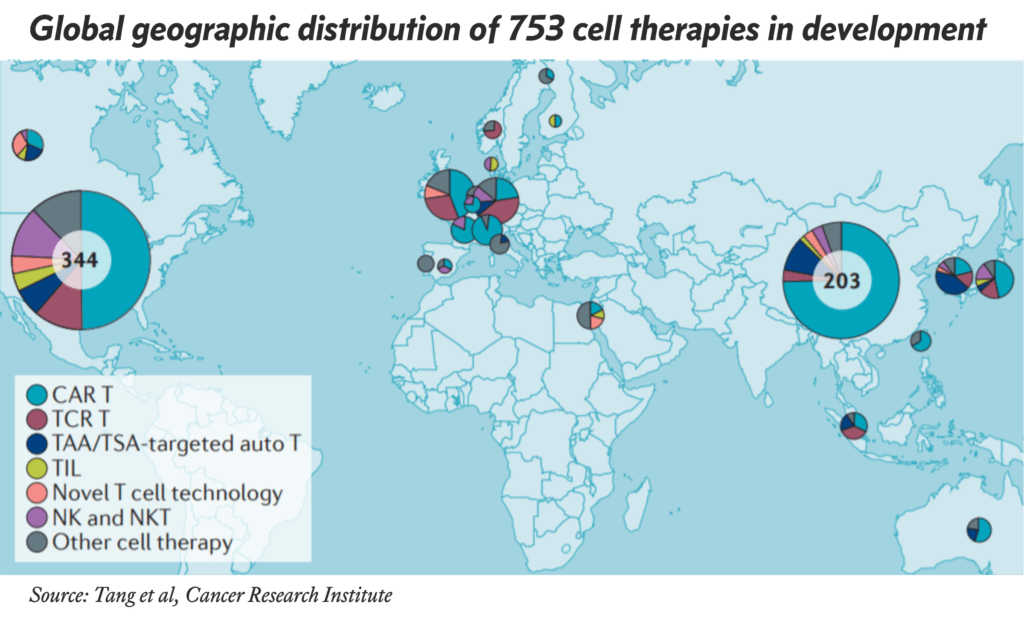 In the meantime, it's getting rapidly easier to get these therapies produced for clinical trials virtually anywhere. "(W)ith the rapid advancement of local cell production technologies, such as CliniMACS Prodigy (Miltenyi Biotec), Cocoon (Lonza) and Beacon (Berkeley Lights), we anticipate a low entry hurdle for local manufacture of cells for investigational clinical use."
There are 113 targets on the radar in this field, with 73 in the clinic. CD19 rules the roost, for now, with BCMA a growing but still relatively small segment. Here's a look at the top 30: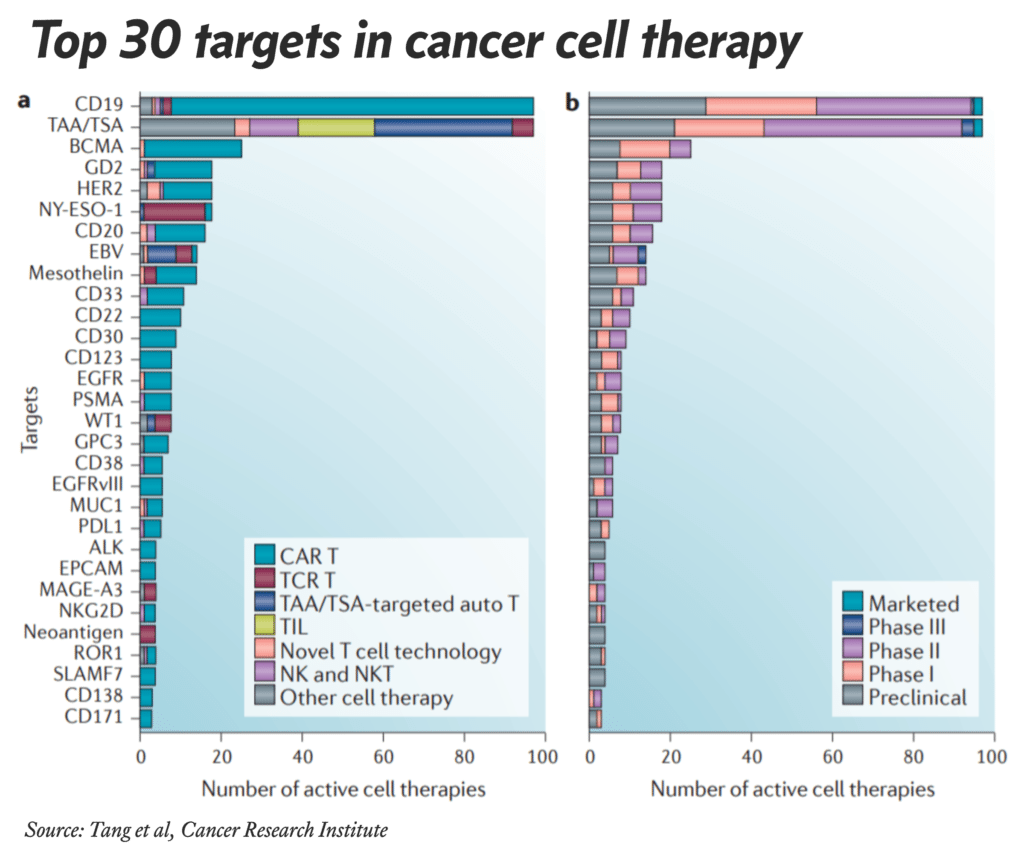 The booming oncology research field has delivered some important gains in the last two years. But at this rate, the gold rush for advancing new drugs is spurring the CRI to outline some badly needed reforms. Here are three:
They're asking the R&D execs here to shift more of their focus to introducing genetic constructs into cells, rather than concentrate on viral vectors, where a production bottleneck has developed.
Rather than squander the limited access to patient volunteers on a massive number of new studies, they want developers to move to adaptive trial designs that accommodate multiple drugs and targets at once.
And with the big push on to expand into solid tumors, CRI wants developers to focus on the most important targets not currently being treated well with existing drugs.
There's no R&D czar in the world, though, that can demand discipline in this field. Large players have been resistant to being told what to do as much as the smaller players. And everyone wants to control their own economics. The market is driving the growth of the field, but it can't triage how it grows — unless investors start holding back funds in search of more common sense.
---
The best place to read
Endpoints News

? In your inbox.

Comprehensive daily news report for those who discover, develop, and market drugs. Join 47,400+ biopharma pros who read Endpoints News by email every day.

Free Subscription
---
---
---