Yesterday, we offered up a look at the broad range of immuno-oncology studies now underway the world over, as gathered by researchers at the Cancer Research Institute for their second annual examination of the landscape. But before we turn the page, I thought it would be instructive to focus on one critical aspect of the report that has major implications for this booming R&D sector.
The CRI's assessment not only breaks out the 2,250 PD-1/L1 studies now in the clinic — up by 748 trials from a year ago — they also break out which combos are most popular.
Despite some real issues that have come up with significant setbacks on CTLA-4 combos — with Yervoy and AstraZeneca's tremelimumab flunking big tests — CTLA-4 remains the hottest add-on to the checkpoint crowd. Chemo, which has done extremely well by Merck, ranks second. And even IDO remains a player.
Here's the breakout from CRI on the 6 approved checkpoints now on the market, watching their spiraling growth among the leaders.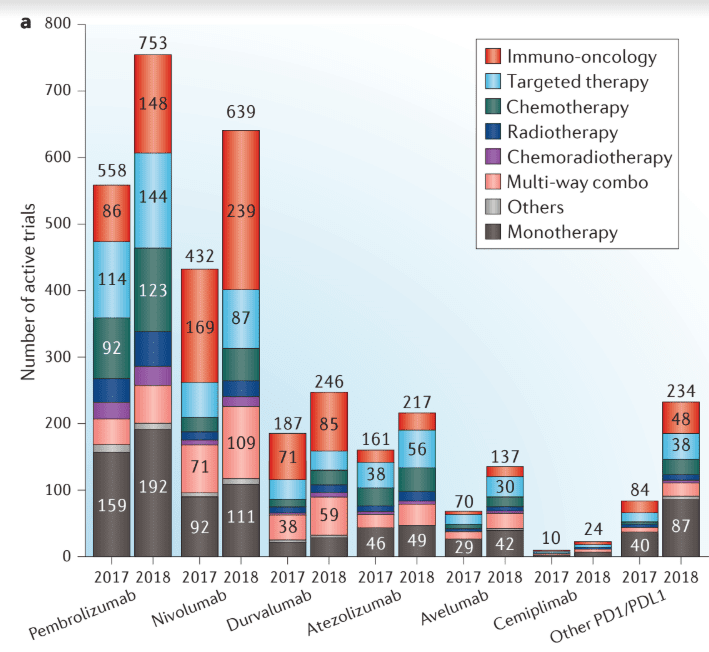 While that frenzy of activity has contributed to the rapid growth in their use, with some clear benefits for the patients who respond, it comes with a significant caution.
Looking at 533 PD-1/L1 studies, the researchers found that while the trials are attracting patient recruits faster than other types of oncology drugs, the number of patients recruited per site has dropped from 1.15 per site per month four years ago to 0.35 patients per site per month in 2018.
That trend, says the CRI, suggests this particular field is facing a serious issue on new patient recruitment.
---
The best place to read
Endpoints News

? In your inbox.

Comprehensive daily news report for those who discover, develop, and market drugs. Join 47,200+ biopharma pros who read Endpoints News by email every day.

Free Subscription
---
---
---