CRI study high­lights CT­LA-4's mar­quee role in PD-1/L1 com­bos — de­spite an in­creas­ing­ly trou­bled clin­i­cal pro­file
Yes­ter­day, we of­fered up a look at the broad range of im­muno-on­col­o­gy stud­ies now un­der­way the world over, as gath­ered by re­searchers at the Can­cer Re­search In­sti­tute for their sec­ond an­nu­al ex­am­i­na­tion of the land­scape. But be­fore we turn the page, I thought it would be in­struc­tive to fo­cus on one crit­i­cal as­pect of the re­port that has ma­jor im­pli­ca­tions for this boom­ing R&D sec­tor.
The CRI's as­sess­ment not on­ly breaks out the 2,250 PD-1/L1 stud­ies now in the clin­ic — up by 748 tri­als from a year ago — they al­so break out which com­bos are most pop­u­lar.
De­spite some re­al is­sues that have come up with sig­nif­i­cant set­backs on CT­LA-4 com­bos — with Yer­voy and As­traZeneca's treme­li­mum­ab flunk­ing big tests — CT­LA-4 re­mains the hottest add-on to the check­point crowd. Chemo, which has done ex­treme­ly well by Mer­ck, ranks sec­ond. And even IDO re­mains a play­er.
Here's the break­out from CRI on the 6 ap­proved check­points now on the mar­ket, watch­ing their spi­ral­ing growth among the lead­ers.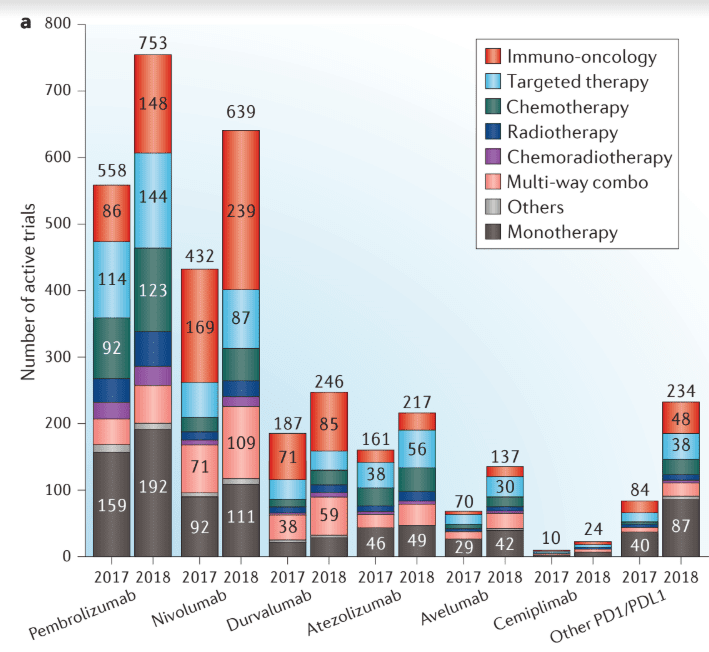 While that fren­zy of ac­tiv­i­ty has con­tributed to the rapid growth in their use, with some clear ben­e­fits for the pa­tients who re­spond, it comes with a sig­nif­i­cant cau­tion.
Look­ing at 533 PD-1/L1 stud­ies, the re­searchers found that while the tri­als are at­tract­ing pa­tient re­cruits faster than oth­er types of on­col­o­gy drugs, the num­ber of pa­tients re­cruit­ed per site has dropped from 1.15 per site per month four years ago to 0.35 pa­tients per site per month in 2018.
That trend, says the CRI, sug­gests this par­tic­u­lar field is fac­ing a se­ri­ous is­sue on new pa­tient re­cruit­ment.