D-day: No­var­tis ar­rives at a cross­road in the block­buster race to win the first FDA OK for CAR-T
Three years of in­tense com­pe­ti­tion and bil­lions of dol­lars in in­vest­ments in­to de­vel­op­ing the world's first CAR-T ther­a­py has come down to the wire to­day with the first FDA pan­el re­view for No­var­tis' lead­ing CTL019 (ti­s­agen­le­cleu­cel) ther­a­py.
Ob­servers crowd­ed in­to the pre­sen­ta­tion room this morn­ing, rub­bing shoul­ders with CAR-T celebs like Penn's Carl June with many, many more look­ing on­line as No­var­tis and reg­u­la­tors be­gan the painstak­ing process of break­ing down the man­u­fac­tur­ing process that goes in­to the lengthy and com­plex task in­volved in mak­ing these drugs. While most of these pan­el re­views come down to as­sess­ing the da­ta and how re­sults stack up against the gold stan­dard on safe­ty and ef­fi­ca­cy, the agency to­day wants their ex­perts to care­ful­ly con­sid­er if these drugs can con­sis­tent­ly be made to or­der in a safe fash­ion by man­u­fac­tur­ers who are still fine tun­ing their de­liv­ery times. In ad­di­tion, they'll need to dis­cuss the po­ten­tial threat of a tox­i­c­i­ty pro­file that has yet to be ful­ly es­tab­lished or com­plete­ly un­der­stood.
But they'll be putting all that in­to con­text of a new ther­a­py that of­fers a break­through ap­proach in treat­ing ad­vanced can­cers for pa­tients with few, if any, op­tions. And they'll be do­ing it at a time that the FDA has com­mit­ted it­self to ac­cel­er­at­ing the de­vel­op­ment of ma­jor new ther­a­pies un­der FDA com­mis­sion­er Scott Got­tlieb.
Brad Lon­car, an in­vestor who runs the $CN­CR im­munother­a­py ETF, cap­tured the key is­sues in an ear­ly tweet from the meet­ing.
FDA's two biggest con­cerns in their open­ing state­ment:

1) en­sur­ing that com­mer­cial prod­uct is like tri­al prod­uct.

2) man­ag­ing tox­i­c­i­ties. pic.twit­ter.com/rqfxI6RRMY

— Brad Lon­car (@brad­lon­car) Ju­ly 12, 2017
Vic­tor Lu at the FDA was giv­en the mis­sion of ex­plain­ing the process of ex­tract­ing cells from pa­tients, en­gi­neer­ing them with chimeric anti­gen re­cep­tors and then whip­ping that in­to a ther­a­peu­tic punch in­volv­ing tens of mil­lions of T cells. While No­var­tis and the close run­ner up in the field have been man­u­fac­tur­ing CAR-T for rel­a­tive­ly small num­bers of tri­al sub­jects, No­var­tis is ask­ing for an OK to shift in­to the com­mer­cial sphere.
No­var­tis has ex­pe­ri­enced fail­ures in mak­ing ther­a­peu­tic dos­es for all of its pa­tients. And it's been work­ing hard to get the vein-to-vein time down to about 22 days, ac­cord­ing to to­day's tes­ti­mo­ny. If they get a pos­i­tive vote to­day, and a sub­se­quent for­mal OK, look for plen­ty of care­ful com­par­isons among the lead­ers in the field to see who can do the best job on man­u­fac­tur­ing.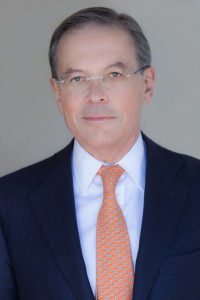 Arie Bellde­grun, Kite CEO
Kite CEO Arie Bellde­grun, whose team will be up for re­view in com­ing months, dis­count­ed the horse race lan­guage that I have used just about week­ly as the lead­ers in CAR-T racked up progress and set­backs. In a blog post to­day, he said he'd be watch­ing as a lead cheer­leader for the ri­val team at No­var­tis.
The talk of a "race" makes for great prose, but my desk isn't cov­ered in bet­ting sheets. It's cov­ered in stacks of sci­en­tif­ic pa­pers that shows the promise of CAR-T tech­nol­o­gy. Stacks that are grow­ing. With every pa­per I read, it be­comes more and more clear that CAR-T is not a biotech race to be won, but rather a rev­o­lu­tion­ary ther­a­py to be ex­plored and ap­plied to oth­er can­cers. That's a task larg­er than any sin­gle com­pa­ny.
Bellde­grun worked hard to be the first up for an FDA pan­el re­view, de­layed by de­mands for more ma­ture re­sults. But there is one ad­van­tage, from a horse race per­spec­tive, in its po­si­tion as a run­ner up. A win for No­var­tis to­day will make Kite's task of win­ning ap­proval much more straight­for­ward. Kite, though, will like­ly have to field even more point­ed ques­tions about cere­bral ede­ma, which re­cent­ly killed one pa­tient in a clin­i­cal tri­al and de­railed the lead ther­a­py at Juno.
There's plen­ty of dra­ma ahead — and not just in the vote to come up lat­er in the af­ter­noon.
I'll keep you post­ed.
---
Im­age: to­day's FDA pan­el Brad Lon­car