Dai­ichi Sankyo sweeps out Pieris drug, 5 oth­ers in a Q1 pipeline cleanup
Just a few days af­ter lin­ing up $57.5 mil­lion in near-term cash from a high-pro­file col­lab­o­ra­tion deal with As­traZeneca on its An­ti­calin plat­form, one of Pieris' oth­er part­ners un­cer­e­mo­ni­ous­ly swept out one of their clin­i­cal-stage ther­a­pies in a Q1 pipeline cleanup.
DS-9001 was dropped by Dai­ichi Sankyo af­ter in­ves­ti­ga­tors re­viewed the da­ta they had on the Phase I ther­a­py tar­get­ing PC­SK9. Pieris $PIRS has been work­ing for years on en­gi­neer­ing pro­teins that are lighter and more ver­sa­tile than an­ti­bod­ies, so that they can work where an­ti­bod­ies find their en­try barred.
Al­to­geth­er Dai­ichi Sankyo got rid of a half-dozen clin­i­cal pro­grams, in­clud­ing its late-stage pro­gram in­volv­ing Ar­Qule's $AR­QL tivan­ti­nib, which we al­ready know proved to be a fail­ure. A Phase II di­a­betes drug, a GPR119 ag­o­nist dubbed DS-8500, al­so didn't make the cut.
There's no lengthy rea­son giv­en for these cuts, oth­er than a brief note about their port­fo­lio re­view or a ref­er­ence to the da­ta they were see­ing. At the same time Dai­ichi was drop­ping their Pieris drug, though, PC­SK9 drugs have been prov­ing to be hard to sell, as Am­gen and its ri­vals at Re­gen­eron and Sanofi have learned the hard way. The Med­i­cines Com­pa­ny al­so has a PC­SK9 drug it's work­ing on that has the po­ten­tial to work just as well with in­fre­quent dos­ing.
Like Take­da, the Japan­ese phar­ma com­pa­ny has been work­ing on re­tool­ing its R&D group. Back in Feb­ru­ary the com­pa­ny put out the word that it is shut­ter­ing a re­search hub in Japan with 150 re­searchers, trans­fer­ring the work to oth­er units. That fol­lowed close­ly on the heels of an an­nounce­ment that it closed a site in In­dia, ax­ing 170 staffers.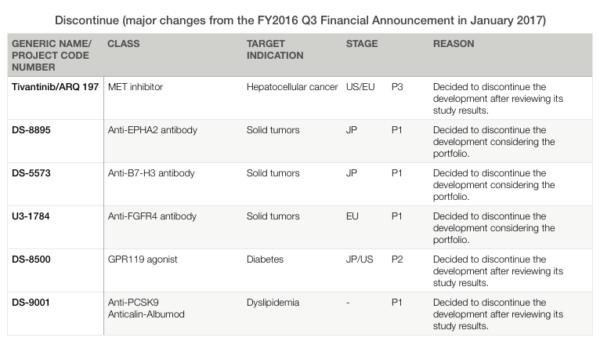 Dai­ichi Sankyo ma­jor changes from the FY2016 Q3 Fi­nan­cial An­nounce­ment in Jan­u­ary 2017. (Source)