Days af­ter seal­ing Sanofi pact, Kymera beats a path to the Nas­daq with $100M IPO pitch
Back in March, when Kymera Ther­a­peu­tics closed $102 mil­lion in Se­ries C fund­ing led by Biotech­nol­o­gy Val­ue Fund and Red­mile Group, CEO Nel­lo Main­olfi not­ed the pro­tein degra­da­tion play­er was "at the cusp of tran­si­tion­ing" in­to a ful­ly in­te­grat­ed R&D com­pa­ny. Five months and a ma­jor Sanofi pact lat­er, he's back ask­ing for an­oth­er lit­tle push to get there.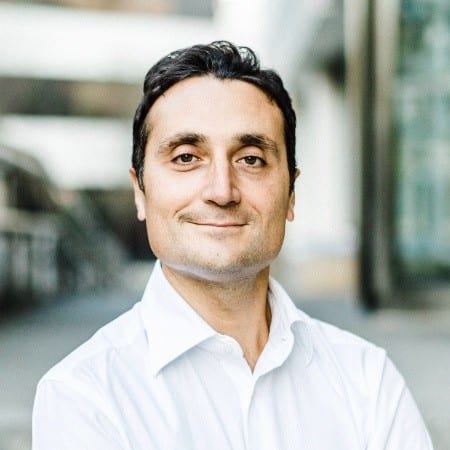 Nel­lo Main­olfi
Kymera has pen­ciled in $100 mil­lion in its first IPO pitch — al­though giv­en the pub­lic mar­ket's seem­ing­ly in­sa­tiable ap­petite for biotechs these days the fi­nal fig­ure is any­one's guess.
The ris­ing tide is ap­par­ent­ly float­ing all boats, too. GoodRx, which has thrived on help­ing more than 10 mil­lion US pa­tients nav­i­gate the labyrinthine drug pric­ing sys­tem, is re­port­ed­ly look­ing to file an IPO. Reuters not­ed that the com­pa­ny was val­ued at $2.8 bil­lion in 2018 by a pri­vate eq­ui­ty backer. The list­ing could come this year or ear­ly 2021, ac­cord­ing to sources.
Stick­ing to "high im­pact tar­gets that have been elu­sive to con­ven­tion­al modal­i­ties," Kymera's trio of ini­tial pro­grams are de­signed to de­grade IRAK4, IRAKIMiD and STAT3, re­spec­tive­ly. These are crit­i­cal sig­nalling nodes in the in­ter­leukin-1 re­cep­tor/toll-like re­cep­tor (IL-1R/TLR) and janus ki­nase/sig­nal trans­duc­ers and ac­ti­va­tors of tran­scrip­tion, or JAK/STAT, path­ways.
Lever­ag­ing E3 lig­as­es to tag the tar­get pro­tein for dis­pos­al, Kymera's drugs promise to stem dis­eases by com­plete­ly re­mov­ing the pro­teins caus­ing them.
Pro­ceeds from the IPO are ex­pect­ed to fund the de­vel­op­ment of all three through the end of Phase I. The first fil­ing, for an IRAK4 de­grad­er dubbed KT-474, is slat­ed to be dis­patched in the first half of 2021, with the oth­ers to fol­low lat­er in the year.
As a pi­o­neer in a field where mon­ey has been free flow­ing, Kymera will join two oth­er pro­tein degra­da­tion spe­cial­ists on the Nas­daq. But while it shares a fo­cus on can­cer with Arv­inas and Nurix, the biotech has al­so ven­tured out to in­flam­ma­to­ry and au­toim­mune dis­eases as well as fi­bro­sis.
"Ob­vi­ous­ly when you're work­ing out­side of tar­get­ed on­col­o­gy, you ac­tu­al­ly bring a lot more com­plex­i­ty giv­en that you're go­ing af­ter a va­ri­ety of cell pop­u­la­tion and not just the one can­cer cell pop­u­la­tion," Main­olfi pre­vi­ous­ly told End­points News.
But over the years Kymera has man­aged to go deep. Burn­ing through $108.1 mil­lion, they pro­filed around 600 E3 lig­as­es to learn about the ex­pres­sion and dis­tri­b­u­tion while gen­er­at­ing a tool­box of lig­ands to bind to them. Both Ver­tex and Sanofi have been at­tract­ed to the plat­form, pro­vid­ing $220 mil­lion in col­lec­tive up­front.
Sanofi, in par­tic­u­lar, is keen to ap­ply the tools to the chron­ic in­flam­ma­to­ry dis­ease space, start­ing with IRAK4 — where the phar­ma gi­ant sees an op­por­tu­ni­ty to repli­cate the block­buster suc­cess of Dupix­ent in der­ma­tol­ogy. Once Cam­bridge, MA-based Kymera wraps up first-in-hu­man test­ing, Sanofi would led the Phase II but the biotech re­tains the op­tion to share US de­vel­op­ment costs and rev­enue.
In ad­di­tion to the named lead can­di­date, it dis­closed in a fil­ing, they have three back­up de­graders di­rect­ed against IRAK4.
At­las Ven­ture, rep­re­sent­ed by co-founder and chair­man Bruce Booth on the board, still holds the largest chunk of stock at 26.76%. Ver­tex is next on the ros­ter with 7.31%, fol­lowed by Lil­ly Ven­tures Fund (6.47%) and Pfiz­er (5.18%). The oth­er top VC in­vestors are 6 Di­men­sions and Besse­mer Ven­ture Part­ners.
The com­pa­ny al­so re­vealed that Lau­rent Au­doly was paid $1.1 mil­lion for his fi­nal year as pres­i­dent and CEO be­fore hand­ing over to Main­olfi in No­vem­ber 2019.