Deb­o­rah Dun­sire kicks off her new gig as Lund­beck CEO with a key PhI­II tri­al fail­ure
You have to feel al­most sor­ry for Deb­o­rah Dun­sire.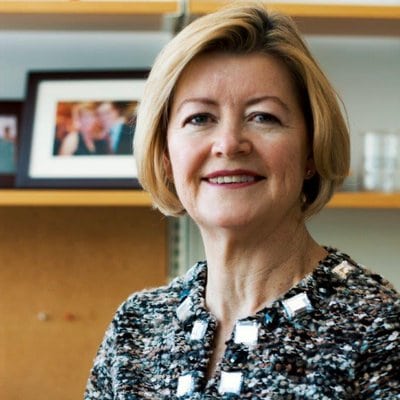 Deb­o­rah Dun­sire
No soon­er does the Mil­len­ni­um vet take the helm of Lund­beck af­ter back-to-back biotechs col­lapse on her watch than the com­pa­ny's schiz­o­phre­nia drug can­di­date fails a Phase III study, tor­pe­do­ing the stock as shares plunge 30%.
Lu AF35700 failed to mea­sure up against con­ven­tion­al ther­a­py in its first Phase III study, like­ly elim­i­nat­ing any po­ten­tial up­side as far as reg­u­la­tors might be con­cerned. In­ves­ti­ga­tors test­ed the drug on 964 treat­ment-re­sis­tant pa­tients treat­ed over 10 weeks.
The com­pa­ny's re­searchers based the drug de­sign on its pref­er­ence for the hu­man dopamine D1 re­cep­tor as op­posed to the dopamine D2 re­cep­tor, which they thought would give it an ad­van­tage on ef­fi­ca­cy as well as tol­er­a­bil­i­ty.
We don't know what the hard da­ta are, but the com­pa­ny says it con­tin­ues to study the re­sults. Jef­feries had as­signed a po­ten­tial block­buster sta­tus for the drug, with peak sales pro­ject­ed at $1.2 bil­lion.
This is the com­pa­ny's lead late-stage com­pound, shar­ing the Phase III col­umn with the Alzheimer's drug br­ex­pipra­zole, dis­cov­ered at Ot­su­ka.
In May of last year, sev­en months af­ter Lund­beck and Ot­su­ka re­port­ed a Phase III flop for their Alzheimer's drug idalopir­dine, the part­ners re­port­ed a hit-and-miss score on eas­ing Alzheimer's ag­i­ta­tion for Rex­ul­ti (br­ex­pipra­zole).
Al­ready ap­proved for schiz­o­phre­nia and ma­jor de­pres­sion, the col­lab­o­ra­tors were look­ing for the first ap­proval of an an­tipsy­chot­ic specif­i­cal­ly for ag­i­ta­tion trig­gered by Alzheimer's de­men­tia, a con­di­tion that af­flicts mil­lions of peo­ple in the US and mil­lions more world­wide. Ag­i­ta­tion can be ex­pressed in many ways, run­ning from wan­der­ing to ag­gres­sive be­hav­ior.
Now there's a much big­ger set­back to deal with.
"This is a set­back for pa­tients with schiz­o­phre­nia, but we will con­tin­ue to ad­vance our pipeline of in­no­v­a­tive ther­a­pies to meet the needs of pa­tients suf­fer­ing from psy­chi­atric and neu­ro­log­i­cal dis­eases," says An­ders Gersel Ped­er­sen, the head of R&D at the Dan­ish com­pa­ny.