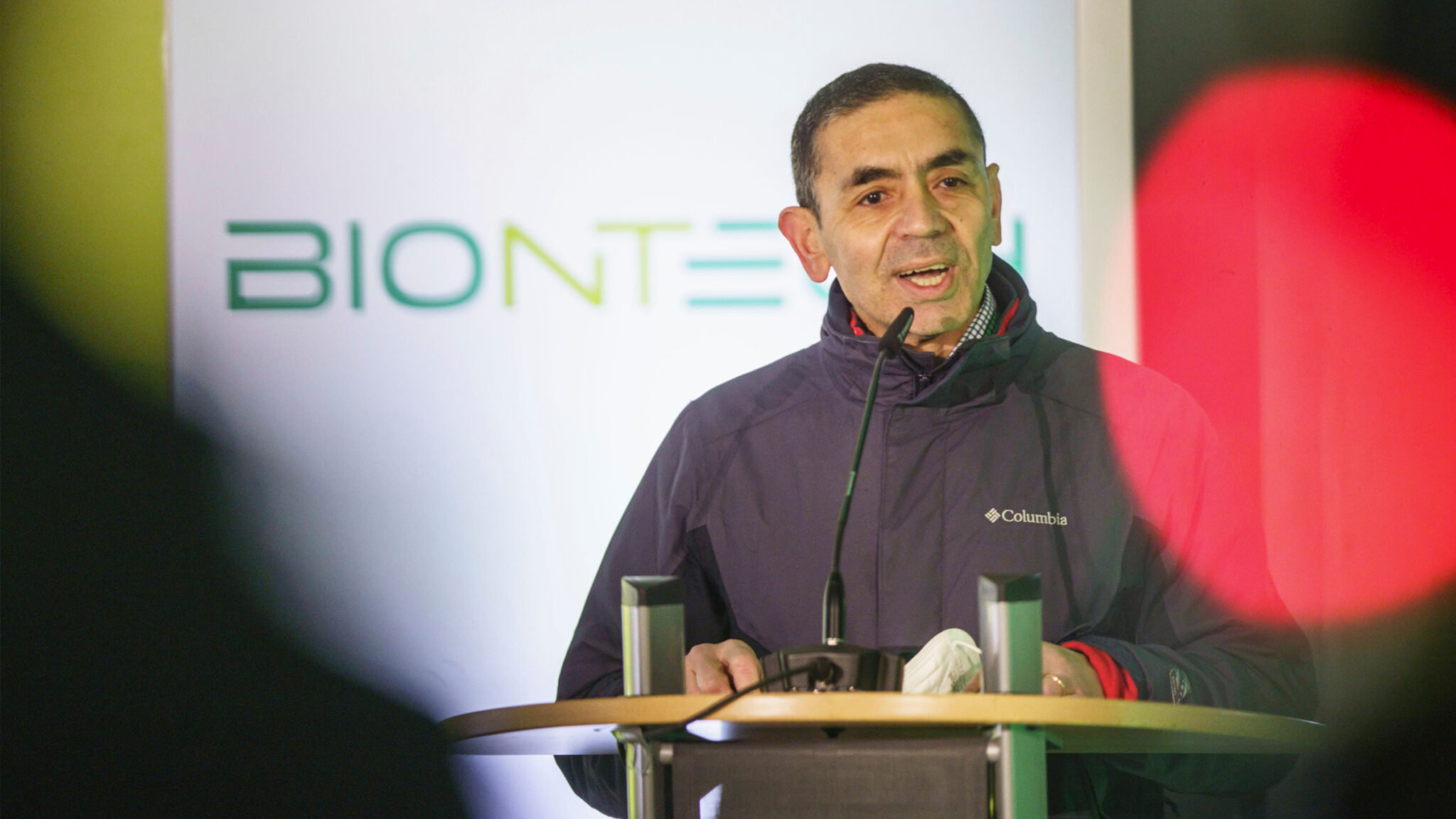 Ugur Sahin, BioNTech CEO (Frank Rumpenhorst/dpa via AP Images)
'Don't freak out': Ugur Sahin takes a dif­fer­ent tone on Omi­cron than his mR­NA coun­ter­part — re­ports
Where­as some pub­lic health of­fi­cials and bio­phar­ma lead­ers — in­clud­ing Mod­er­na CEO Stéphane Ban­cel — are sound­ing the alarm over the new Omi­cron coro­n­avirus vari­ant, BioN­Tech chief Ugur Sahin is press­ing a more cau­tious ap­proach.
In in­ter­views Tues­day with the Wall Street Jour­nal and Reuters, Sahin cau­tioned that lit­tle is yet known of the vari­ant's abil­i­ty to cause se­vere Covid-19, and T cell re­spons­es among the vac­ci­nat­ed would like­ly re­main strong. Though the biotech is still con­duct­ing lab tests to de­ter­mine whether an­ti­body pro­tec­tion will be di­min­ished, Sahin isn't press­ing the pan­ic but­ton.
"Our mes­sage is: Don't freak out, the plan re­mains the same: Speed up the ad­min­is­tra­tion of a third boost­er shot," Sahin told WSJ on Tues­day.
The com­ments stand in stark con­trast to an in­ter­view Ban­cel gave to the Fi­nan­cial Times ear­li­er this week, in which he pre­dict­ed a sig­nif­i­cant drop in vac­cine ef­fec­tive­ness against Omi­cron. Ban­cel hedged, not­ing he didn't know how steep the drop would be, but stressed that "all the sci­en­tists I've talked to … are like, 'This is not go­ing to be good.'"
Omi­cron has shak­en glob­al mar­kets since South African sci­en­tists first de­tect­ed the vari­ant last week, and coun­tries around the world are is­su­ing new trav­el bans in the hopes of stem­ming the tide. The vari­ant has been par­tic­u­lar­ly no­table for its high num­ber of mu­ta­tions, lead­ing to fears it may be more con­ta­gious than the Al­pha or Delta strains and in­fect vac­ci­nat­ed peo­ple more eas­i­ly.
But Sahin told WSJ he thinks those who re­ceived their shots — es­pe­cial­ly those that got a boost­er — would still be pro­tect­ed against se­vere dis­ease re­sult­ing in hos­pi­tal­iza­tion or death. The CEO high­light­ed that the shot pro­duced by BioN­Tech and Pfiz­er has large­ly low­ered se­vere dis­ease risk from oth­er vari­ants and said most Delta break­through in­fec­tions are mild.
He said the same would like­ly hold true for Omi­cron, as T cells con­tin­ue to of­fer pro­tec­tion even if the virus evades an­ti­bod­ies. The re­duc­tion in an­ti­body pro­tec­tion against Omi­cron is yet to be de­ter­mined, he told Reuters, but he is ex­pect­ing some loss against mild and mod­er­ate dis­ease.
Even so, Sahin is stay­ing calm.
"To my mind there's no rea­son to be par­tic­u­lar­ly wor­ried. The on­ly thing that wor­ries me at the mo­ment is the fact that there are peo­ple that have not been vac­ci­nat­ed at all," Sahin told Reuters.
While re­searchers await an­swers on on­go­ing lab tests, the virus and emerg­ing vari­ants aren't go­ing away any time soon. The pan­dem­ic has al­ready cre­at­ed a boon for Pfiz­er and Mod­er­na, with the for­mer al­so de­vel­op­ing an an­tivi­ral pill it says is 89% ef­fec­tive in re­duc­ing se­vere dis­ease in in­fect­ed in­di­vid­u­als.
Pfiz­er al­so like­ly has a leg up on Mer­ck, an­oth­er com­pa­ny work­ing on an oral treat­ment. In an ad­comm yes­ter­day, ad­vis­ers nar­row­ly vot­ed to rec­om­mend au­tho­riz­ing the Mer­ck pill de­spite ques­tions about ef­fi­ca­cy and con­cerns over us­ing the ther­a­py in preg­nant women.