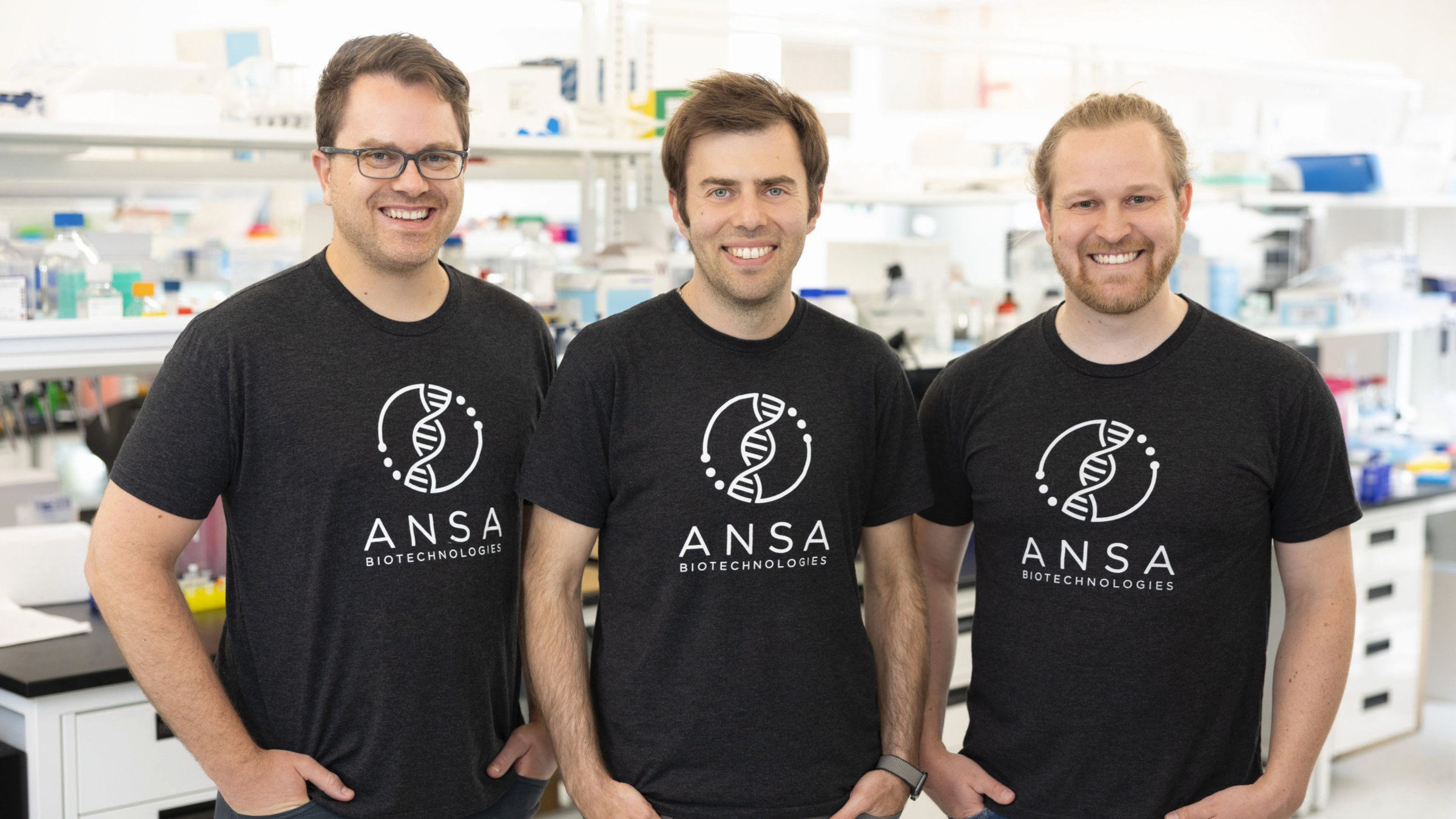 The Ansa Biotechnologies co-founders (L-R): Jared Ellefson, Daniel Arlow and Sebastian Palluk
'Don't want to fuss with this stuff': An­oth­er DNA syn­the­sis start­up reels in fund­ing
The way DNA is syn­the­sized has changed rel­a­tive­ly lit­tle dur­ing the biotech rev­o­lu­tion of the past four decades. Chem­i­cal DNA syn­the­sis has been the pre­dom­i­nant method, but it comes with lim­i­ta­tions, most no­tably er­rors or le­sions that dam­age the DNA af­ter many cy­cles and cause it to be short­er in length and less ac­cu­rate.
So, Ansa Biotech­nolo­gies wants to shake up the game with a method its founders think can skirt ex­ist­ing hur­dles and speed up the process. To do so, the Emeryville, CA start­up picked up $68 mil­lion in Se­ries A funds Mon­day to bring its DNA syn­the­sis ser­vices to mar­ket and scale up its R&D in a field dom­i­nat­ed by Twist Bio­science, a $2.5 bil­lion mar­ket cap com­pa­ny that's part­nered with the likes of Take­da and Gink­go Bioworks.
"The promise of what we're do­ing, us­ing en­zymes, is that all the re­ac­tions take place un­der com­plete­ly mild, aque­ous con­di­tions and the en­zymes are ex­quis­ite­ly pre­cise, so it doesn't dam­age the DNA as it's be­ing made," CEO Daniel Ar­low told End­points News.
Ar­low co-found­ed Ansa af­ter re­al­iz­ing how long it takes to get DNA for ex­per­i­ments while work­ing on his PhD in the lab of Jay Keasling at UC Berke­ley. He com­pared the process to com­put­er pro­gram­ming; he was a com­pu­ta­tion­al bi­ol­o­gist pri­or to grad school. Dur­ing his grad work, Ar­low met his co-founder, CTO Se­bas­t­ian Pal­luk, at the Joint BioEn­er­gy In­sti­tute.
"If pro­gram­ming on the com­put­er were this slow, if it took a month or more to re­com­pile your code every time you want to make a small change, we would nev­er get any­thing done. We wouldn't have the in­ter­net and every­thing built on top of it," he said.
Since a 2018 pa­per in Na­ture Biotech­nol­o­gy, the Ansa team has been work­ing on ma­tur­ing its tech­nol­o­gy. The key chal­lenge the start­up is try­ing to work through is get­ting the ter­mi­nal de­oxynu­cleotidyl trans­ferase (TdT) en­zyme to add one base at a time so they can "syn­the­size the se­quence that we want to make or that the cus­tomer wants us to make step by step."
Ar­low de­clined to dis­close when the 35-em­ploy­ee com­pa­ny will launch its ser­vices. The com­pa­ny sees its DNA syn­the­sis be­ing ap­plied for help­ing bio­phar­mas cre­ate ad­vanced bi­o­log­ics, cell and gene ther­a­pies, an­ti­bod­ies, as well as help­ing in­dus­tri­al biotechs en­gi­neer mi­crobes. Com­pa­nies in the cul­tured meat and dairy in­dus­tries might al­so even­tu­al­ly use the ser­vice, he added.
"We are kind of still bad at en­gi­neer­ing bi­ol­o­gy. In or­der to get bet­ter at en­gi­neer­ing bi­ol­o­gy, we re­al­ly need to tight­en up this loop and go faster be­cause this is es­sen­tial­ly a se­quen­tial process of fig­ur­ing out what works," Ar­low said.
The start­up thinks it has the "best DNA syn­the­sis method in the world," Ar­low said. The CEO didn't name names, but Ansa is not alone in the en­zy­mat­ic DNA syn­the­sis space. DNA Script hauled in a $165 mil­lion Se­ries C in Oc­to­ber, and an­oth­er $35 mil­lion dis­closed in Jan­u­ary, for its DNA print­er, which was launched in June 2021.
But Ansa isn't go­ing the syn­the­siz­er print­er route. The start­up wants to go the ser­vices route to keep the process cen­tral­ized.
"The cus­tomer wants ex­act­ly the se­quence that they want, and if we cen­tral­ize the pro­duc­tion of that, we can QC [qual­i­ty con­trol] the DNA be­fore we send it out the door and make sure that we're send­ing them ex­act­ly what they want," Ar­low said. "If they have the print­er, the bur­den of QC is on them, and they don't want to fuss with this stuff."
By keep­ing the syn­the­sis in-house, rather than ship­ping off print­ers, Ansa is al­so able to screen or­ders and cus­tomers for po­ten­tial biose­cu­ri­ty risks, Ar­low said. The com­pa­ny has the abil­i­ty to flag se­quences — and not make them — if Ansa thinks it could be haz­ardous.
"This is a re­al­ly pow­er­ful tech­nol­o­gy, and it's re­al­ly im­por­tant for us to make sure that it's used re­spon­si­bly," Ar­low said.
The new fi­nanc­ing brings to­tal fund­ing to date to $82 mil­lion. North­pond Ven­tures led the round with new in­vestors RA Cap­i­tal, Blue Wa­ter Life Sci­ence Ad­vi­sors, Al­ti­tude Life Sci­ence Ad­vi­sors, Fis­cus Ven­tures, PEAK6 Strate­gic Cap­i­tal, Car­bon Sil­i­con, and Codon Cap­i­tal. Ex­ist­ing back­ers Mubadala Cap­i­tal, Hum­boldt Fund, Fifty Years and Hori­zons Ven­tures al­so took part.
This sto­ry has been up­dat­ed to clar­i­fy the tim­ing of DNA Script's DNA print­er launch.