Dou­bling down on the Keytru­da fran­chise, Mer­ck pays $300M and promis­es $5B-plus to part­ner with Ei­sai on its bud­ding can­cer star
Im­pressed by the po­ten­tial of a com­bo fea­tur­ing Keytru­da with Ei­sai's star can­cer drug Lenvi­ma (lenva­tinib me­sy­late), Mer­ck $MRK has stepped up with $300 mil­lion in cash and a com­mit­ment of more than $5 bil­lion in mile­stones to kick off a full slate of tri­als for the duo.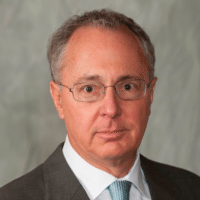 Roger Perl­mut­ter, Mer­ck
An oral TKI al­ready ap­proved for thy­roid can­cer and in com­bi­na­tion with everolimus for kid­ney can­cer, Ei­sai not­ed a lit­tle more than a month ago that their drug scored well in a Phase III study for first-line liv­er can­cer. And Mer­ck sees a big fu­ture for this drug tied to Keytru­da, which is now in­volved in more than 700 clin­i­cal tri­als.
In this pact, Ei­sai and Mer­ck will de­vel­op Lenvi­ma as a monother­a­py and in com­bi­na­tion with the check­point, with the two shar­ing de­vel­op­ment costs. Ei­sai will book glob­al sales while the two com­pa­nies share rev­enue. And they'll work to­geth­er now on a pipeline of their own tar­get­ing en­dome­tri­al can­cer, non-small cell lung can­cer, he­pa­to­cel­lu­lar car­ci­no­ma, head and neck can­cer, blad­der can­cer and melanoma, as well as a bas­ket tri­al tar­get­ing mul­ti­ple can­cer types.
This deal fol­lows Mer­ck CEO Ken Fra­zier's vow to fol­low up on his $8.5 bil­lion part­ner­ship with As­traZeneca on Lyn­parza with more such rev­enue-gen­er­at­ing pacts.
In a break­down of the mon­ey at stake, Mer­ck will be on the hook for $650 mil­lion for op­tions through 2020 and will pro­vide $450 mil­lion to re­im­burse Ei­sai on its share of the re­search costs. There's an­oth­er $385 mil­lion on the ta­ble in de­vel­op­ment mile­stones and close to $4 bil­lion for sales goals.
What got them here?
In the RCC co­hort of Study 111/KEYNOTE-146, re­searchers tracked an ORR af­ter 24 weeks of treat­ment of 63%, with tu­mor re­gres­sion ob­served in 93% (28/30) of RCC pa­tients since the ini­ti­a­tion of treat­ment.
From their state­ment:
The re­sults of the in­ter­im analy­sis (n=23) of the en­dome­tri­al can­cer co­hort in Study 111/KEYNOTE-146 as of De­cem­ber 1, 2016, in­di­cat­ed ORR Week 24 of 52.2 per­cent (95% CI, 30.6-73.2) based on in­de­pen­dent ra­di­o­log­ic re­view and 47.8 per­cent (95% CI, 26.8-69.4) based on in­ves­ti­ga­tor re­view. Ad­di­tion­al­ly, tu­mor re­gres­sion was ob­served re­gard­less of the state of mi­crosatel­lite in­sta­bil­i­ty (MSI). An­ti-PD-1 an­ti­bod­ies are gen­er­al­ly less ef­fec­tive in pa­tients with low fre­quen­cy of MSI, which is a bio­mark­er for the in­abil­i­ty to re­pair er­rors in the base se­quence of DNA, or who are MSI neg­a­tive.
"To­geth­er with Ei­sai, we aim to max­i­mize the val­ue of Lenvi­ma for its cur­rent in­di­ca­tions while joint­ly pur­su­ing ad­di­tion­al ap­provals in com­bi­na­tion with Keytru­da across a wide range of can­cers," said Mer­ck R&D chief Roger Perl­mut­ter. "There is strong sci­en­tif­ic ev­i­dence sup­port­ing syn­er­gis­tic ef­fects of Keytru­da when used in com­bi­na­tion with Lenvi­ma, and the com­pa­nies have al­ready re­ceived Break­through Ther­a­py Des­ig­na­tion from the U.S. FDA for the Keytru­da/Lenvi­ma com­bi­na­tion in re­nal cell car­ci­no­ma. Through this col­lab­o­ra­tion, we will both broad­en our on­col­o­gy port­fo­lio and have the op­por­tu­ni­ty to help even more can­cer pa­tients around the world."