Drug prices in ads: Sen­ate pass­es amend­ment
The Sen­ate spend­ing bill passed Thurs­day and with it an amend­ment from Sens. Richard Durbin (D-IL) and Chuck Grass­ley (R-IA) to re­quire pre­scrip­tion drug ad­ver­tise­ments to in­clude prices.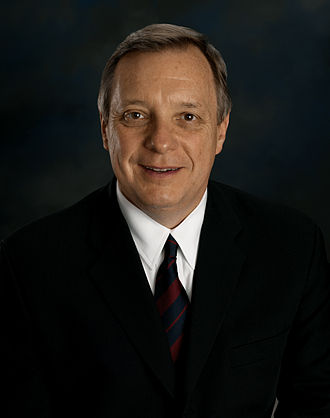 Richard Durbin
The move, part of an ef­fort to shine a light on phar­ma­ceu­ti­cal com­pa­nies' high drug prices, pro­vides the US De­part­ment of Health and Hu­man Ser­vices (HHS) with $1 mil­lion to im­ple­ment rules re­quir­ing phar­ma­ceu­ti­cal com­pa­nies to list prices of their pre­scrip­tion drugs in di­rect-to-con­sumer (DTC) ad­ver­tise­ments.
Last year, the phar­ma­ceu­ti­cal in­dus­try spent more than $6 bil­lion in DTC ad­ver­tise­ments, and the av­er­age Amer­i­can sees nine DTC pre­scrip­tion drug ads each day, ac­cord­ing to Grass­ley. The text of the amend­ment reads: "A drug that is ad­ver­tised to con­sumers with­out the in­for­ma­tion re­quired by this sec­tion or its im­ple­ment­ing reg­u­la­tions shall be deemed to be mis­brand­ed."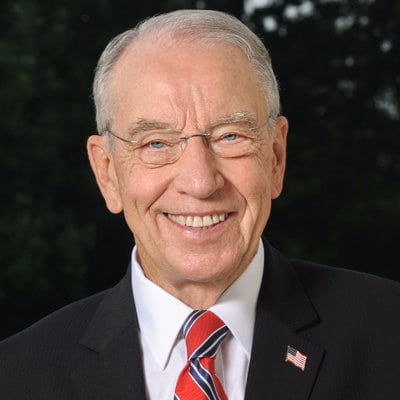 Chuck Grass­ley
Durbin, who not­ed phar­ma­ceu­ti­cal com­pa­nies were the on­ly ones op­posed to the amend­ment, said in a state­ment: "What Sen­a­tor Grass­ley and I want­ed to do is to give the Amer­i­can peo­ple more in­for­ma­tion about drug costs. More in­for­ma­tion gives trans­paren­cy to the trans­ac­tion, and will help give Amer­i­can con­sumers a break and start to slow down the sky­rock­et­ing cost of pre­scrip­tion drugs."
But whether the prices in ads will fur­ther en­rage or con­fuse Amer­i­cans re­mains to be seen. Sim­i­lar­ly, whether com­pa­nies will de­cide to ad­ver­tise dif­fer­ent prod­ucts based on price re­mains to be seen. The spon­sors of the amend­ment have yet to say whether the ads will use list prices or re­bate-re­duced prices, but they have linked their amend­ment to a new­ly pro­posed rule­mak­ing on trans­paren­cy.
Ear­li­er this week, the Cen­ters for Medicare and Med­ic­aid Ser­vices (CMS) sent for re­view a pro­posed rule­mak­ing ti­tled "Reg­u­la­tion to Re­quire Drug Pric­ing Trans­paren­cy" — though the text of the rule­mak­ing has not been made pub­lic. CMS cur­rent­ly of­fers drug spend­ing dash­boards, with in­for­ma­tion on Medicare Part B and D pro­grams as well as Med­ic­aid.
Ear­li­er this month, CMS al­so an­nounced plans to be­gin us­ing what's called step ther­a­py to try to low­er the spend on Part B drugs by about 20% in Medicare Ad­van­tage plans. The an­nounce­ments are be­gin­ning to add up to a wider ef­fort, in­clud­ing the FDA's gener­ic drug ap­provals, to bring down the prices of phar­ma­ceu­ti­cals. But whether the moves ac­tu­al­ly bring down prices re­mains to be seen.
Rachel Sachs, an as­sis­tant pro­fes­sor of law at Wash­ing­ton Uni­ver­si­ty in St. Louis, told Fo­cus: "Sec­re­tary Azar has de­cried the use of po­lit­i­cal 'gim­micks' that wouldn't have an ef­fect on the prob­lem, but the ad­min­is­tra­tion has not yet ex­plained pub­licly how they think in­clud­ing prices in di­rect-to-con­sumer ad­ver­tise­ments will lead to drug com­pa­nies choos­ing to low­er their prices."
---
First pub­lished here. Reg­u­la­to­ry Fo­cus is the flag­ship on­line pub­li­ca­tion of the Reg­u­la­to­ry Af­fairs Pro­fes­sion­als So­ci­ety (RAPS), the largest glob­al or­ga­ni­za­tion of and for those in­volved with the reg­u­la­tion of health­care and re­lat­ed prod­ucts, in­clud­ing med­ical de­vices, phar­ma­ceu­ti­cals, bi­o­log­ics and nu­tri­tion­al prod­ucts. Email news@raps.org for more in­for­ma­tion.