With a steady drumbeat of bad news set to the tempo of doom and gloom in the Alzheimer's/dementia research world playing in the background, Eisai is creating its own $100 million-plus plan to start fresh and blaze some new research trails that go beyond tau and amyloid beta.
The Japanese company is building a 50,000-square-foot research home at the Alewife Research Center close to the heart of the humming Cambridge, MA biotech hub. Drawing on current staffers from their Andover site — which is being shut down — and adding some new skill sets, company execs plan to assemble a team of more than 80 scientists at the Eisai Center for Genetics Guided Dementia Discovery.
They're committing more than $100 million to fund operations for the first three years, says the center's new president, Nadeem Sarwar. Breakthrough research into human genetics will form a foundation for this dementia group, he adds, but will go further in building up expertise in data sciences, immunodementia, discovery technologies and precision chemistry.
And they'll be working shoulder-to-shoulder. The new center is being built according to the demands of the current style: Open. (Even though staffers may not always care for it.)
"Open offices, open lab and open style," is the way Sarwar, who's joining the movement celebrating the end of research silos, describes it.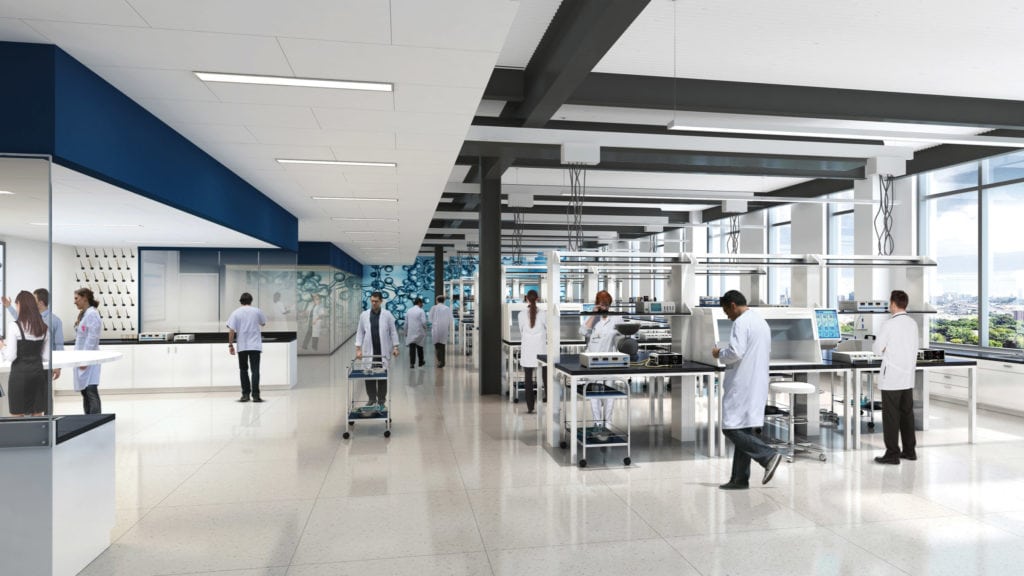 Sarwar says they're joining the migration into Cambridge in order to gain closer contacts with the full range of academic and industry research groups. He adds that Eisai plans to set up collaborative deals with a set of new partners, ranging from the startups and spinouts jumping into the arena as well as the more established companies and prominent academic teams in the hub.
The big idea here is that if you can start with a better understanding of the disease, and the various triggers that may be involved, you can do a much better job at defeating it.
Eisai has a considerable amount of experience in clinical development in this field. The company is allied on a BACE drug with Biogen, which has had mixed results. They have also been watching carefully as the two lead pivotal programs for BACE — at Merck and more recently at Eli Lilly and AstraZeneca — went down in flames.
Ultimately, says Sarwar, it's probable that the field will go the way of oncology, looking for more complex combination approaches as it strikes the disease at different stages of development. And that won't come easily or quickly, which is why they're committing to a decade worth of work.
"We have to keep trying, for patients and families," says Sarwar. "It's one of the most devastating illnesses there is."
Scientists will be moving into the new center as it is being prepared for a grand opening next spring.
---
Image: Nadeem Sarwar and Eisai's Cambridge site. EISAI
---
The best place to read
Endpoints News

? In your inbox.

Comprehensive daily news report for those who discover, develop, and market drugs. Join 47,400+ biopharma pros who read Endpoints News by email every day.

Free Subscription
---
---
---