Eli Lil­ly buys it­self an an­ti­body R&D plat­form from Till­man Gern­gross's Adimab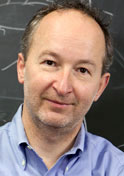 Till­man Gern­gross
Eli Lil­ly has just ex­e­cut­ed on a turnkey an­ti­body plat­form deal with Till­man Gern­gross's Adimab.
We don't know the deal terms, but Lil­ly turned to the an­ti­body shop in New Hamp­shire for the plat­form tech, now des­ig­nat­ed for its R&D groups in San Diego and New York. Lil­ly al­so gets an an­ti­body li­brary as well as a li­cense to use the plat­form in any way it likes.
The two com­pa­nies have been work­ing to­geth­er from the ear­ly days at Adimab, be­gin­ning in 2010.
Gern­gross doesn't tout every deal, but he set up Adimab with the idea of de­vel­op­ing close re­la­tion­ships with drug de­vel­op­ers on in­di­vid­ual projects and then do­ing these turnkey deals with some of the com­pa­nies with the deep­est pock­ets. That has led to oth­er such pacts with a who's who in bio­phar­ma, in­clud­ing Mer­ck, No­vo Nordisk, Bio­gen and GSK. Al­to­geth­er Gern­gross says he's now done sev­en of these deals.
Gern­gross is a fa­mil­iar fig­ure in biotech. He sold Gly­coFi to Mer­ck back in 2006 for $400 mil­lion.
"Lil­ly has a strong foun­da­tion in pro­tein-based ther­a­peu­tics and ex­cel­lent R&D ca­pa­bil­i­ties. We are de­light­ed to see our plat­form in the hands of such a com­pe­tent team," said Gern­gross in a pre­pared state­ment. "Adimab is a tech­nol­o­gy com­pa­ny that does not pur­sue its own in­ter­nal pipeline. As such, we are very in­vest­ed in the suc­cess of our col­lab­o­ra­tors. We typ­i­cal­ly en­ter in­to small­er col­lab­o­ra­tions in­tend­ed to demon­strate the ca­pa­bil­i­ties of the plat­form and then broad­en the re­la­tion­ship by ei­ther do­ing more fund­ed dis­cov­ery or trans­fer­ring the plat­form for in­ter­nal use."