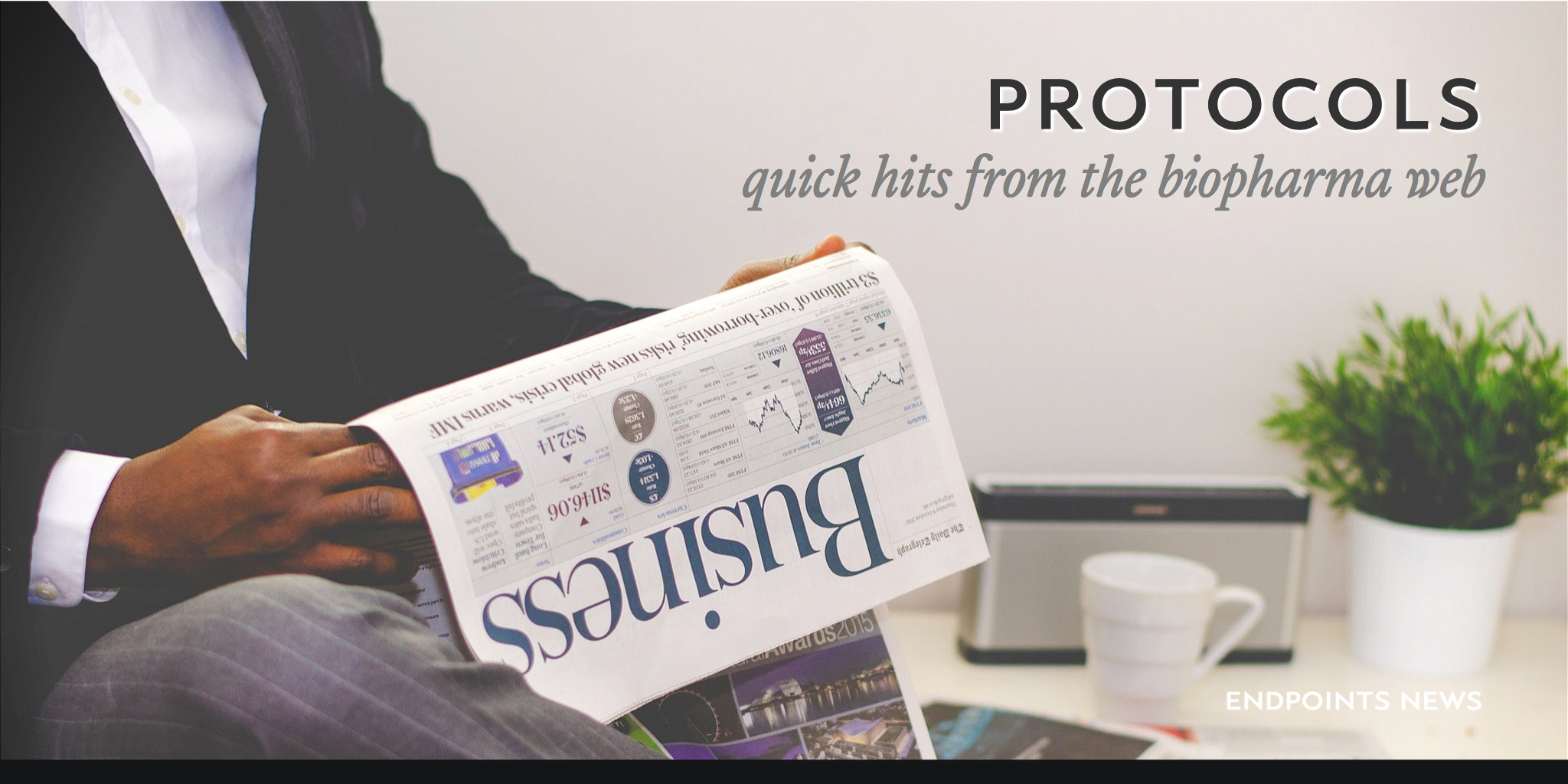 Eli Lil­ly dish­es out first mile­stone pay­ment for Alzheimer's deal; ADC Ther­a­peu­tics, Viela Bio set terms for IPO
→ With oth­ers shy­ing away from the Alzheimer's field af­ter the many clin­i­cal im­plo­sions and dis­as­ters, Eli Lil­ly is still chug­ging along with its $2 bil­lion deal with AC Im­mune — de­spite its share of BACE woes. AC Im­mune is set to re­ceive its first mile­stone pay­ment of CHF30 mil­lion, al­most a year af­ter the deal was inked. The com­pa­ny said that the pay­ment "is a recog­ni­tion of progress in the col­lab­o­ra­tion be­tween the two com­pa­nies and fol­lows ini­ti­a­tion in Ju­ly 2019 of the Phase 1 study of ACI-3024, a first-in-class in­ves­ti­ga­tion­al oral small mol­e­cule Tau Mor­phomer in de­vel­op­ment for treat­ment of Alzheimer's dis­ease (AD) and oth­er neu­rode­gen­er­a­tive dis­or­ders." A sec­ond mile­stone pay­ment of the same amount is sched­uled for Q1 of 2020.
→ Af­ter sign­ing a pact with Freenome and clos­ing a mon­ster $303 mil­lion E round in the last few months, ADC Ther­a­peu­tics set terms for its IPO on Mon­day. The Swiss com­pa­ny plans to of­fer 8.2 mil­lion shares at a price range of $23 to $26 to raise $200 mil­lion. In­sid­ers in­tend to pur­chase $115 mil­lion worth of shares in the of­fer­ing. At the mid­point of the pro­posed range, ADC would com­mand a mar­ket val­ue of $1.8 bil­lion.
→ As­traZeneca spin­out Viela Bio has closed in on the price range of its IPO, dis­clos­ing that it plans to of­fer 7.5 mil­lion shares be­tween $19 and $21 each. At the top of the range, the biotech will bring in $157.5 mil­lion to bankroll the de­vel­op­ment and com­mer­cial­iza­tion of its lead au­toim­mune drug, inebi­lizum­ab. The ful­ly di­lut­ed mar­ket val­ue (at the mid­point) could reach $1 bil­lion.
→ Is­raeli-based En­tera Bio has re­leased pos­i­tive da­ta for its oral parathy­roid hor­mone (PTH) drug Oral hPTH(1-34) from its Phase II study in pa­tients with hy­poparathy­roidism. Hav­ing test­ed four times dai­ly (QID) dos­ing in a pre­vi­ous study, the com­pa­ny want­ed to al­so com­pare twice dai­ly (BID) and three times dai­ly (TID) reg­i­mens and dose strengths.
"The re­sults showed that the largest changes in PD end­points were found with QID dos­ing, with mod­er­ate changes in PD end­points gen­er­al­ly found with BID and TID dos­ing," stat­ed Pro­fes­sor Sofia Ish-Shalom, a prin­ci­pal in­ves­ti­ga­tor at the En­docrine Re­search Cen­ter at Lin Med­ical Cen­ter in Haifa, Is­rael. "In ad­di­tion, the QID dos­ing de­creased urine cal­ci­um over 24-hours, which in­di­cates that it may be able to re­duce uri­nary cal­ci­um in hy­poparathy­roid pa­tients with hy­per­cal­ci­uria dur­ing long-term treat­ment."
→ In June, teplizum­ab (PRV-031) — which was re­ject­ed by Eli Lil­ly 9 years ago, but picked up by Proven­tion Bio — was shown to de­lay type 1 di­a­betes. Now, Proven­tion an­nounced that "based on writ­ten com­mu­ni­ca­tions from the FDA and the FDA's des­ig­na­tion of PRV-031 as a break­through ther­a­py, the Com­pa­ny be­lieves that ex­ist­ing clin­i­cal and non-clin­i­cal da­ta for PRV-031 will be suf­fi­cient to sup­port a Bi­o­log­ics Li­cense Ap­pli­ca­tion (BLA) sub­mis­sion for PRV-031 in the fourth quar­ter of 2020 for the at-risk in­di­ca­tion." The New Jer­sey-based com­pa­ny ex­pects to meet with the FDA in the fourth quar­ter of 2019 to dis­cuss this ex­pe­dit­ed plan.