Eli Lil­ly fi­nal­ly pub­lished its dis­as­trous EX­PE­DI­TION3 da­ta, a cost­ly les­son in re­think­ing Alzheimer's
Eli Lil­ly $LLY had hoped that EX­PE­DI­TION3 would prove to the world that amy­loid be­ta was the cause of Alzheimer's and that solanezum­ab could bend the curve of cog­ni­tive de­cline back to pa­tients' fa­vor — or at least for pa­tients with an ear­ly-stage, mild form of the dis­ease.
In­stead, the land­mark fail­ure — ac­knowl­edged well over a year ago — is rais­ing fresh ques­tions about whether in­ves­ti­ga­tors have been aim­ing at the wrong tar­get for more than a decade of flops and dis­as­trous fail­ures.
It took awhile, but Lil­ly fi­nal­ly laid out the last big round of EX­PE­DI­TION da­ta in the New Eng­land Jour­nal of Med­i­cine. And while solanezum­ab may have helped slow the mem­o­ry-wast­ing ail­ment, the im­pact was far too slight to make an im­por­tant dif­fer­ence for pa­tients.
Com­par­ing 1,057 pa­tients on drug com­pared to 1,072 on place­bo, the re­search team found a mod­est trend in its fa­vor:
The mean change from base­line in the ADAS-cog14 score was 6.65 in the solanezum­ab group of pa­tients with mild form of the dis­ease and 7.44 in the place­bo group, with no sig­nif­i­cant be­tween-group dif­fer­ence at week 80 (dif­fer­ence, −0.80; 95% con­fi­dence in­ter­val, −1.73 to 0.14; P=0.10)….The change from base­line in the MMSE score was −3.17 in the solanezum­ab group and −3.66 in the place­bo group.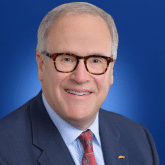 John Lech­leit­er
And that's where Lil­ly's and for­mer CEO John Lech­leit­er's dreams of cash­ing in a gold­en tick­et on a $10 bil­lion drug were fi­nal­ly ham­mered in­to scrap — though there is still work un­der­way to see if the drug can work to pre­vent the dis­ease from oc­cur­ring in the first place.
Lil­ly spent a for­tune on its three big tri­als of solanezum­ab, prod­ded on by not­ed Alzheimer's re­searcher Paul Aisen. Every big fail­ure, though, in­spired a new hunt for da­ta that would back up a new the­o­ry of how it could work. And each fresh at­tempt went down to de­feat.
Now some in the field are start­ing to ask if the Alzheimer's re­search com­mu­ni­ty should re­think the amy­loid the­o­ry, look­ing for new ev­i­dence on the con­flu­ence of events that cause the dis­ease.
In an ac­com­pa­ny­ing ed­i­to­r­i­al Paul Mur­phy from the Uni­ver­si­ty of Ken­tucky, Lex­ing­ton, wrote: "We may very well be near­ing the end of the amy­loid hy­poth­e­sis rope, at which point one or two more fail­ures will cause us to loosen our grip and let go."
That would have ma­jor im­pli­ca­tions for Bio­gen and oth­ers, though, who are still bound and de­ter­mined to find the gold­en tick­et for them­selves. But that is look­ing more elu­sive than ever. In the mean­time, there's a big dri­ve on to divvy up pa­tients in­to small­er, ge­net­i­cal­ly de­fined buck­ets in search of new drugs that could work. And there's no sign that EX­PE­DI­TION3 or any oth­er set­back has de­flect­ed that sin­gu­lar­ly de­ter­mined set of in­ves­ti­ga­tors.