Eli Lil­ly touts MACE win for di­a­betes block­buster Trulic­i­ty — a 'nice pos­i­tive'
Eli Lil­ly $LLY is boast­ing about a big win for its block­buster di­a­betes drug Trulic­i­ty, say­ing their drug pro­duced "com­pelling" ev­i­dence of its abil­i­ty to guard against car­dio events.
We don't have the da­ta yet, but the phar­ma gi­ant is say­ing it's clear that Trulic­i­ty de­liv­ers in pre­vent­ing ini­tial or sec­ondary ma­jor car­dio events like heart at­tacks. And it did it in a study with on­ly a mi­nor­i­ty of at-risk pa­tients, which will per­haps help dis­tin­guish it from the crowd of GLP-1 drugs now on the mar­ket, which have their own MACE da­ta to tout.
The out­comes, though, may not make any dif­fer­ence in the drug's po­ten­tial, with a peak sales es­ti­mate of $5 bil­lion. Ever­core ISI's Umer Raf­fat was quick to note that Lil­ly's re­cent suc­cess with a Phase II GIP/GLP study for LY3298176 has changed the fo­cus to next-gen drugs. And he's left won­der­ing how the hard da­ta will play out once they're on the ta­ble. Still, he adds:
"(T)his is a nice +ve for stock and sen­ti­ment." Next up for Raf­fat: loom­ing da­ta for Lil­ly's PD-1/IL-10 drug.
Cred­it Su­isse al­so saw the up­side, not­ing:
This is clear­ly pos­i­tive news and should ease con­cerns about Trulic­i­ty's abil­i­ty to com­pete in the rapid­ly-grow­ing GLP-1 mar­ket.
Lil­ly' stock jumped about 3% in pre-mar­ket trad­ing to­day.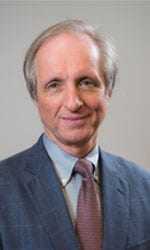 Hertzel Ger­stein
"The REWIND study was am­bi­tious, as­sess­ing whether Trulic­i­ty could pro­tect peo­ple with type 2 di­a­betes from ex­pe­ri­enc­ing an ini­tial car­dio­vas­cu­lar event, and pre­vent fu­ture events in those who have es­tab­lished car­dio­vas­cu­lar dis­ease," said Hertzel Ger­stein, pro­fes­sor of med­i­cine and deputy di­rec­tor of the Pop­u­la­tion Health In­sti­tute at Mc­Mas­ter Uni­ver­si­ty and Hamil­ton Health Sci­ences. "The MACE re­duc­tion demon­strat­ed by Trulic­i­ty, across a broad range of peo­ple with type 2 di­a­betes, is com­pelling and we look for­ward to an­a­lyz­ing and re­port­ing all of the da­ta."