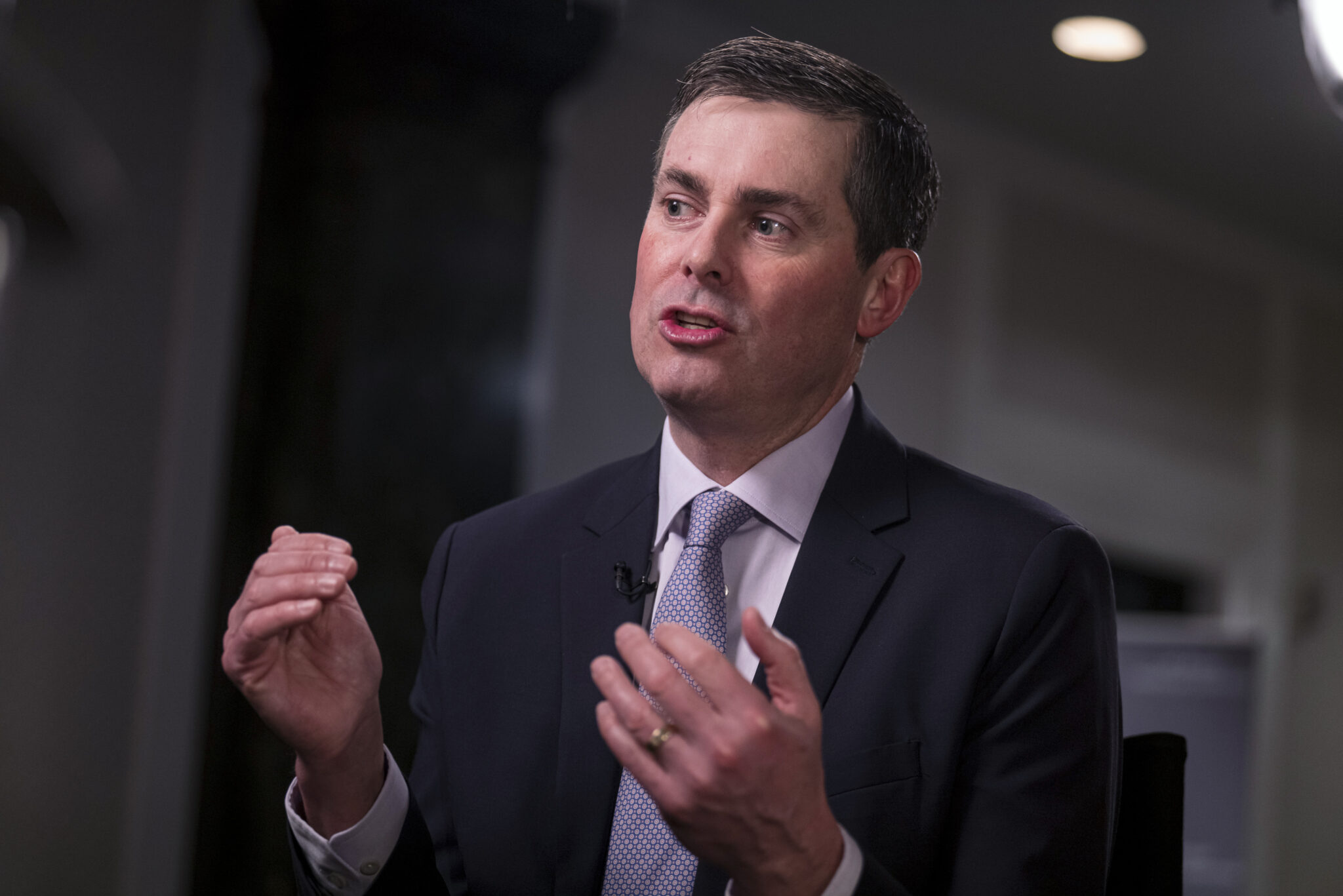 Lilly CEO David Ricks (Photographer: David Paul Morris/Bloomberg via Getty Images)
Eli Lil­ly ver­sus the 800-pound go­ril­la in atopic der­mati­tis? It may just have a shot — at 2nd place
Eli Lil­ly turned a few heads when the mar­ket ma­jor bought out the IL-13 le­brik­izum­ab for $1.1 bil­lion a lit­tle more than 2 years ago. And late last year it kept up the rah-rah when CEO Dave Ricks tapped this drug as a top-5 drug in the late-stage pipeline.
Could El­li Lil­ly and Eu­ro­pean part­ner Almi­rall re­al­ly think they could take on the Il-13/IL-4 Dupix­ent, the 800-pound bi­o­log­ic go­ril­la in atopic der­mati­tis, from Re­gen­eron and Sanofi?
Over the week­end, though, they man­aged to turn a few more heads with the de­fin­i­tive — and quite pos­i­tive — Phase III da­ta they're tak­ing to the FDA. Now the ques­tion isn't can they com­pete, but is it good enough to change the course of one of the in­dus­try's most suc­cess­ful drug fran­chis­es?
We knew the top-line re­sults were pos­i­tive go­ing in­to the de­tailed re­veal. But when you are tak­ing on a dom­i­nant play­er in a field, every­one wants to see how it com­pares to the ti­tle­hold­er. And Jef­feries ran those num­bers, flag­ging 2 crit­i­cal cross-com­par­isons:
EASI-75: le­brik­izum­ab 33%-43% vs Dupix­ent 32%-36%
IGA 0 or 1: le­brik­izum­ab 22%-30% vs Dupix­ent 28%
As an­tic­i­pat­ed, le­brik­izum­ab ap­pears su­pe­ri­or when it comes to ef­fi­ca­cy treat­ing itch, the key symp­tom of is­sue for pa­tients, with 27%-34% im­prove­ment no­table ver­sus Dupix­ent 26%-29%, in our view.
Giv­en Dupix­ent's mar­ket-crush­ing dom­i­nance, com­pa­ra­ble da­ta are good da­ta. But Jef­feries al­so notes that one of the key com­par­isons they were look­ing ea­ger­ly to com­pare, in­ci­dents of con­junc­tivi­tis, on­ly came out mar­gin­al­ly in le­brik­izum­ab's fa­vor.
(W)e note the 7%-8% con­junc­tivi­tis is high­er than we were ex­pect­ing (2.7% in Phase IIb), and just be­low the 10% ob­served with Dupix­ent monother­a­py. Re­call, a po­ten­tial for low­er rates of con­junc­tivi­tis could have been con­sid­ered dif­fer­en­ti­at­ing for le­brik­izum­ab.
And that means that "main­te­nance da­ta 1H22E will be key to de­ter­mine po­ten­tial for more con­ve­nient 4-week­ly dos­ing vs Dupix­ent 2-week­ly."
With bi­o­log­ics tapped to sig­nif­i­cant­ly grow mar­ket share, they con­clud­ed that their cur­rent €400m peak sales es­ti­mate was hold­ing firm.
Eli Lil­ly is no lit­tle biotech. It is a glob­al pow­er­house not­ed for a se­ries of steps for­ward — and back. On the oth­er hand, Sanofi plus Re­gen­eron has turned out to be the pow­er play­er to beat for the bi­o­log­ics share of atopic der­mati­tis. Both are in­tense­ly sales-fo­cused on the mar­ket­ing side, and Dupix­ent has now had 5 long years to es­tab­lish it­self with physi­cians and pa­tients.
Beat­ing Dupix­ent with these da­ta seems out of the ques­tion right now. But the fact that Lil­ly may just land a blow or two looks like a big win — pro­vid­ed no nasty sur­pris­es await be­tween now and a pre­sumed FDA ap­proval.