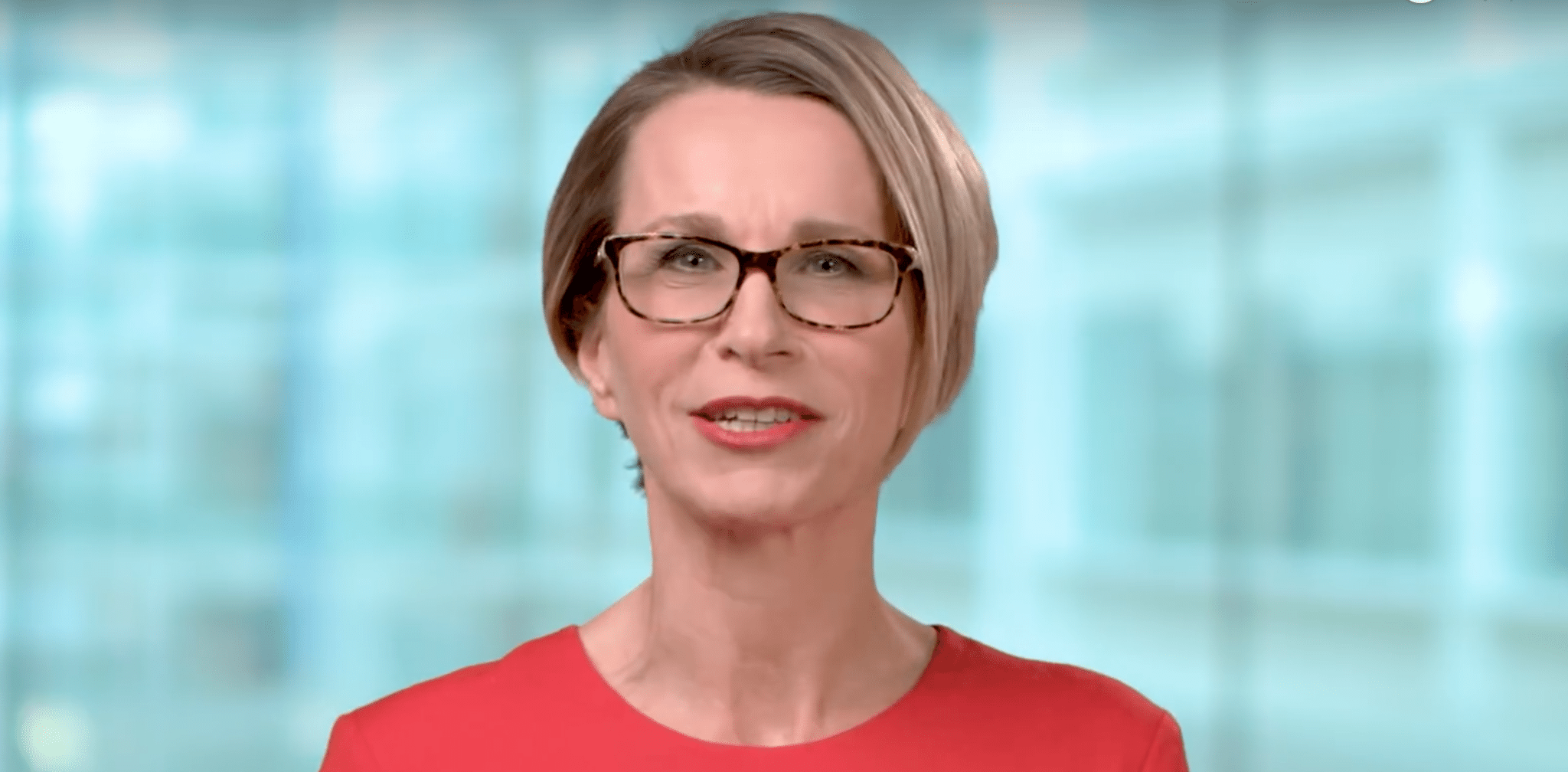 GSK, Pfiz­er to cre­ate con­sumer health pow­er­house un­der JV — then spin it out
Glax­o­SmithK­line CEO Em­ma Walm­s­ley took over the reins in 2017 with an un­en­vi­able task — to re­verse the steadi­ly erod­ing for­tunes of the phar­ma­ceu­ti­cal gi­ant. Her job, be­fore ris­ing to the helm of the British drug­mak­er, was head of GSK con­sumer health­care. It is this unit she has agreed to even­tu­al­ly part with, in a deal with Pfiz­er $PFE an­nounced on Wednes­day.
The con­sumer health di­vi­sions of GSK and Pfiz­er — which raked in a com­bined $12.7 bil­lion in sales last year — are to be merged in­to a joint ven­ture, with Pfiz­er re­tain­ing a 32% mi­nor­i­ty stake and GSK hold­ing the rest. Once the two busi­ness­es have in­te­grat­ed, GSK plans to split the com­pa­ny and list the JV as a sep­a­rate en­ti­ty on the UK eq­ui­ty mar­ket.
Since tak­ing over from An­drew Wit­ty, Walm­s­ley has made in­vest­ments to for­ti­fy the phar­ma busi­ness and ramp up R&D, in­clud­ing hir­ing in­dus­try vet­er­ans to helm key posts. Last year, she hint­ed her in­ter­est in the Pfiz­er con­sumer busi­ness, which was val­ued at $20 bil­lion at the time, spook­ing in­vestors who were wor­ried such a deal would hurt the com­pa­ny's bot­tom line. This March, GSK ef­fec­tive­ly dropped out of the race for the unit, when she eva­sive­ly said GSK would on­ly make in­vest­ments that would meet their "cri­te­ria for re­turns and not com­pro­mise our pri­or­i­ties for cap­i­tal al­lo­ca­tion," a move that in­vestors cheered.
This new deal, which adds to GSK's div­i­dends, could be the best of both worlds. "With our fu­ture in­ten­tion to sep­a­rate, the trans­ac­tion al­so presents a clear path­way for­ward for GSK to cre­ate a new glob­al phar­ma­ceu­ti­cals/vac­cines com­pa­ny, with an R&D ap­proach fo­cused on sci­ence re­lat­ed to the im­mune sys­tem, use of ge­net­ics and ad­vanced tech­nolo­gies, and a new world-lead­ing con­sumer health care com­pa­ny," Walm­s­ley said.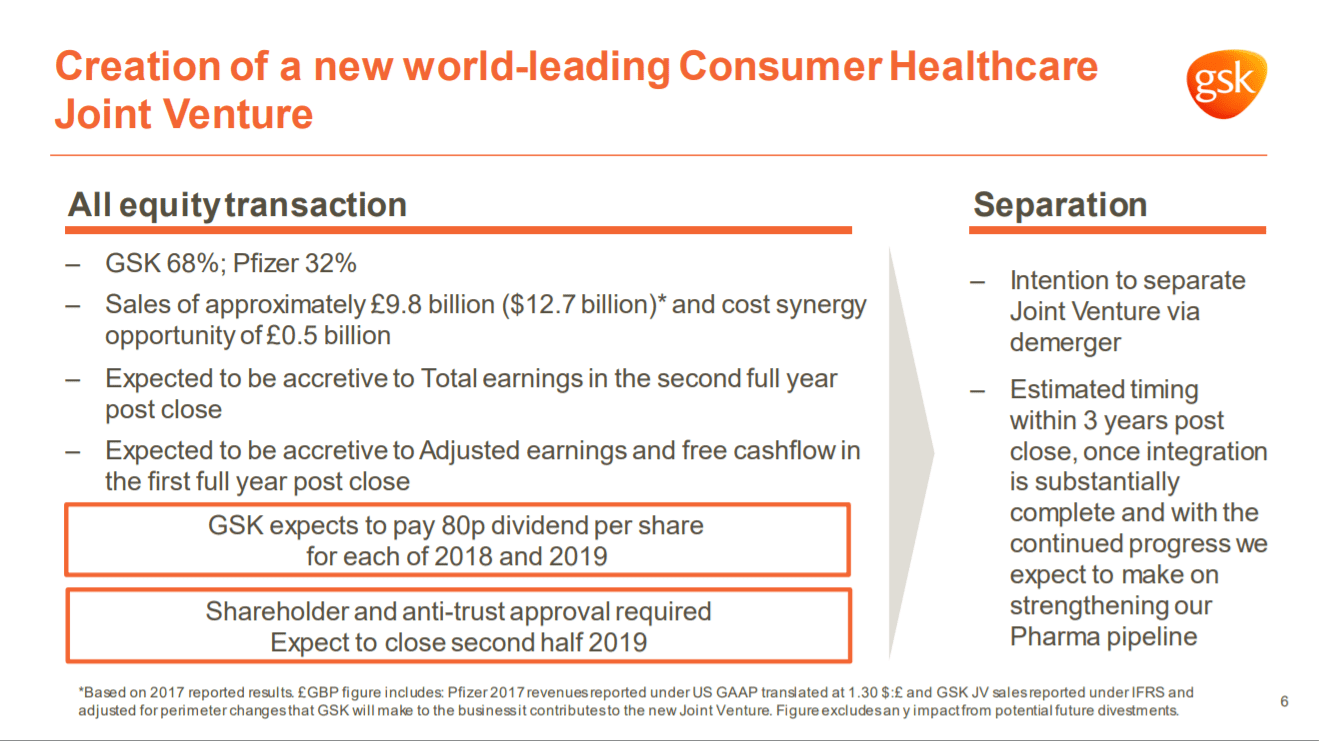 GSK's Lon­don-list­ed shares jumped about 7% on the news, while Pfiz­er's NYSE-list­ed shares edged up about 1% be­fore the bell.
Al­though GSK's con­sumer di­vi­sion used to op­er­ate as a JV with Swiss phar­ma­ceu­ti­cal gi­ant No­var­tis $NVS, the British drug­mak­er bought out the lat­ter in a $13 bil­lion deal ear­li­er this year. If ap­proved by GSK share­hold­ers and reg­u­la­tors, the new deal is ex­pect­ed to close in the sec­ond half of 2019 cre­at­ing a JV that will be the largest glob­al con­sumer health busi­ness, the com­pa­nies said on Wednes­day.
"The JV will be a glob­al leader in the frag­ment­ed over-the-counter mar­ket, with 7.2% mar­ket share, well ahead of the 4.1% of its near­est com­peti­tors (such as J&J, Bay­er etc) and will hold the #1 or #2 po­si­tions in all key ge­o­gra­phies, in­clud­ing the US and Chi­na," Jef­feries an­a­lyst Pe­ter Welford wrote in a note.
Un­til sep­a­ra­tion, the JV — which will bring brands such as GSK's Sen­so­dyne and Pfiz­er's Advil un­der the same roof — will be con­sol­i­dat­ed in GSK's fi­nan­cial state­ments, and run by Walm­s­ley. The trans­ac­tion, if con­sum­mat­ed, is ex­pect­ed to be slight­ly ac­cre­tive to Pfiz­er in the first three years of clos­ing, and to gen­er­ate sav­ings of $650 mil­lion. Pfiz­er and GSK al­ready an ex­ist­ing JV for HIV.
The 2017 ad­just­ed op­er­at­ing mar­gins for the two com­pa­nies were broad­ly sim­i­lar: "at 17.6% for GSK and 17.3% for Pfiz­er, sug­gest­ing be­yond the cost sav­ings of the merg­er, man­age­ment al­so en­vis­ages sig­nif­i­cant ben­e­fits from scale," Welford added.
In a con­fer­ence call with re­porters fol­low­ing the an­nounce­ment, Walm­s­ley sug­gest­ed the UK list­ing for the con­sumer busi­ness was a mat­ter of tra­di­tion, de­spite the un­cer­tain­ty of Brex­it: "whether that be our sci­ence base, the qual­i­ty of ed­u­ca­tion…op­por­tu­ni­ties of in­no­va­tion…man­u­fac­tur­ing and tech­ni­cal knowhow or in­deed the cre­ative in­dus­tries which are very im­por­tant for con­sumer brand-build­ing."
"Ob­vi­ous­ly right now is a pe­ri­od that's pret­ty dif­fi­cult and rather un­cer­tain, and we would all like to get to cer­tain­ty as soon as pos­si­ble…the key thing is that any sep­a­ra­tion in new head­quar­ters is go­ing to be af­ter a few years when I am con­fi­dent we will be in a more set­tled en­vi­ron­ment than we are to­day," she said.
---
Im­age: Em­ma Walm­s­ley. GSK