GlaxoSmithKline CEO Emma Walmsley took over the reins in 2017 with an unenviable task — to reverse the steadily eroding fortunes of the pharmaceutical giant. Her job, before rising to the helm of the British drugmaker, was head of GSK consumer healthcare. It is this unit she has agreed to eventually part with, in a deal with Pfizer $PFE announced on Wednesday.
The consumer health divisions of GSK and Pfizer — which raked in a combined $12.7 billion in sales last year — are to be merged into a joint venture, with Pfizer retaining a 32% minority stake and GSK holding the rest. Once the two businesses have integrated, GSK plans to split the company and list the JV as a separate entity on the UK equity market.
Since taking over from Andrew Witty, Walmsley has made investments to fortify the pharma business and ramp up R&D, including hiring industry veterans to helm key posts. Last year, she hinted her interest in the Pfizer consumer business, which was valued at $20 billion at the time, spooking investors who were worried such a deal would hurt the company's bottom line. This March, GSK effectively dropped out of the race for the unit, when she evasively said GSK would only make investments that would meet their "criteria for returns and not compromise our priorities for capital allocation," a move that investors cheered.
This new deal, which adds to GSK's dividends, could be the best of both worlds. "With our future intention to separate, the transaction also presents a clear pathway forward for GSK to create a new global pharmaceuticals/vaccines company, with an R&D approach focused on science related to the immune system, use of genetics and advanced technologies, and a new world-leading consumer health care company," Walmsley said.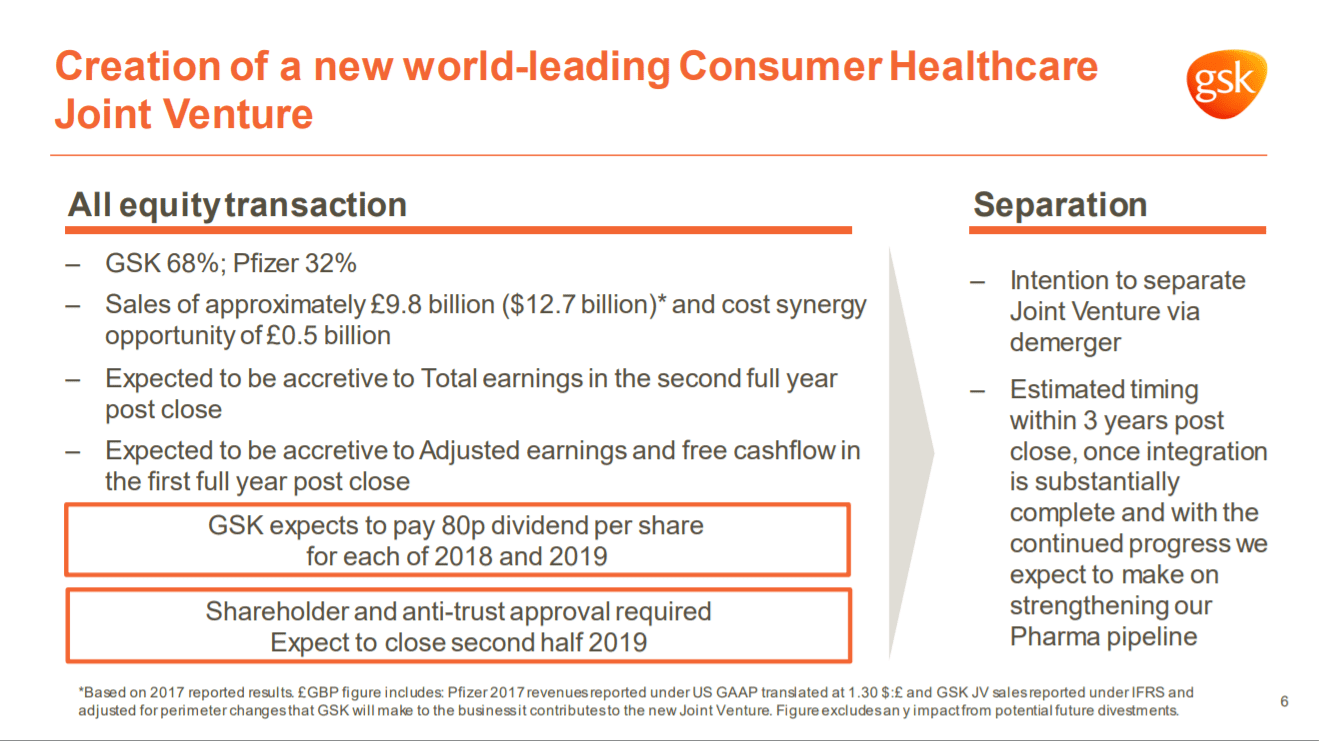 GSK's London-listed shares jumped about 7% on the news, while Pfizer's NYSE-listed shares edged up about 1% before the bell.
Although GSK's consumer division used to operate as a JV with Swiss pharmaceutical giant Novartis $NVS, the British drugmaker bought out the latter in a $13 billion deal earlier this year. If approved by GSK shareholders and regulators, the new deal is expected to close in the second half of 2019 creating a JV that will be the largest global consumer health business, the companies said on Wednesday.
"The JV will be a global leader in the fragmented over-the-counter market, with 7.2% market share, well ahead of the 4.1% of its nearest competitors (such as J&J, Bayer etc) and will hold the #1 or #2 positions in all key geographies, including the US and China," Jefferies analyst Peter Welford wrote in a note.
Until separation, the JV — which will bring brands such as GSK's Sensodyne and Pfizer's Advil under the same roof — will be consolidated in GSK's financial statements, and run by Walmsley. The transaction, if consummated, is expected to be slightly accretive to Pfizer in the first three years of closing, and to generate savings of $650 million. Pfizer and GSK already an existing JV for HIV.
The 2017 adjusted operating margins for the two companies were broadly similar: "at 17.6% for GSK and 17.3% for Pfizer, suggesting beyond the cost savings of the merger, management also envisages significant benefits from scale," Welford added.
In a conference call with reporters following the announcement, Walmsley suggested the UK listing for the consumer business was a matter of tradition, despite the uncertainty of Brexit: "whether that be our science base, the quality of education…opportunities of innovation…manufacturing and technical knowhow or indeed the creative industries which are very important for consumer brand-building."
"Obviously right now is a period that's pretty difficult and rather uncertain, and we would all like to get to certainty as soon as possible…the key thing is that any separation in new headquarters is going to be after a few years when I am confident we will be in a more settled environment than we are today," she said.
---
Image: Emma Walmsley. GSK
---
The best place to read
Endpoints News

? In your inbox.

Comprehensive daily news report for those who discover, develop, and market drugs. Join 44,900+ biopharma pros who read Endpoints News by email every day.

Free Subscription
---
---
---