MUNICH — PI3K inhibitors have had their problems over the years, failing some studies, proving to be disappointing in terms of durability in others. But Novartis $NVS believes it may have come up with part of the answer with its latest data on BYL719 (alpelisib) in combination with fulvestrant.
Their alpha-specific drug for PIK3CA mutated HR+/HER2- advanced breast cancer, BYL719 plus fulvestrant nearly doubled the progression-free survival times for patients, hitting 11 months compared to 5.7 months for a control arm treated only with fulvestrant.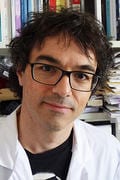 Fabrice André, the research director and head of INSERM Unit U981, called the results the data the "most encouraging" results seen to date in this patient group.
Roughly 40% of HR+ advanced breast cancer patients have a PIK3CA mutation, making this a significant piece of the overall market.
The data were released over the weekend at ESMO18.
André says this drug is a standout, perhaps because it is alpha specific. Due to lower toxicity, the majority of the patients can remain on therapy longer, he adds, which would explain their hope for achieving more durable responses than what's been seen in other PI3K programs.
Novartis is now looking to follow up with talks at key regulatory groups about an OK.
Novartis has had its issues with PI3K before. The Swiss company handed worldwide commercial rights to the late-stage buparlisib to one of China's new upstart biotechs — raising some thorny issues about how questionable drug assets may be passed to new players for a commercial rollout.
And Roche decided to scrap its contender taselisib last June after investigators reported a slight, 2-month progression-free survival advantage for the drug — along with a sketchy safety profile common to the class — combined with fulvestrant hormone therapy in a Phase III study of metastatic breast cancer. 
Novartis, though, believes it has grounds for an approval, based largely on the specificity of the drug.
"We are excited about the meaningful results seen in SOLAR-1 and about the possibility to reimagine what potential treatment options could look like for patients living with PIK3CA mutated HR+/HER2- advanced breast cancer – some of who were previously treated with a CDK4/6 inhibitor," said Samit Hirawat, the head of Novartis Oncology Global Drug Development. "We are actively engaging in discussions on these results with health authorities worldwide."
---
The best place to read
Endpoints News

? In your inbox.

Comprehensive daily news report for those who discover, develop, and market drugs. Join 44,100+ biopharma pros who read Endpoints News by email every day.

Free Subscription
---
---
---