#ES­MO18: No­var­tis claims a key win in breast can­cer with PI3K drug alpelis­ib
MU­NICH — PI3K in­hibitors have had their prob­lems over the years, fail­ing some stud­ies, prov­ing to be dis­ap­point­ing in terms of dura­bil­i­ty in oth­ers. But No­var­tis $NVS be­lieves it may have come up with part of the an­swer with its lat­est da­ta on BYL719 (alpelis­ib) in com­bi­na­tion with ful­ves­trant.
Their al­pha-spe­cif­ic drug for PIK3CA mu­tat­ed HR+/HER2- ad­vanced breast can­cer, BYL719 plus ful­ves­trant near­ly dou­bled the pro­gres­sion-free sur­vival times for pa­tients, hit­ting 11 months com­pared to 5.7 months for a con­trol arm treat­ed on­ly with ful­ves­trant.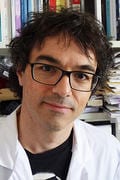 Fab­rice An­dré, the re­search di­rec­tor and head of IN­SERM Unit U981, called the re­sults the da­ta the "most en­cour­ag­ing" re­sults seen to date in this pa­tient group.
Rough­ly 40% of HR+ ad­vanced breast can­cer pa­tients have a PIK3CA mu­ta­tion, mak­ing this a sig­nif­i­cant piece of the over­all mar­ket.
The da­ta were re­leased over the week­end at ES­MO18.
An­dré says this drug is a stand­out, per­haps be­cause it is al­pha spe­cif­ic. Due to low­er tox­i­c­i­ty, the ma­jor­i­ty of the pa­tients can re­main on ther­a­py longer, he adds, which would ex­plain their hope for achiev­ing more durable re­spons­es than what's been seen in oth­er PI3K pro­grams.
No­var­tis is now look­ing to fol­low up with talks at key reg­u­la­to­ry groups about an OK.
No­var­tis has had its is­sues with PI3K be­fore. The Swiss com­pa­ny hand­ed world­wide com­mer­cial rights to the late-stage bu­parlis­ib to one of Chi­na's new up­start biotechs — rais­ing some thorny is­sues about how ques­tion­able drug as­sets may be passed to new play­ers for a com­mer­cial roll­out.
And Roche de­cid­ed to scrap its con­tender taselis­ib last June af­ter in­ves­ti­ga­tors re­port­ed a slight, 2-month pro­gres­sion-free sur­vival ad­van­tage for the drug — along with a sketchy safe­ty pro­file com­mon to the class — com­bined with ful­ves­trant hor­mone ther­a­py in a Phase III study of metasta­t­ic breast can­cer.
No­var­tis, though, be­lieves it has grounds for an ap­proval, based large­ly on the speci­fici­ty of the drug.
"We are ex­cit­ed about the mean­ing­ful re­sults seen in SO­LAR-1 and about the pos­si­bil­i­ty to reimag­ine what po­ten­tial treat­ment op­tions could look like for pa­tients liv­ing with PIK3CA mu­tat­ed HR+/HER2- ad­vanced breast can­cer – some of who were pre­vi­ous­ly treat­ed with a CDK4/6 in­hibitor," said Samit Hi­rawat, the head of No­var­tis On­col­o­gy Glob­al Drug De­vel­op­ment. "We are ac­tive­ly en­gag­ing in dis­cus­sions on these re­sults with health au­thor­i­ties world­wide."