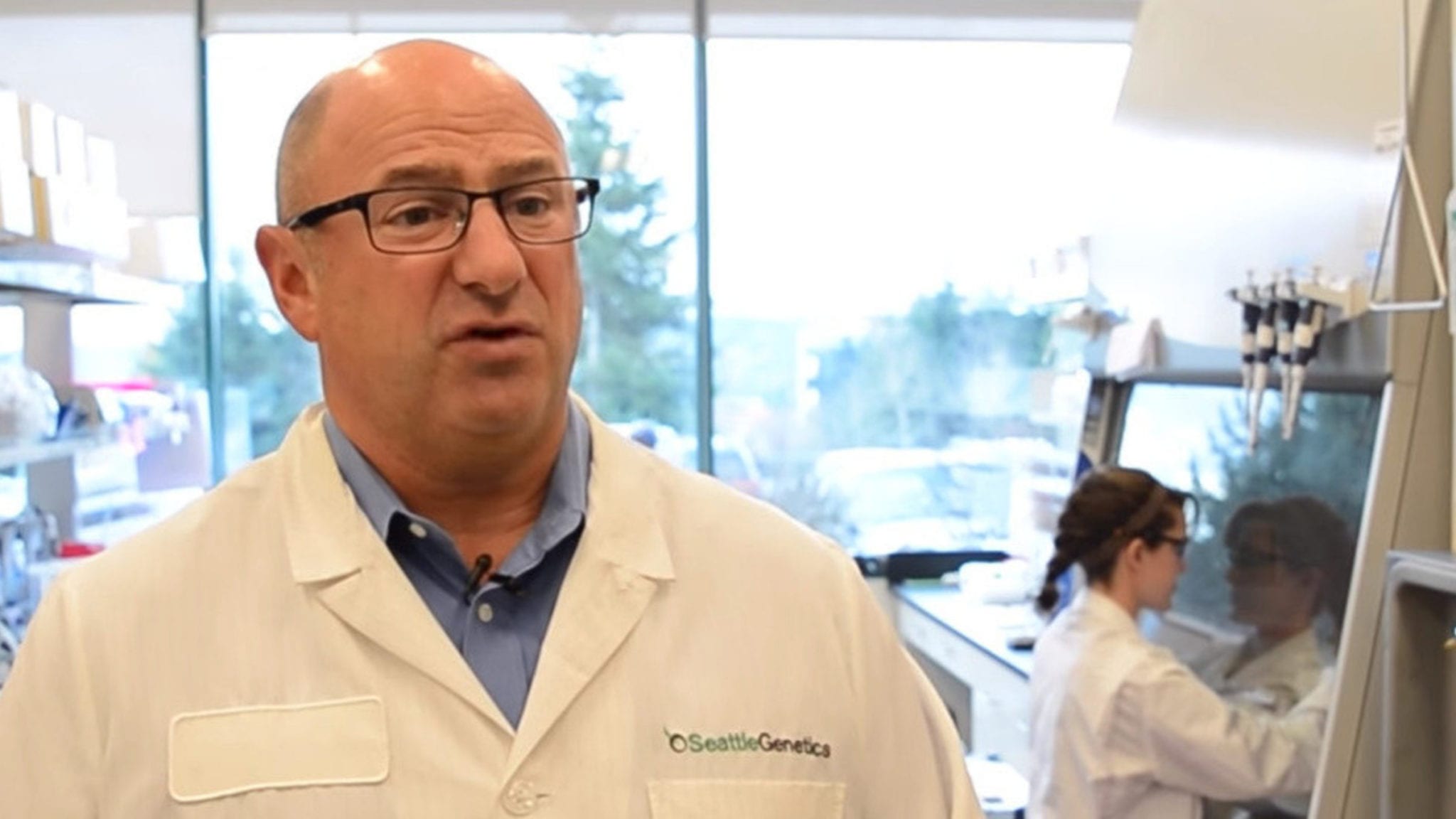 Clay Siegall (Life Science Washington via YouTube)
#ES­MO20: Seat­tle Ge­net­ics eyes 4th ap­proval with new da­ta in a crowd­ed field
Does Seat­tle Ge­net­ics have an­oth­er ap­proval on its hands?
The last 12 months, not so great for the world, has been great for Seat­tle Ge­net­ics. The com­pa­ny land­ed two sep­a­rate FDA ap­provals, signed a $4.5 bil­lion deal with Mer­ck and watched an­ti­body-drug con­ju­gates — the tech­nol­o­gy they spent years de­vel­op­ing to broad in­dus­try skep­ti­cism — emerge sud­den­ly as one of the most pop­u­lar ap­proach­es in on­col­o­gy. And on Mon­day at ES­MO, the com­pa­ny and their part­ners at Gen­mab un­veiled the da­ta be­hind the ADC it hopes will pro­vide its next ma­jor FDA ap­proval.
In a piv­otal Phase II study of their ex­per­i­men­tal drug ti­so­tum­ab ve­dotin, 101 pa­tients with re­cur­rent or metasta­t­ic cer­vi­cal can­cer had an ob­jec­tive re­sponse rate of 24%, with that re­sponse last­ing a me­di­an of 8.3 months. It was a sin­gle-arm tri­al, but Seat­tle Ge­net­ics com­pared the re­sults to da­ta sug­gest­ing ex­ist­ing ther­a­pies "typ­i­cal­ly" have a re­sponse rate of less than 15% and pa­tients sur­vive for 6 to 9.4 months.
By con­trast, me­di­an sur­vival in the study was 12.1 months, with 79% of pa­tients alive af­ter 6. The over­all sur­vival num­bers were re­port­ed in the ini­tial read­out in June.
"It's a very good step and an­oth­er op­tion for pa­tients in a dis­ease with a grim prog­no­sis," CEO Clay Sie­gall told End­points News.
The full da­ta al­so showed eye is­sues as one of the most like­ly side ef­fects. That's par­tic­u­lar­ly note­wor­thy af­ter the FDA raised se­ri­ous con­cerns about the oc­u­lar is­sues posed by a Glax­o­SmithK­line ADC, but Sie­gall said the is­sues were un­re­lat­ed and that the ad­verse events should be pre­ventable with the right mea­sures such as eye drops.
"That has a com­plete­ly dif­fer­ent type of drug at­tached to it," Sie­gall said, at­tribut­ing GSK's prob­lem to sol­u­bil­i­ty is­sues.
The best op­tion for cer­vi­cal can­cer is Mer­ck's HPV vac­cine, which pre­vents the dis­ease at a high rate, but not every­one gets the vac­cine and treat­ment choic­es for those di­ag­nosed are high­ly lim­it­ed. Af­ter the topline re­sults came out, Cowen an­a­lysts not­ed that Keytru­da had won ap­proval on an ob­jec­tive re­sponse rate of just 14.3%. "And that is on­ly in the set­ting where they have high PD-1," Sie­gall not­ed.
Seat­tle Ge­net­ics, though, aren't alone in the race for new cer­vi­cal can­cer ther­a­pies. Most no­tably, Io­vance saw a 44% re­sponse rate in cer­vi­cal can­cer from the cell ther­a­py da­ta they un­veiled a lit­tle over a year ago at AS­CO 2019.
That's un­doubt­ed­ly bet­ter, but an­a­lysts have gen­er­al­ly seen a fu­ture for both ther­a­pies. Any im­prove­ment over the Keytru­da da­ta will like­ly find open doors at the FDA and Baird's Mad­hu Ku­mar has ar­gued that both could even­tu­al­ly be used to treat pa­tients, with doc­tors giv­ing chemo, cell ther­a­py and then Seat­tle Ge­net­ics' an­ti­body-drug con­ju­gate.
For now, Seat­tle Ge­net­ics is over­see­ing the next wave of tri­als while prep­ping a BLA sub­mis­sion. In a much-watched study, they will com­bine Keytru­da with the ADC, and they will al­so en­roll a ran­dom­ized con­trol tri­al, where the ADC goes up against doc­tor's choice.
They al­so plan to push ADC in­to oth­er tu­mor types that al­so ex­press tis­sue fac­tor. The goal, he said, is to po­si­tion AD­Cs fur­ther as part of a broad suite of tech­nolo­gies now be­ing lever­aged to curb can­cer.
"While AD­Cs are not by them­self are not go­ing to be the on­ly thing need­ed to treat can­cer – you'll need oth­er types of ther­a­pies that treat the out­side of the cell, the in­side of the cell and the cells around the tu­mor," he said. "But it does show you the need for AD­Cs to be a big­ger part of that, and it's on­ly get­ting larg­er."