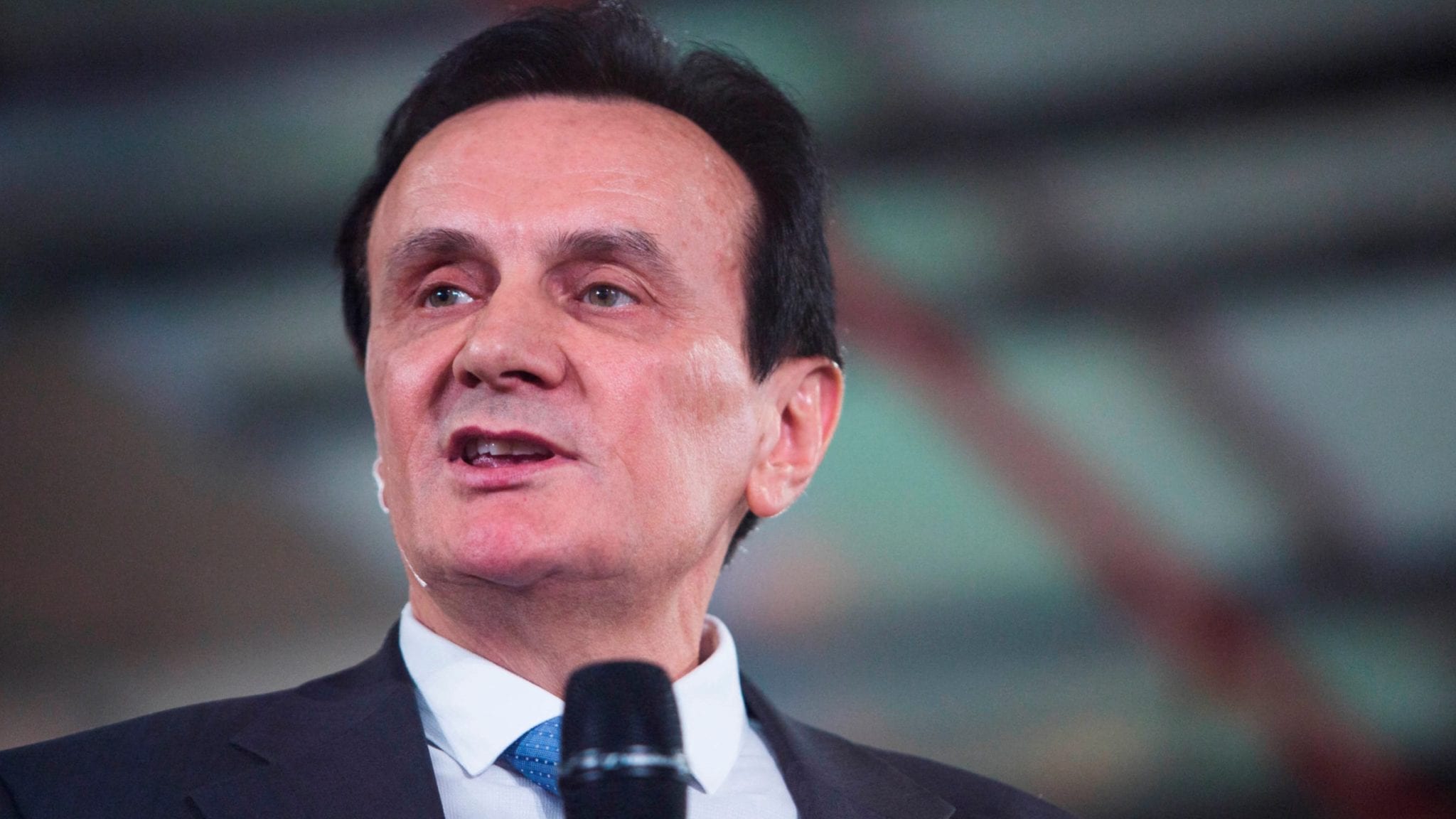 Pascal Soriot, AstraZeneca CEO (Raphael Lafargue/Abaca/Sipa USA; Sipa via AP Images)
EU mis­tak­en­ly leaves key parts of As­traZeneca Covid-19 con­tract unredact­ed, re­veal­ing costs and So­ri­ot's 'best-ef­fort' claim
Ten­sions be­tween As­traZeneca and the EU re­gard­ing slowed vac­cine roll­out boiled over last week, when the bloc pub­lished a heav­i­ly redact­ed ver­sion of the com­pa­ny's con­tract fol­low­ing crit­i­cism of its "best-ef­fort" pledges. But ea­gle-eyed in­ter­net sleuths and Ger­man jour­nal­ists found the blacked-out sec­tions could be eas­i­ly re­moved, prompt­ing the EU to pub­licly apol­o­gize.
Among the most note­wor­thy find­ings was that the con­tract it­self is worth £870 mil­lion, or about $1.19 bil­lion for the 300 mil­lion dos­es, in­clud­ing all di­rect and in­di­rect costs. There was al­so a par­tial­ly cut-off sec­tion that de­tailed how even though As­traZeneca is ob­lig­at­ed to sup­ply its dos­es at no prof­it, the com­pa­ny "shall not be re­quest­ed or re­quired to sup­ply the Vac­cine Dose…"
Ger­man mag­a­zine Der Spiegel was the first pub­li­ca­tion to pub­lish the rev­e­la­tions. The au­then­tic­i­ty of the redact­ed por­tions has been con­firmed by End­points News, though any­thing writ­ten af­ter "Dose" could not be re­cov­ered.
The con­tract al­so pro­vid­ed roadmaps for in­stances of es­ti­mat­ed costs ex­ceed­ing the £870 mil­lion fig­ure. There are two plans in place, should the ex­ceed­ed costs be ei­ther high­er or low­er than 20%, but the redac­tions block­ing out the plans them­selves could not be re­moved.
Ad­di­tion­al­ly, the doc­u­ment con­tained a pro­vi­sion for pro­vid­ing ad­di­tion­al dos­es at cost through Ju­ly 1, at which point As­traZeneca could de­ter­mine "in good faith" whether or not the pan­dem­ic was still go­ing on. That backs up re­port­ing from the Fi­nan­cial Times last Oc­to­ber say­ing the com­pa­ny can de­clare the pan­dem­ic over by that time and start mak­ing a prof­it on vac­cines de­liv­ered af­ter that date.
The redac­tion block­ing the pro­vi­sion it­self, how­ev­er, al­so could not be re­moved.
A Eu­ro­pean Com­mis­sion spokesman apol­o­gized to As­traZeneca at a press con­fer­ence Tues­day, say­ing "it was cer­tain­ly not our in­ten­tion for this to hap­pen," per an EU­Ob­serv­er re­port. He added, "In or­der for those con­tracts to be con­clud­ed with the phar­ma­ceu­ti­cal com­pa­nies, it was agreed that cer­tain con­tracts would re­main con­fi­den­tial."
The news comes af­ter a rau­cous week of back-and-forth be­tween one of the biggest drug­mak­ers in the world and the Eu­ro­pean gov­ern­men­tal body. As­traZeneca no­ti­fied the bloc late last month that it would de­liv­er more than 60% few­er dos­es than orig­i­nal­ly promised, blam­ing pro­duc­tion prob­lems at a Bel­gian fac­to­ry. That trig­gered fiery back­lash from the EU, which was al­ready deal­ing with de­lays of the Pfiz­er/BioN­Tech vac­cine and lags in vac­ci­na­tion.
Some crit­ics ac­cused As­traZeneca of sell­ing vac­cines in­tend­ed for Eu­rope to oth­er coun­tries at a high­er price. But CEO Pas­cal So­ri­ot main­tained the con­tract was based on a best-ef­fort de­liv­ery clause, a clause that has os­ten­si­bly been con­firmed by the re­moved redac­tions. That could ul­ti­mate­ly shield the com­pa­ny from le­gal ac­tion, as a hand­ful of mem­ber states like Italy and Poland have con­sid­ered su­ing Pfiz­er over sim­i­lar slow­downs.
The par­ties al­so en­gaged in a high­ly pub­lic tit-for-tat over whether or not a meet­ing be­tween the two would oc­cur. The EU had ac­cused As­traZeneca of pulling out of a meet­ing last Wednes­day, but it ul­ti­mate­ly went on as planned de­spite not re­solv­ing much.
For a look at all End­points News coro­n­avirus sto­ries, check out our spe­cial news chan­nel.