Ex­pand­ed syn­di­cate puts Ave­las on­to the PoC track with $20M can­cer tech round
Ave­las Bio­sciences be­longs to a clus­ter of San Diego-based biotechs found­ed by Jay Lichter's Aval­on Ven­tures. It was the third of three com­pa­nies Aval­on found­ed with tech from No­bel lau­re­ate Roger Y. Tsien. And the biotech is now dou­bling the amount of ven­ture cash it has raised with a $20 mil­lion round de­signed to take it well in­to mid-stage de­vel­op­ment with a new tech­nol­o­gy that has honed what it be­lieves is a bet­ter ap­proach to pen­e­trat­ing can­cer cells with pep­tides—which could have a va­ri­ety of ap­pli­ca­tions.
Pharm­stan­dard In­ter­na­tion­al led the round, which in­cludes new in­vestors Erv­ing­ton In­vest­ments Lim­it­ed and Alexan­dria Ven­ture In­vest­ments. Ex­ist­ing in­vestors Aval­on Ven­tures, Bregua Cor­po­ra­tion, and WuXi Health­care Ven­tures par­tic­i­pat­ed in the fi­nanc­ing as well. Ave­las plans to use the pro­ceeds to ad­vance its lead pro­gram–a can­cer 'il­lu­mi­na­tor' dubbed AVB-620–to­ward and pos­si­bly in­to late-stage clin­i­cal tri­als.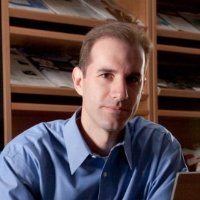 Carmine N. Sten­gone
On the com­mer­cial end, this tech has the po­ten­tial to take its place among the drug tar­get­ing ve­hi­cles that have been tak­ing shape in the on­col­o­gy are­na, CEO Carmine N. Sten­gone tells me.
"You can teth­er car­go to it," he ex­plains. But the com­pa­ny has set a very prac­ti­cal goal for its first com­mer­cial ap­pli­ca­tion. The lead pro­gram hopes to il­lu­mi­nate tu­mor cells and light the path for sur­geons with a durable sig­nal they can fol­low to re­li­ably carve out can­cer in the first try, re­duc­ing the need for fol­lowup surg­eries now of­ten need­ed to go back in­to a pa­tient to im­prove their odds of sur­vival.
"We're look­ing to give sur­geons an il­lu­mi­nat­ed map for one pro­ce­dure," says the CEO, who plans to start with breast can­cer and then branch out in­to many more can­cer types. Lat­er, the biotech can ex­plore a va­ri­ety of pay­loads–in­clud­ing small mol­e­cules, mon­o­clon­als and cy­to­tox­ins–that can try out the pay­load ap­proach, af­ter it has an ac­tu­al prod­uct in hand.
In this par­tic­u­lar ini­tial ap­pli­ca­tion, an­i­mal stud­ies can pro­vide some sol­id proof of a prod­uct's po­ten­tial, says Sten­gone. And now Ave­las has the cash in hand to nail down some clin­i­cal proof-of-con­cept hu­man da­ta to back up its the­o­ries.
Like a num­ber of biotechs in­cu­bat­ed by Aval­on, which prefers a lean-and-mean ap­proach to R&D, Ave­las has a small staff. Its ros­ter in­cludes 7 em­ploy­ees right now, says the CEO, though he ex­pects to dou­ble that in the near term. And, of course, there's a crew of con­sul­tants in play as well. An­drei Petrov, PhD, has joined Ave­las Bio­sciences' board of di­rec­tors. Aval­on co-founder Kevin Kin­sel­la is step­ping off the board while Lichter is stay­ing on as chair­man.