EY: Post-boom biotech still has plen­ty of up­beat trends to boast about
If you just com­pare the top-line biotech num­bers for 2016 to 2015, you'd have good rea­son to de­spair. New drug ap­provals by the FDA plunged, net in­come for pub­lic biotechs cratered and to­tal cap­i­tal raised slid a stom­ach churn­ing 45%, ac­cord­ing to the fig­ures gath­ered by EY. Biotech fi­nanc­ing over­all dropped in 2016, for the first time since 2012.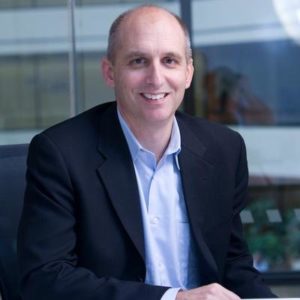 Glen Gio­van­net­ti
So why are the an­a­lysts at EY — led by team leader Glen Gio­van­net­ti — so hap­py about last year's per­for­mance?
Step back and look at the glob­al busi­ness over the past 15 years, as EY did for their an­nu­al Be­yond Bor­ders as­sess­ment, and you'll see that even as the fig­ures year-over-year didn't look great in every in­stance, they were gen­er­al­ly pos­i­tive — if not down­right bull­ish — com­pared to the pre-boom years.
Look­ing at es­tab­lished biotech cen­ters in the US and Eu­rope, EY con­clud­ed that net rev­enue surged 7% for the pub­lic crowd. The same com­pa­nies bid up their R&D gam­ble by 12% even as net in­come de­clined by slight­ly more than half and their col­lec­tive mar­ket cap sank 17%.
In­dus­try em­ploy­ment in the pub­lic sec­tor in­creased by 14%, ris­ing to 203,210. And while fi­nanc­ing was way down year over year, it was still the third best fig­ure EY has ever tracked as ven­ture in­vest­ing glob­al­ly con­tin­ues to im­press and new drug ap­provals this year surge back up.
EY an­a­lysts tracked 291 seed and Se­ries A biotech rounds in 2016 worth $3.6 bil­lion, just a half step be­hind 2015's record spike of $3.8 bil­lion, with the VCs clear­ly com­mit­ted to fund­ing a new wave of up­starts in drug de­vel­op­ment.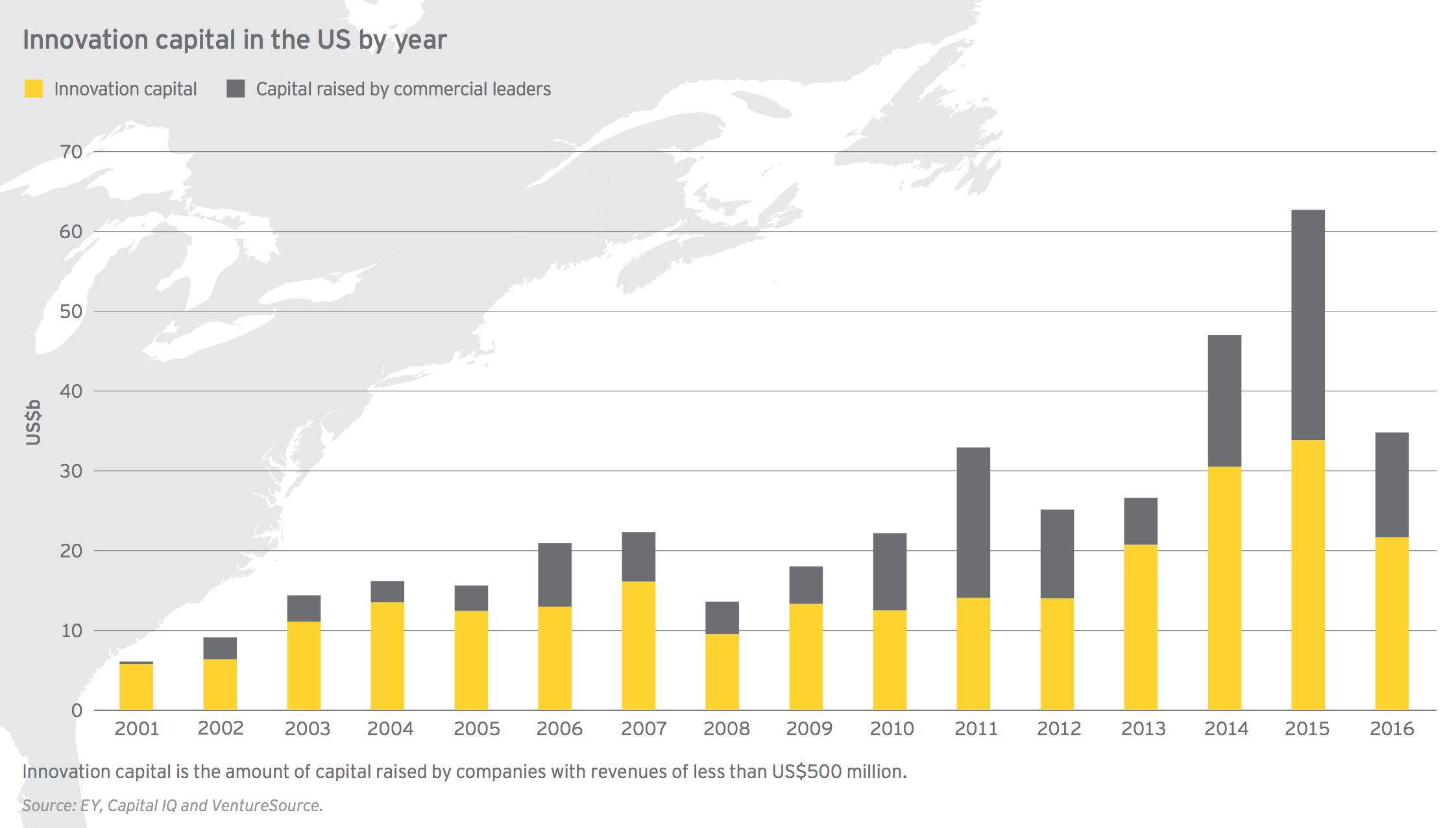 ---
Leav­ing out the biggest play­ers, New Eng­land biotechs raised a to­tal of $7.1 bil­lion in 2016, com­pared to $4.8 bil­lion in the Bay Area. Biotechs in main­land Chi­na, Japan, Sin­ga­pore, South Ko­rea and Tai­wan — rep­re­sent­ing an in­creas­ing­ly bois­ter­ous mar­ket in Asia —col­lec­tive­ly raised $2.5 bil­lion-plus in over­all fi­nanc­ing, even as more in­vestors in Asia got more deeply in­volved in back­ing US and Eu­ro­pean biotechs.
Like oth­ers in the big ac­count­ing world, EY says that the amount large phar­ma com­pa­nies are spend­ing on re­search is clear­ly un­sus­tain­able, if you look at what they're get­ting out of it. And against that back­drop, pay­ers have ag­gres­sive­ly adopt­ed for­mu­la­ry con­trols aimed at ratch­et­ing back use of ex­pen­sive ther­a­pies.
But there's noth­ing new about phar­ma's poor ROI, un­der­scor­ing that the fun­da­men­tals are all in place to keep the in­dus­try grow­ing.
"This is nev­er go­ing away," Gio­van­net­ti tells me. "There is go­ing to be pres­sure on pric­ing and val­ue." But some­thing else isn't go­ing away: "We're get­ting old­er and we're get­ting sick­er." And no mat­ter how you slice it, Big Phar­ma still ur­gent­ly needs the in­no­va­tion that biotech pro­vides, which will in­evitably dri­ve more M&A in 2017.
EY's ad­vice: Look to some new tech­nolo­gies to bend the curve on R&D pro­duc­tiv­i­ty and don't stop be­liev­ing in biotech. All the noise out of Wash­ing­ton, DC on health­care re­form, big changes to the tax code and drug prices — as well as Brex­it in the UK — may best be ig­nored un­til some­thing con­crete emerges.
Per­haps John Mil­li­gan at Gilead said it best, notes Gio­van­net­ti: "I think that un­cer­tain­ty in Wash­ing­ton seems to be the norm in my 27 years here," not­ed Mil­li­gan. Gilead has "learned to fil­ter that out and fo­cus on the things that are right for the com­pa­ny."
Bot­tom line, says Gio­van­net­ti: "Stay the course and fil­ter out what you can't con­trol."