If you just compare the top-line biotech numbers for 2016 to 2015, you'd have good reason to despair. New drug approvals by the FDA plunged, net income for public biotechs cratered and total capital raised slid a stomach churning 45%, according to the figures gathered by EY. Biotech financing overall dropped in 2016, for the first time since 2012.
So why are the analysts at EY — led by team leader Glen Giovannetti — so happy about last year's performance?
Step back and look at the global business over the past 15 years, as EY did for their annual Beyond Borders assessment, and you'll see that even as the figures year-over-year didn't look great in every instance, they were generally positive — if not downright bullish — compared to the pre-boom years.
Looking at established biotech centers in the US and Europe, EY concluded that net revenue surged 7% for the public crowd. The same companies bid up their R&D gamble by 12% even as net income declined by slightly more than half and their collective market cap sank 17%.
Industry employment in the public sector increased by 14%, rising to 203,210. And while financing was way down year over year, it was still the third best figure EY has ever tracked as venture investing globally continues to impress and new drug approvals this year surge back up.
EY analysts tracked 291 seed and Series A biotech rounds in 2016 worth $3.6 billion, just a half step behind 2015's record spike of $3.8 billion, with the VCs clearly committed to funding a new wave of upstarts in drug development.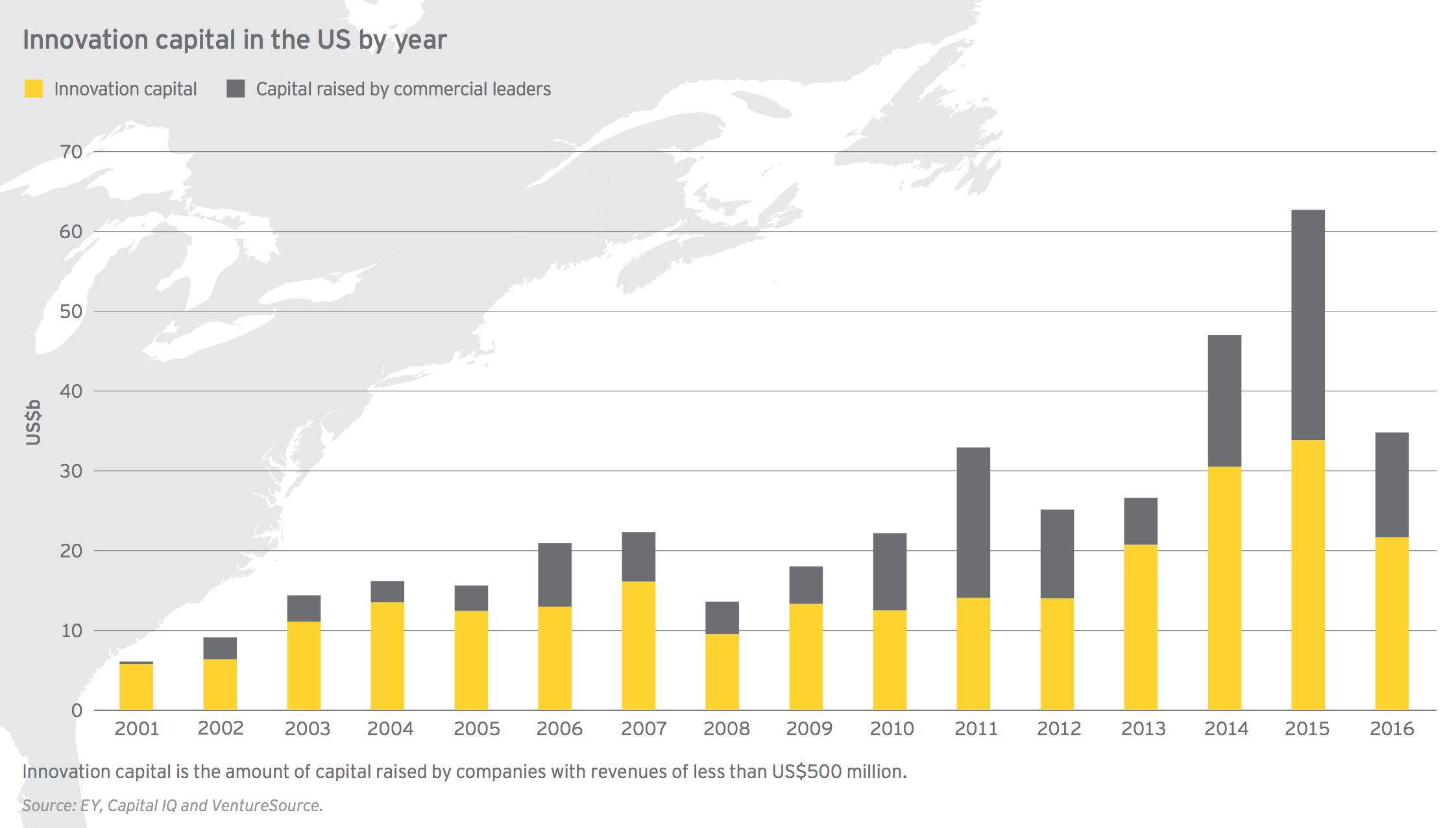 ---
Leaving out the biggest players, New England biotechs raised a total of $7.1 billion in 2016, compared to $4.8 billion in the Bay Area. Biotechs in mainland China, Japan, Singapore, South Korea and Taiwan — representing an increasingly boisterous market in Asia —collectively raised $2.5 billion-plus in overall financing, even as more investors in Asia got more deeply involved in backing US and European biotechs.
Like others in the big accounting world, EY says that the amount large pharma companies are spending on research is clearly unsustainable, if you look at what they're getting out of it. And against that backdrop, payers have aggressively adopted formulary controls aimed at ratcheting back use of expensive therapies.
But there's nothing new about pharma's poor ROI, underscoring that the fundamentals are all in place to keep the industry growing.
"This is never going away," Giovannetti tells me. "There is going to be pressure on pricing and value." But something else isn't going away: "We're getting older and we're getting sicker." And no matter how you slice it, Big Pharma still urgently needs the innovation that biotech provides, which will inevitably drive more M&A in 2017.
EY's advice: Look to some new technologies to bend the curve on R&D productivity and don't stop believing in biotech. All the noise out of Washington, DC on healthcare reform, big changes to the tax code and drug prices — as well as Brexit in the UK — may best be ignored until something concrete emerges.
Perhaps John Milligan at Gilead said it best, notes Giovannetti: "I think that uncertainty in Washington seems to be the norm in my 27 years here," noted Milligan. Gilead has "learned to filter that out and focus on the things that are right for the company."
Bottom line, says Giovannetti: "Stay the course and filter out what you can't control."
---
The best place to read
Endpoints News

? In your inbox.

Comprehensive daily news report for those who discover, develop, and market drugs. Join 47,700+ biopharma pros who read Endpoints News by email every day.

Free Subscription
---
---
---