Eye­ing Duchenne MD cure, The Col­umn Group gam­bles $40M on CRISPR/Cas9 start­up Ex­on­ics
The Col­umn Group thinks that gene edit­ing may pro­vide just the right kind of tech­nol­o­gy need­ed to cure Duchenne mus­cu­lar dy­s­tro­phy. And the in­vest­ment group is wa­ger­ing $40 mil­lion that the pre­clin­i­cal mouse da­ta used to back biotech start­up Ex­on­ics is point­ing in the right di­rec­tion.
John Rip­ple
This in­fu­sion of cash is a big boost for Ex­on­ics, a Cam­bridge, MA-based com­pa­ny which start­ed out with $5 mil­lion in seed mon­ey from Cure­Duchenne. But their back­ers in San Fran­cis­co are not just hand­ing the funds off, Ex­on­ics CEO John Rip­ple told End­points News. In ad­di­tion to bankrolling the pre­clin­i­cal re­search (much of which will be op­ti­miz­ing the cur­rent tech­nol­o­gy), it will al­so be piv­otal in ex­pan­sion ef­forts as Ex­on­ics looks to start a lab in Cam­bridge to sup­ple­ment founder Er­ic Ol­son's re­search at UT South­west­ern.
"With Dr Ol­son and his team's ex­per­tise there at UT South­west­ern, and with the team that we've been able to build here at Ex­on­ics, and now the fund­ing that we have, we think we're very well po­si­tioned to at least be a leader in this field," Rip­ple said, "and to hope­ful­ly be the first, or one of the first, to bring promis­ing treat­ments that will ad­dress the cause of Duchenne mus­cu­lar dy­s­tro­phy for these boys."
The goal is for the new lab to be op­er­a­tional ear­ly next year. One undis­closed sci­en­tist from Ol­son's team will head the fa­cil­i­ty, and Ex­on­ics is in the process of scout­ing oth­er tal­ents, with the help of TCG's re­cruit­ment staff.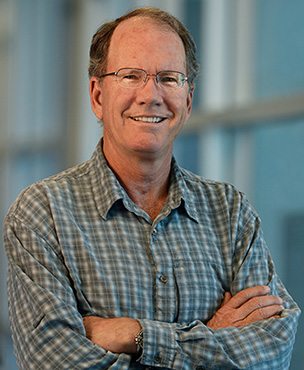 David Goed­del
Ad­di­tion­al­ly, two TCG mem­bers will be join­ing Ex­on­ics' board of di­rec­tors. One of them is man­ag­ing part­ner David Goed­del, the first sci­en­tist hired by Genen­tech, who co-found­ed Tu­larik —a gene reg­u­la­tion com­pa­ny lat­er ac­quired by Am­gen. He is al­so serv­ing on mul­ti­ple boards in­clud­ing NGM Bio and Tenaya.
"The com­pa­ny has gen­er­at­ed com­pelling ear­ly da­ta, and we are pleased to sup­port Ex­on­ics as it ad­vances its pre­clin­i­cal de­vel­op­ment pro­gram in Duchenne clos­er to the clin­ic," Goed­del said in a state­ment.
An ear­ly adopter of CRISPR/Cas-9 in treat­ing DMD, Ex­on­ics was found­ed on the promise to iden­ti­fy and re­pair a range of ex­on mu­ta­tions — not just ex­on 51, which FDA-ap­proved Ex­ondys51 tar­gets — that pre­vent the pro­duc­tion of dy­s­trophin, the mus­cle fiber pro­tect­ing pro­tein miss­ing in chil­dren with DMD.
Since Ex­on­ics launched in Feb­ru­ary, and even be­fore, oth­er com­pa­nies have been de­vel­op­ing their own gene ther­a­py for DMD. Sarep­ta — which sells con­tro­ver­sial Ex­ondys51 — an­nounced a cou­ple weeks back that it's part­ner­ing with Duke to ex­plore its own CRISPR tech­nol­o­gy. This high­lights the ur­gent un­met need for im­proved DMD treat­ment, and while Rip­ple ac­knowl­edges that, he said Ex­on­ics want to en­sure they have it right.
"We are try­ing to de­vel­op an op­ti­mal treat­ment for these boys to make sure that we have the best pos­si­ble treat­ment when we do en­ter the clin­ic and give that first ad­min­is­tra­tion to these boys," he said.