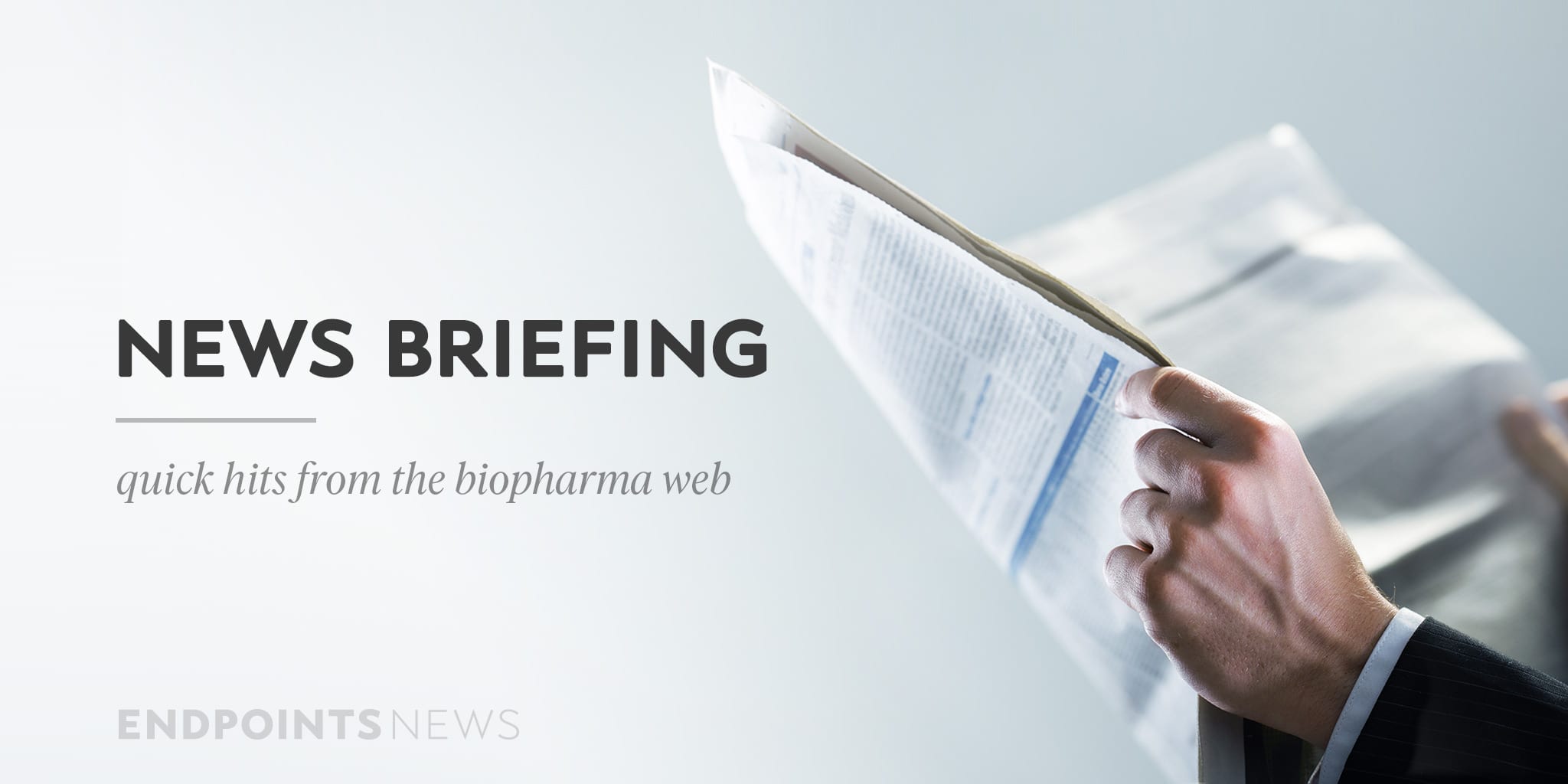 FDA ad­comm to de­cide on mol­nupi­ravir EUA; Can­cer at­las un­veils new po­ten­tial drug tar­get
The FDA has an­oth­er ad­comm com­ing down the pipeline — this time on Covid-19 oral an­tivi­ral mol­nupi­ravir.
The fed­er­al agency's ad­vi­so­ry com­mit­tee will meet on No­vem­ber 30th to go over Mer­ck and Ridge­back's EUA re­quest for their in­ves­ti­ga­tion­al an­tivi­ral drug, and dis­cuss the avail­able da­ta sup­port­ing its use in Covid-19 pa­tients.
This comes two weeks af­ter Mer­ck claimed that their an­tivi­ral pill re­duced the chance that new­ly di­ag­nosed Covid-19 pa­tients would be hos­pi­tal­ized or die by 50%. The phar­ma made the an­nounce­ment af­ter in­ter­im da­ta on 775 pa­tients in their clin­i­cal tri­al showed the an­tivi­ral's po­ten­tial.
Mer­ck said it can make 10 mil­lion dos­es of the drug this year, in­clud­ing a deal with the US for 1.7 mil­lion cours­es of the drug it signed back in June. It al­so inked deals with dif­fer­ent gener­ic man­u­fac­tur­ers to pro­duce the drug for low and mid­dle in­come coun­ties.
Re­searchers fin­ish at­las for small cell lung can­cer — re­veal­ing new tar­get
Af­ter sev­er­al years of re­search, a can­cer "at­las" for small cell lung can­cer is ready.
Re­vealed by in­ves­ti­ga­tors at Memo­r­i­al Sloan Ket­ter­ing Can­cer Cen­ter in the jour­nal Can­cer Cell yes­ter­day, a team of sci­en­tists used sin­gle cell RNA se­quenc­ing to find a small group­ing of cells in small cell lung can­cer tu­mors.
"The most ex­cit­ing thing we found is a rare pop­u­la­tion of stem-like cells with­in these tu­mors that is close­ly cor­re­lat­ed with pa­tient out­comes," ex­plained Charles Rudin, who co-led the lung can­cer project to Eu­rekAlert. "The more en­riched they are in the tu­mor, the worse the prog­no­sis."
The sin­gle cell tech­nique al­so al­lowed the in­ves­ti­ga­tors to dive even deep­er. With­in the cells mak­ing up this tiny pop­u­la­tion, one gene stood out: PLCG2. This gene makes a pro­tein that acts as a mes­sen­ger of sorts — re­lay­ing sig­nals from one pro­tein to an­oth­er.
Ac­cord­ing to some of the in­ves­ti­ga­tors, the gene is most ex­pressed in this stem cell-like pop­u­la­tion. And when they ex­per­i­men­tal­ly in­creased or low­ered its ac­tiv­i­ty in can­cer cell lines, it al­tered the abil­i­ty of the can­cer cells to metas­ta­size.
The re­searchers think that PLCG2-high cells could be part of the ex­pla­na­tion for SCLC's ag­gres­sive­ness. If so, it could open up new treat­ment pos­si­bil­i­ties.
"If we can de­vel­op strate­gies to se­lec­tive­ly tar­get this cell pop­u­la­tion, we might be able to sup­press metas­ta­sis and ul­ti­mate­ly im­prove out­comes for pa­tients with small cell lung can­cer," Rudin said.
Shang­hai's Han­soh inks de­vel­op­ment deal with UK biotech
For the sec­ond time this week, Chi­nese biotech Han­soh made a deal. This time, the $1 bil­lion+ deal is with the Lon­don-based siR­NA firm Si­lence Ther­a­peu­tics.
The two com­pa­nies an­nounced a col­lab­o­ra­tion to­day to de­vel­op siR­NAs for three undis­closed tar­gets, lever­ag­ing Si­lence's mR­NAi plat­form. Han­soh will pay Si­lence $16 mil­lion up­front, with a po­ten­tial $1.3 bil­lion more in ad­di­tion­al mile­stones plus roy­al­ties on net prod­uct sales.
Han­soh will have the ex­clu­sive op­tion to li­cense rights to the first two tar­gets in Chi­na, Hong Kong, Macau and Tai­wan fol­low­ing the com­ple­tion of Phase I stud­ies. Si­lence will re­tain ex­clu­sive rights for those two tar­gets in all oth­er mar­kets, main­tain­ing re­spon­si­bil­i­ty for all ac­tiv­i­ties un­til Han­soh ex­er­cis­es its op­tion.
Si­lence will al­so re­tain re­spon­si­bil­i­ty for de­vel­op­ment out­side those Asian mar­kets af­ter the Phase I stud­ies are com­plete.
Han­soh will al­so have the ex­clu­sive op­tion to li­cense glob­al rights for a third tar­get at the point of IND fil­ing, main­tain­ing re­spon­si­bil­i­ty for all de­vel­op­ment ac­tiv­i­ties af­ter ex­er­cis­ing that op­tion.
"We are ex­cit­ed to part­ner with Si­lence, a pi­o­neer in siR­NA ther­a­peu­tic de­vel­op­ment with decades of sci­en­tif­ic and tech­ni­cal ex­pe­ri­ence," said ex­ec­u­tive di­rec­tor of Han­soh's board Eliza Sun in a state­ment.