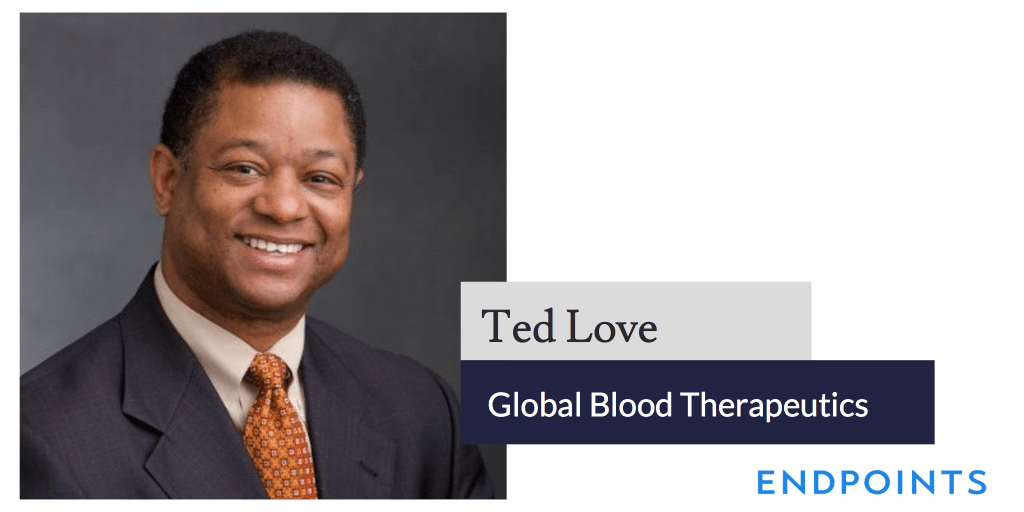 FDA clears Glob­al Blood Ther­a­peu­tics to fo­cus on key bio­mark­er in piv­otal sick­le cell tri­al
Just days af­ter flesh­ing out its lat­est set of pos­i­tive da­ta from a tiny study of GBT440 for sick­le cell dis­ease, Glob­al Blood Ther­a­peu­tics $GBT says that the FDA has signed off on its piv­otal tri­al de­sign, agree­ing to stick with a key bio­mark­er for he­mo­glo­bin lev­els for the pri­ma­ry end­point, which in­ves­ti­ga­tors have al­ready suc­cess­ful­ly tried out in small­er tri­als.
Ear­li­er in Oc­to­ber, the biotech re­port­ed that among six pa­tients re­ceiv­ing treat­ment over 90 days there was a "me­di­an 1.1 g/dL (gram per deciliter) in­crease in he­mo­glo­bin con­cen­tra­tion with GBT440 treat­ment com­pared with a "0.2 g/dL de­crease with place­bo."
That's the same end­point GBT has now gath­ered pos­i­tive da­ta on from about 50 pa­tients, CEO Ted Love told me in a pre­view of his post-mar­ket an­nounce­ment to­day. And its used as the pri­ma­ry end­point in a late-stage study — the first Love has heard of in sick­le cell dis­ease — which will like­ly come as quite a sur­prise to many of the ob­servers in this field, he adds.
"I think many peo­ple felt that it was sim­ply a sur­ro­gate end­point," says Love. But the biotech is shoot­ing to see the same kind of ef­fect a doc­tor would look for in or­der­ing a blood trans­fu­sion for a par­tic­u­lar­ly ane­mic pa­tient, which should trans­late in­to im­prove­ments for at least one in a slate of sec­ondary end­points that are be­ing in­clud­ed in the tri­al.
GBT's shares shot up 18% in post-mar­ket trad­ing fol­low­ing the news break.
The most like­ly im­me­di­ate ben­e­fit should be re­flect­ed in a re­duced bur­den of fa­tigue many pa­tients are af­flict­ed with, says Love, adding that pain and fa­tigue are the two big symp­toms that pa­tients have to deal with.
The South San Fran­cis­co-based biotech will use that mark­er in a much, much larg­er study than it has ever tack­led be­fore, with about 400 pa­tients ex­pect­ed to be re­cruit­ed. The tri­al will be run in two stages, start­ing with two dos­es to iden­ti­fy the best ap­proach for stage two. The full study will test the drug over at least 24 weeks.
Fi­nal da­ta should be out in 2019, though GBT ex­ecs say that they al­so ex­pect to re­view the re­sults from the first stage of the tri­al, when it's avail­able.
Their end­point marks a big switch from oth­er stud­ies which have fo­cused on the rate of va­so-oc­clu­sive cri­sis (VOCs), its in­ves­ti­ga­tors say, when sick­le cell shaped red blood cells oc­clude small blood ves­sels, spurring in­flam­ma­tion, in­jury and in­tense bouts of pain. Pfiz­er went with VOCs for its riv­ipansel Phase III. The pen­ny biotech Mast Ther­a­peu­tics, for ex­am­ple, re­cent­ly missed the VOC end­point, wip­ing out much of what was left of its mar­ket cap.
"Pre­vi­ous SCD stud­ies have gen­er­al­ly fo­cused on VOC, de­fined as a painful cri­sis re­quir­ing hos­pi­tal or emer­gency room uti­liza­tion. But we know that pa­tients have 4-5 times more fre­quent painful crises, with or with­out uti­liza­tion. As a re­sult, the bur­den of painful crises is dra­mat­i­cal­ly un­der-re­port­ed," said Wal­ly Smith, M.D., Flo­rence Neal Coop­er Smith Pro­fes­sor of Sick­le Cell Dis­ease Di­rec­tor, a com­pre­hen­sive sick­le cell pro­gram at Vir­ginia Com­mon­wealth Uni­ver­si­ty, in a state­ment. "By uti­liz­ing the PRO, the in­no­v­a­tive de­sign of the HOPE Study should al­low mea­sure­ment of the true bur­den of SCD painful crises and oth­er symp­toms.
Sec­ondary out­comes in­clude: The ef­fect of the drug on symp­tom ex­ac­er­ba­tions mea­sured by the com­pa­ny's Pa­tient Re­port­ed Out­come in­stru­ment; VOCs; hos­pi­tal­iza­tions and red blood cell trans­fu­sions.
In a cor­po­rate up­date af­ter the re­lease, GBT ex­ecs added that their CMO, Eleanor Ramos, opt­ed to re­sign ef­fec­tive to­day, adding that they have enough cash to get in­to Q2 of 2018 — look for a fi­nanc­ing at an op­por­tune mo­ment — as they cov­er a study like­ly to cost about $40 mil­lion. In ad­di­tion, GBT is drop­ping a pre­clin­i­cal study for GBT18713, an oral kallikrein in­hibitor for the pre­ven­tion of hered­i­tary an­gioede­ma at­tacks, so they can fo­cus on their lead work.