FDA com­mish cheers on biosim­i­lars as Am­gen, Al­ler­gan score OK for knock­off of Roche's Avastin
Roche now has an­oth­er big biosim­i­lar ri­val to con­tend with.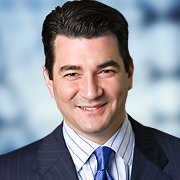 Scott Got­tlieb
The FDA has OK'd Mvasi, a knock­off of a drug that earned $3 bil­lion in the US — $7 bil­lion world­wide — last year as a main­stay in Roche's drug port­fo­lio. Am­gen and Al­ler­gan — which wound up with mar­ket­ing rights af­ter it emerged on top af­ter a se­ries of merg­ers over the last 5 years — can now start lin­ing up a launch, as the big com­pa­nies scrap over the patents that ex­pire in 2018 and 2019.
The big col­lab­o­ra­tors al­so re­cent­ly filed for an FDA OK for a biosim­i­lar of Roche's Her­ceptin.
In what is now stan­dard op­er­at­ing pro­ce­dure at the FDA, reg­u­la­tors hand­ed out their ap­proval for most of the full string of la­bel in­di­ca­tions Roche won in the US. And there are plen­ty more ap­pli­ca­tions for oth­er Avastin biosim­i­lars in the in­dus­try pipeline, as these new biosim­i­lar plays clus­ter around the big fran­chise ther­a­pies on the mar­ket.
No­var­tis, mean­while, snagged a Eu­ro­pean OK for its copy of Roche's Rit­ux­an in June, fol­low­ing Cell­tri­on's win on the same front.
The ap­proval fol­lows a unan­i­mous pan­el rec­om­men­da­tion in Mvasi's fa­vor, as well as a high-lev­el en­dorse­ment from the agency to ush­er these copy­cats in­to the mar­ket as soon as pos­si­ble. The grow­ing flank at­tack on its big drugs al­so un­der­scores the re­cent rash of set­backs that Roche has had to con­tend with, as a string of late-stage ef­forts have run in­to se­ri­ous trou­ble at ex­act­ly the wrong mo­ment for Roche.
"Bring­ing new biosim­i­lars to pa­tients, es­pe­cial­ly for dis­eases where the cost of ex­ist­ing treat­ments can be high, is an im­por­tant way to help spur com­pe­ti­tion that can low­er health­care costs and in­crease ac­cess to im­por­tant ther­a­pies," said FDA com­mis­sion­er Scott Got­tlieb in a state­ment "We'll con­tin­ue to work hard to en­sure that biosim­i­lar med­ica­tions are brought to the mar­ket quick­ly, through a process that makes cer­tain that these new med­i­cines meet the FDA's rig­or­ous gold stan­dard for safe­ty and ef­fec­tive­ness."