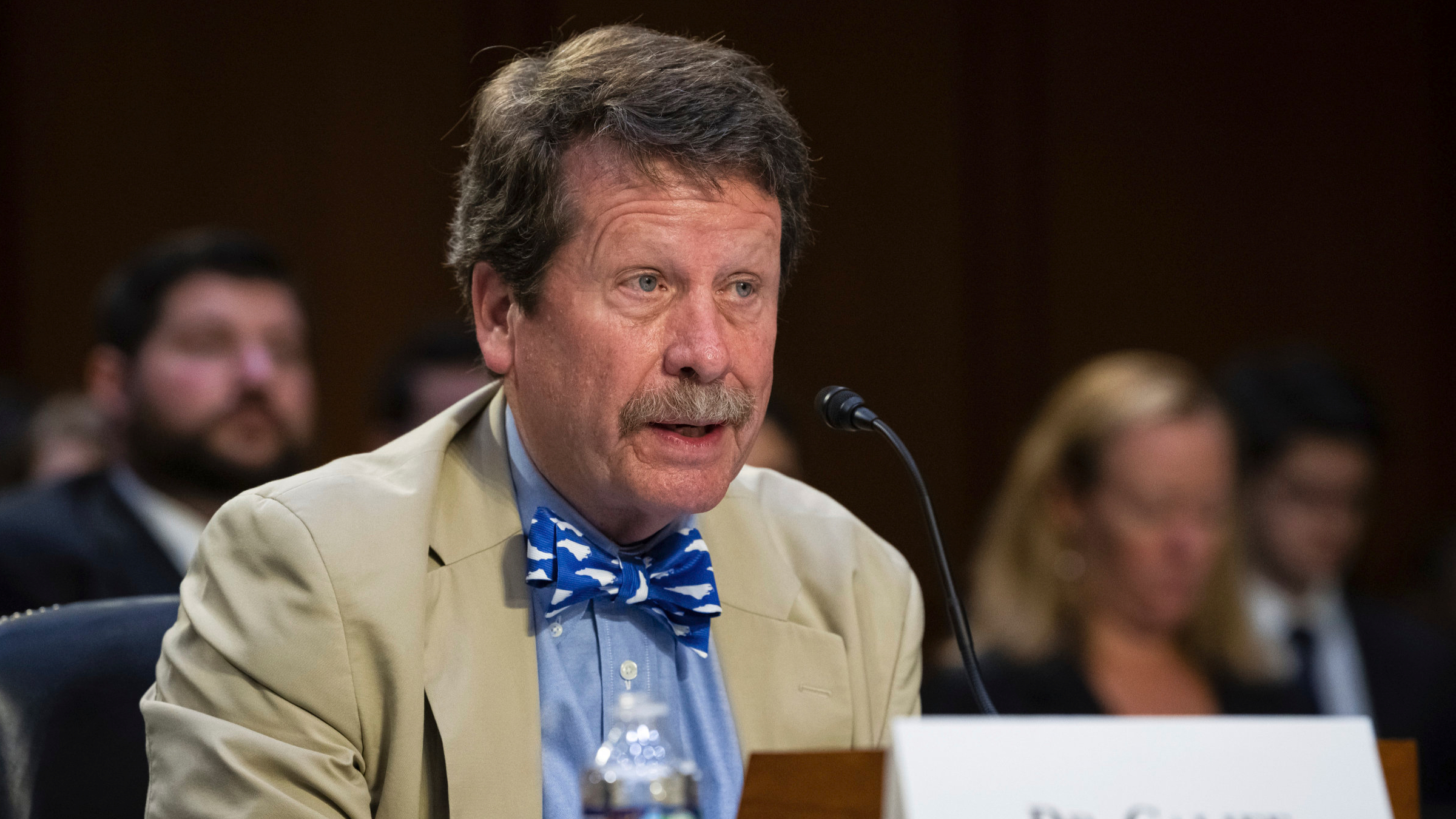 FDA commissioner Rob Califf (Graeme Sloan/Sipa USA)(Sipa via AP Images)
FDA com­mis­sion­er on ac­cel­er­at­ed ap­proval re­forms: 'Need to ad­dress as soon as pos­si­ble'
As Con­gress punt­ed the user fee rid­ers on ac­cel­er­at­ed ap­proval path­way re­forms, FDA com­mis­sion­er Rob Califf made clear at a con­fer­ence this week that such re­forms need to hap­pen "as soon as pos­si­ble."
The com­ment, com­ing near the end of a speech Califf made Mon­day at the Na­tion­al Or­ga­ni­za­tion for Rare Dis­or­ders' an­nu­al con­fer­ence, fol­lowed sim­i­lar sug­ges­tions for re­forms as of­fi­cials at the FDA's On­col­o­gy Cen­ter of Ex­cel­lence, who took to the NE­JM late last month ar­gu­ing for im­prove­ments to the agency's abil­i­ty to ex­pe­di­tious­ly pull dan­gling ac­cel­er­at­ed ap­provals, which oc­cur when, on the rare oc­ca­sion, con­fir­ma­to­ry tri­als fail, but al­so bet­ter build­ing "qual­i­ty and ef­fi­cien­cy in­to the AA on-ramp."
The OCE of­fi­cials made clear the need to en­sure con­fir­ma­to­ry tri­als are un­der­way when an ac­cel­er­at­ed ap­proval is grant­ed, as they showed a me­di­an time to with­draw­al of 3.8 years if the con­fir­ma­to­ry tri­al was on­go­ing at the time of ap­proval, com­pared with 7.3 years if such a tri­al had not been ini­ti­at­ed.
"I want to call your at­ten­tion to an is­sue that we need to ad­dress as soon as pos­si­ble – ac­cel­er­at­ed ap­provals," Califf said Mon­day. "While the process is in­tend­ed to en­sure the in­tegri­ty of the da­ta and analy­ses, the fact is that ac­cel­er­at­ed ap­provals based on bio­mark­ers leave more un­cer­tain­ty about the true risk and ben­e­fit. And re­gard­less, many of these in­ter­ven­tions will be ap­proved based on a lim­it­ed time frame of a clin­i­cal tri­al. And yet, the po­ten­tial ef­fects, both ben­e­fits and risks, will be man­i­fest­ed over a life­time."
The warn­ing shot comes as a re­cent HHS OIG re­port raised con­cerns about the bil­lions of dol­lars CMS spends on these ac­cel­er­at­ed ap­provals be­fore clin­i­cal ben­e­fit is con­firmed.
And the FDA's OCE has sought to clean house when it comes to pulling ones that failed their con­fir­ma­to­ry tri­als. ODAC re­cent­ly eval­u­at­ed one dan­gling ac­cel­er­at­ed ap­proval, On­copep­tides' Pepax­to, and one full ap­proval, Se­cu­ra Bio's PI3K in­hibitor Copik­tra (du­velis­ib) as a third-line treat­ment for re­lapsed or re­frac­to­ry CLL or SLL with safe­ty ques­tions.
The out­side ex­perts vot­ed against keep­ing ei­ther drug on the mar­ket, al­though both spon­sors have since made clear that they won't pull their drugs with­out a fight. The 2.5-day bat­tle over Co­vis' de­layed ac­cel­er­at­ed ap­proval this week al­so serves as a re­minder of long and drawn out the with­draw­al process can be, even if the con­fir­ma­to­ry tri­al did not hit on its pri­ma­ry end­point.
While call­ing for a faster sys­tem of ev­i­dence gen­er­a­tion that con­firms ben­e­fits and risks for ac­cel­er­at­ed ap­provals more quick­ly, Califf al­so stressed ear­li­er in his speech the need to "ex­pand the sources, qual­i­ty, and types of da­ta we use to an­a­lyze and over­come" tri­al chal­lenges, in­clud­ing with re­al-world ev­i­dence and new bio­mark­ers.
Thanks to PDU­FA VII, the agency on Wednes­day an­nounced its new Ad­vanc­ing Re­al-World Ev­i­dence (RWE) pro­gram which will se­lect cer­tain par­tic­i­pat­ing spon­sors to meet with agency staff up to four ad­di­tion­al times be­fore pro­to­col de­vel­op­ment or study ini­ti­a­tion to dis­cuss the use of RWE in their de­vel­op­ment pro­grams.
The FDA this week al­so doled out 19 new grants and two new con­tracts to­tal­ing more than $38 mil­lion in funds over the next four years to sup­port clin­i­cal tri­als, nat­ur­al his­to­ry stud­ies and reg­u­la­to­ry sci­ence tools re­lat­ed to rare dis­eases.
And the agency is plan­ning for FY 2023 grants linked to its new Rare Neu­rode­gen­er­a­tive Dis­ease Grant Pro­gram which "does not have a fi­nal fund­ing amount," but "it is ex­pect­ed that the bud­get for this pro­gram will be ap­prox­i­mate­ly $2 mil­lion and the ex­pect­ed num­ber of awards will be be­tween two to four grants," the FDA said.