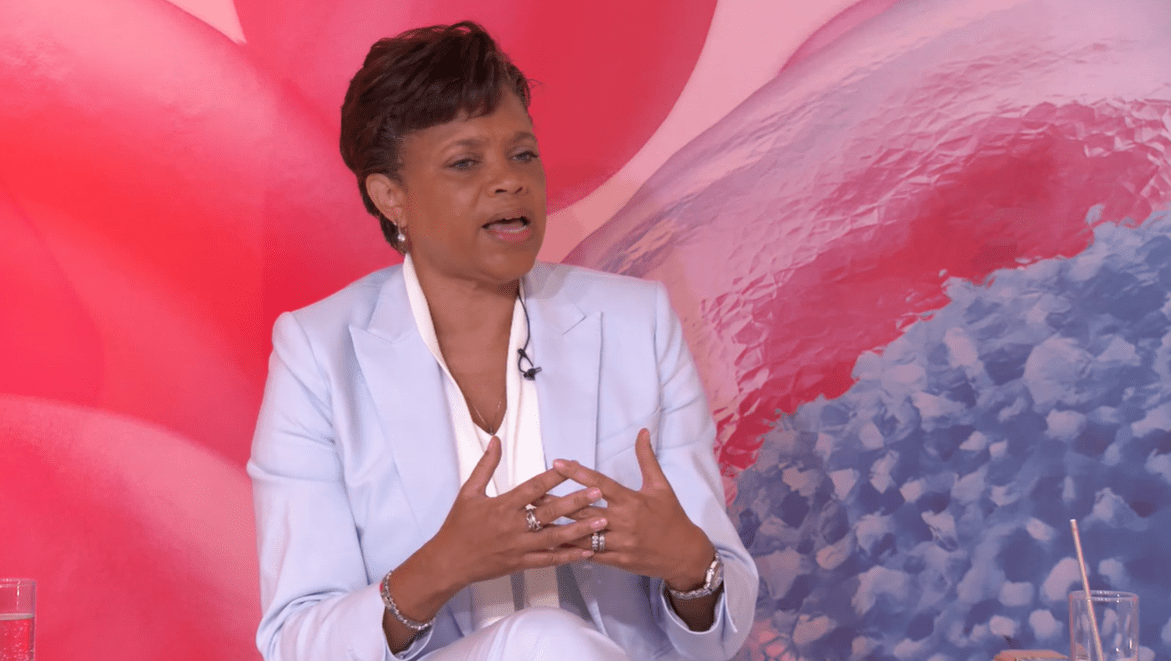 Kim Smith, ViiV head of R&D, at GlaxoSmithKline's Investor Day
FDA ex­pands la­bel for Vi­iV's Cabe­nu­va to cov­er bi-month­ly ad­min­is­tra­tion HIV treat­ment
Adults liv­ing with HIV will now have the op­tion to re­ceive treat­ment just six times a year, as the FDA clears Vi­iV Health­care's Cabe­nu­va for use every two months.
The la­bel ex­pan­sion comes just a few days af­ter the one-year an­niver­sary of Cabe­nu­va's ini­tial ap­proval, which marked the his­toric OK for a long-act­ing HIV treat­ment that can be ad­min­is­tered once every month in­stead of dai­ly.
On­ly those who are al­ready vi­ro­log­i­cal­ly sup­pressed, have no his­to­ry of treat­ment fail­ure or sus­pect­ed re­sis­tance to ei­ther of the ac­tive in­gre­di­ents are el­i­gi­ble for this dos­ing reg­i­men.
"In clin­i­cal tri­als, ap­prox­i­mate­ly nine out of every ten tri­al par­tic­i­pants pre­ferred long-act­ing cabote­gravir and rilpivirine dosed every two months com­pared to dai­ly oral cabote­gravir and rilpivirine tak­en as the oral lead-in per tri­al pro­to­col," said Turn­er Over­ton, pri­ma­ry in­ves­ti­ga­tor of the AT­LAS-2M tri­al and a pro­fes­sor of med­i­cine at the Uni­ver­si­ty of Al­aba­ma at Birm­ing­ham.
Cabe­nu­va con­sists of two ex­tend­ed-re­lease in­jecta­bles: cabote­gravir, which is de­vel­oped by Vi­iV, and rilpivirine from J&J's Janssen (which is al­so mar­ket­ed in­di­vid­u­al­ly un­der the brand names Edu­rant and Rekam­bys.
The dif­fer­ence be­tween the one-month and two-month dos­ing is a big­ger dose, Vi­iV head of R&D Kim Smith pre­vi­ous­ly told End­points News.
How­ev­er, she not­ed, that is the max­i­mum dose al­lowed by those com­pounds — which was why Vi­iV has been look­ing to part­ners for new tech­nolo­gies that can ex­tend the dos­ing in­ter­val to three months, six months or even be­yond.
"We have cre­at­ed the first long-act­ing reg­i­men," she said. "Our com­peti­tors are fol­low­ing us down on this path, but we are at least five years ahead of them. We want to build on what we've al­ready cre­at­ed, the knowl­edge that we've gained in de­vel­op­ing Cabe­nu­va, and take it to the next lev­el."