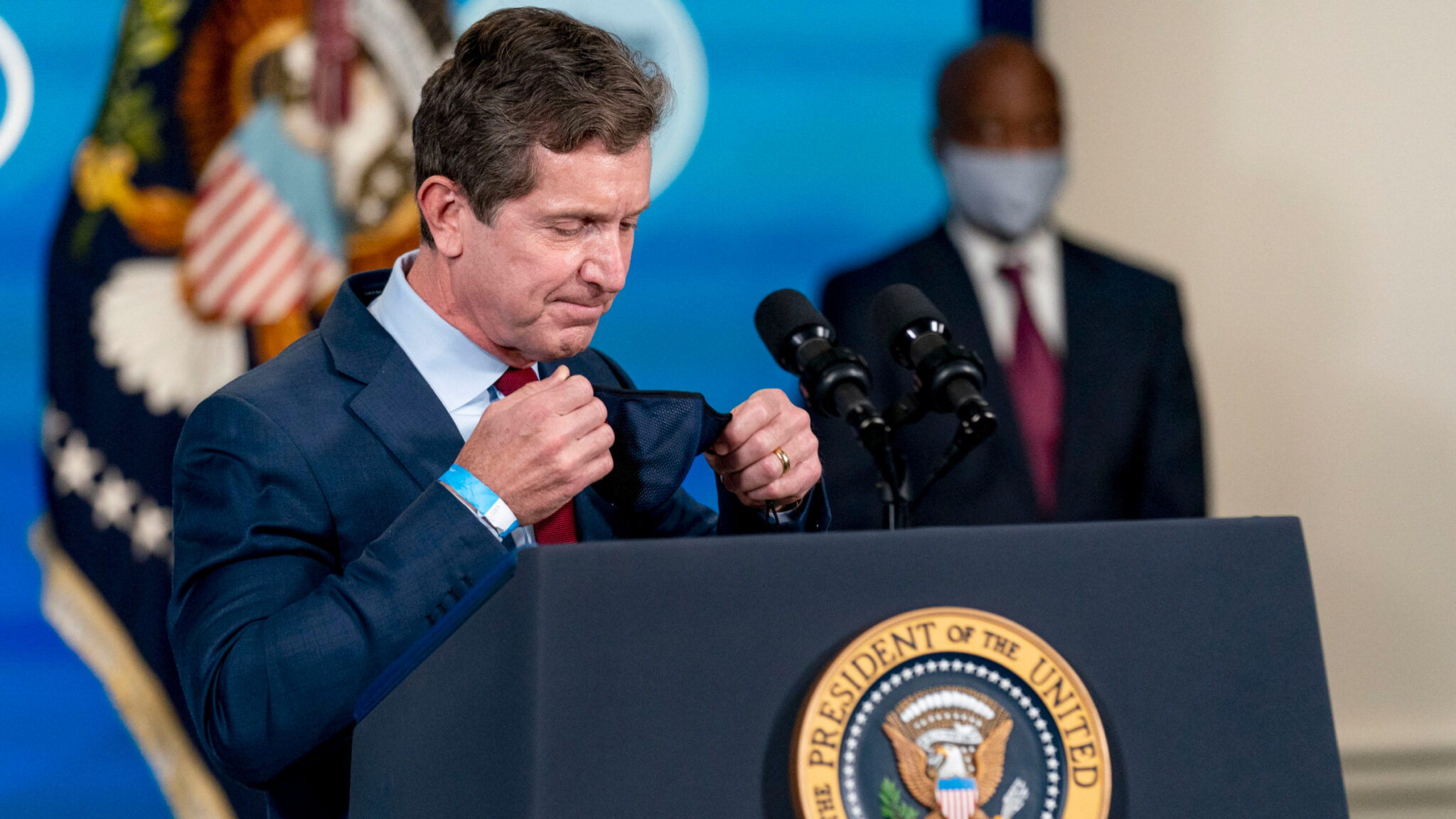 Alex Gorsky, J&J CEO (Andrew Harnik/AP Images)
UP­DAT­ED: FDA adds sec­ond warn­ing to J&J's Covid-19 vac­cine on da­ta link­ing it to rare nerve con­di­tion
The J&J Covid-19 vac­cine has been linked to a sec­ond rare but se­ri­ous side ef­fect.
The FDA is­sued a warn­ing Mon­day af­ter­noon that there are da­ta "con­nect­ing the shot to an in­creased risk" of Guil­lain-Bar­ré syn­drome, a rare con­di­tion where the body's im­mune sys­tem at­tacks its nerves. The FDA said that there were 100 pre­lim­i­nary re­ports of the syn­drome out of the 12.5 mil­lion peo­ple who re­ceived the vac­cine. No such re­la­tion­ship was seen be­tween the Mod­er­na or Pfiz­er-BioN­Tech vac­cines and the au­toim­mune con­di­tion.
Of those 100 cas­es, 95 were se­ri­ous and re­quired hos­pi­tal­iza­tion and that there was one re­port­ed death. The agency not­ed that the vast ma­jor­i­ty of peo­ple with Guil­lain-Bar­ré syn­drome re­cov­er and said there was not yet enough da­ta to es­tab­lish a causal re­la­tion­ship.
The FDA em­pha­sized, as they did when the first rare but se­ri­ous side ef­fect emerged, that the ben­e­fits of the vac­cine "clear­ly" out­weigh the risks. The on­ly sin­gle-dose Covid-19 vac­cine au­tho­rized in the US, the shot was shown to be 85% ef­fec­tive at pre­vent­ing se­vere dis­ease.
But news of the first side ef­fect ap­peared to slow both US and glob­al up­take of the vac­cine, which pub­lic health of­fi­cials had hoped would reach many peo­ple who are less able to ac­cess the two-dose mR­NA shots.
In April, the FDA and CDC paused the roll­out of the vac­cine af­ter da­ta linked it to a rare blood clot­ting dis­or­der. The agen­cies lift­ed the hold 10 days lat­er, ar­gu­ing the ben­e­fits still out­weighed the risks and that, with greater ed­u­ca­tion and aware­ness among physi­cians, the side ef­fects could be caught and man­aged.
The well pub­li­cized side ef­fect, how­ev­er, ap­peared to scare many away from tak­ing the vac­cine. A Reuters analy­sis in June found that half of the EU's J&J sup­plies had gone un­used. The New York Times turned up sim­i­lar find­ings in the US. The com­pa­ny's 12.8 mil­lion vac­cines ad­min­is­tered in the US rep­re­sent just 8% of the to­tal Amer­i­cans who have been ful­ly vac­ci­nat­ed and just 7% of the Amer­i­cans who have been ful­ly vac­ci­nat­ed.
The new side ef­fect, while rare and not yet con­clu­sive­ly linked to the vac­cine, may on­ly fur­ther ham­per up­take for a vac­cine that many hoped could pro­vide a cru­cial tool to reach­ing hard-to-reach com­mu­ni­ties and end­ing the pan­dem­ic. It could al­so pro­vide an­oth­er blow to the vi­ral vec­tor plat­form that J&J has built its vac­cine busi­ness around, as the ri­val mR­NA jabs prove both safer and more ef­fi­ca­cious.
J&J's shot is not the first vac­cine to be linked to Guil­lain-Bar­ré syn­drome. The con­di­tion of­ten ap­pears af­ter vi­ral in­fec­tion, but the 1976 swine flu vac­cine was al­so linked to cas­es among a small num­ber of re­cip­i­ents. In that in­stance, the CDC re­ports, the vac­cine in­creased the like­li­hood of com­ing down with the syn­drome by about 1 in­stance per 100,000 vac­ci­na­tions.
A hand­ful of cas­es of the syn­drome have al­so been linked in Eu­rope to the As­traZeneca-Ox­ford vac­cine, which us­es a sim­i­lar tech­nol­o­gy to J&J's.
For a look at all End­points News coro­n­avirus sto­ries, check out our spe­cial news chan­nel.