FDA fol­lows through with a ground­break­ing OK for Yescar­ta, Gilead­'s new CAR-T break­through
Just two weeks af­ter Gilead closed on its $12 bil­lion Kite buy­out, the FDA has fol­lowed through with a ground­break­ing ap­proval of Yescar­ta (axi-cel), putting its CAR-T drug neck-and-neck with No­var­tis' pi­o­neer Kym­ri­ah as the two drugs are prepped for a launch.
In a vir­tu­al heart­beat, Gilead used its con­sid­er­able cash re­serves to reach a deal to buy out Kite and axi-cel 6 weeks ago, ac­quir­ing its new­ly ap­proved CAR-T and all the next-gen tech­nol­o­gy now in the works. The ac­qui­si­tion made Gilead an overnight leader in CAR-T. While beat­en to a his­toric first FDA ap­proval for a CAR-T by an ag­gres­sive group at No­var­tis — ini­tial­ly green-light­ed at the end of Au­gust for pe­di­atric and young adult pa­tients with a form of acute lym­phoblas­tic leukemia — Gilead is re­tain­ing most of the Kite gang and hon­ing its man­u­fac­tur­ing ef­fort, shav­ing off the time it takes to turn around these per­son­al­ized ther­a­pies.
In clas­sic ag­gres­sive form, Gilead came out gun­ning, of­fer­ing the ther­a­py at a price of $373,000 — $102,000 less than its ri­val at No­var­tis. On the oth­er hand, No­var­tis of­fered a val­ue-based deal to a num­ber of pay­ers in which they on­ly get re­im­burse­ment for pa­tients who re­spond to ther­a­py, evening the play­ing field.
Once again, FDA com­mis­sion­er Scott Got­tlieb took the hon­ors in con­grat­u­lat­ing the de­vel­op­ers, as he did when No­var­tis came out in front. And this time, he promised to lend the agency's help for the rest of the bur­geon­ing cell ther­a­py field. Said Got­tlieb:
"To­day marks an­oth­er mile­stone in the de­vel­op­ment of a whole new sci­en­tif­ic par­a­digm for the treat­ment of se­ri­ous dis­eases. In just sev­er­al decades, gene ther­a­py has gone from be­ing a promis­ing con­cept to a prac­ti­cal so­lu­tion to dead­ly and large­ly un­treat­able forms of can­cer. This ap­proval demon­strates the con­tin­ued mo­men­tum of this promis­ing new area of med­i­cine and we're com­mit­ted to sup­port­ing and help­ing ex­pe­dite the de­vel­op­ment of these prod­ucts. We will soon re­lease a com­pre­hen­sive pol­i­cy to ad­dress how we plan to sup­port the de­vel­op­ment of cell-based re­gen­er­a­tive med­i­cine. That pol­i­cy will al­so clar­i­fy how we will ap­ply our ex­pe­dit­ed pro­grams to break­through prod­ucts that use CAR-T cells and oth­er gene ther­a­pies. We re­main com­mit­ted to sup­port­ing the ef­fi­cient de­vel­op­ment of safe and ef­fec­tive treat­ments that lever­age these new sci­en­tif­ic plat­forms."
The CD19 T cell im­munother­a­py — which reengi­neers pa­tient cells in­to a po­tent can­cer ther­a­py — has been ap­proved for adult pa­tients with re­lapsed or re­frac­to­ry large B-cell lym­phoma af­ter two or more lines of sys­temic ther­a­py. That la­bel in­cludes dif­fuse large B-cell lym­phoma (DL­B­CL), pri­ma­ry me­di­asti­nal large B-cell lym­phoma, high-grade B-cell lym­phoma, and DL­B­CL aris­ing from fol­lic­u­lar lym­phoma.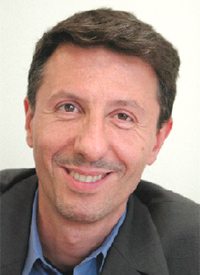 Alessan­dro Ri­va
The R&D work will now be led by Alessan­dro Ri­va, a for­mer No­var­tis sci­en­tist pro­mot­ed yes­ter­day to ex­ec­u­tive vice pres­i­dent in charge of on­col­o­gy R&D, with a seat on the lead­er­ship team.
Left be­hind in the race to CAR-T dom­i­nance, for now at least, is Juno Ther­a­peu­tics. Its ri­val drug was mired down by a lethal tox­i­c­i­ty is­sue that killed 5 pa­tients, forc­ing the biotech to switch over to its num­ber 2 pro­gram.
No­var­tis man­aged to sur­prise quite a few an­a­lysts by peg­ging Kym­ri­ah at $475,000, which is sig­nif­i­cant­ly low­er than the $600,000 max­i­mum pro­vid­ed in some of the spreads. In a sto­ry we pub­lished yes­ter­day, how­ev­er, a num­ber of ex­perts said the full cost of ther­a­py may well end up at $1 mil­lion to $1.5 mil­lion.
The da­ta, though, are jaw drop­ping.
The FDA's ap­proval comes through on the da­ta for ZU­MA-1, which demon­strat­ed that 72% of the pa­tients in­volved had an ob­jec­tive re­sponse rate to the ther­a­py. And 51% demon­strat­ed a com­plete re­mis­sion, with no sign of the can­cer left.
In a re­cent farewell let­ter to the staff, Kite CEO Arie Bellde­grun summed it up by writ­ing:
In a span of just a few short years, we grew from few­er than 10 em­ploy­ees to al­most 700. The com­pa­ny's val­ue in­creased 2300% from the time of our IPO to near­ly $12 bil­lion with the ac­qui­si­tion by Gilead Sci­ences. Our clos­ing $180 per share price rep­re­sents not just a 960% ap­pre­ci­a­tion from the IPO price of $17 per share, but the largest ever pre-com­mer­cial bio­phar­ma ac­qui­si­tion.
Now Gilead can see if it's ag­gres­sive team can make the most of the block­buster peak sales es­ti­mates that have yet to be climbed.
To­day, Bellde­grun had this to say:
"The FDA ap­proval of Yescar­ta is a land­mark for pa­tients with re­lapsed or re­frac­to­ry large B-cell lym­phoma. This ap­proval would not have been pos­si­ble with­out the coura­geous com­mit­ment of pa­tients and clin­i­cians, as well as the on­go­ing ded­i­ca­tion of Kite's em­ploy­ees. We must al­so rec­og­nize the FDA for their abil­i­ty to em­brace and sup­port trans­for­ma­tion­al new tech­nolo­gies that treat life-threat­en­ing ill­ness­es. We be­lieve this is on­ly the be­gin­ning for CAR T ther­a­pies."