FDA gives Mer­ck 're­al-time' OK for Keytru­da, of­fer­ing a peek at the lat­est ex­ten­sion of the agen­cy's da­ta ex­press high­way
The FDA doesn't al­ways wait for a mar­ket­ing ap­pli­ca­tion to come in be­fore it be­gins its re­view these days. And that suits Mer­ck just fine.
The fed­er­al agency has stamped a full ap­proval — fol­low­ing last year's con­di­tion­al OK — on Mer­ck's mega-block­buster Keytru­da for front­line use in a chemo com­bo for fight­ing non-squa­mous non-small cell lung can­cer. Reg­u­la­tors based their de­ci­sion on the da­ta set from KEYNOTE-189, put on dis­play last April, one in a se­ries of late-stage tri­als that Mer­ck has been rolling out to grab the lead on the PD-1/L1 mar­ket from a group of tough com­peti­tors at Bris­tol-My­ers Squibb.
The green light is any­thing but un­ex­pect­ed. But it is note­wor­thy for rea­sons that the en­tire in­dus­try should be pay­ing at­ten­tion to.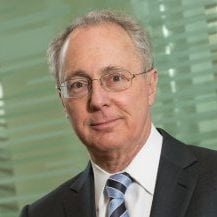 Roger Perl­mut­ter
What dis­tin­guish­es this par­tic­u­lar OK is the tim­ing. FDA com­mis­sion­er Scott Got­tlieb has been push­ing a new pi­lot pro­gram called re­al-time on­col­o­gy re­views, where reg­u­la­tors start their work ahead of a for­mal ap­pli­ca­tion. The first re­al-time OK went to No­var­tis a few weeks ago for two com­bi­na­tions us­ing Kisqali against breast can­cer. And top-tier drug de­vel­op­ers are find­ing that in­stead of just be­ing greet­ed with an open door, some­times the door is be­ing tak­en off the hinges en­tire­ly.
In this case they were deal­ing with a haz­ard ra­tio of 0.49, mark­ing a 51% drop in the risk of death for pa­tients tak­ing the com­bo. There's still no me­di­an sur­vival da­ta for the com­bo avail­able, but the matchup of the Keytru­da/chemo ap­proach ver­sus chemo alone pro­vid­ed a clear set of ad­van­tages for Mer­ck.
The me­di­an pro­gres­sion-free sur­vival rate was 8.8 months for the com­bo, 4.9 months for chemo alone.
The over­all re­sponse rate was 48% com­pared to 19% in the con­trol.
Me­di­an re­sponse du­ra­tion hit 11.2 months for the Keytru­da arm and 7.8 months for con­trol.
These re­al-time re­views now on of­fer at the FDA look to ex­tend the da­ta ex­press high­way that's been built for the agency's break­through drug des­ig­na­tion and oth­er hur­ry-up cam­paigns that have trans­formed the speed and de­sign of on­col­o­gy stud­ies over the past few years. In this case the FDA wants to re­ly en­tire­ly on US stud­ies, ex­clud­ing any­thing out­side the bor­ders, while pre­fer­ring drugs that are de­liv­er­ing clear ben­e­fits and are be­ing test­ed on some ob­vi­ous end­points. And they don't want any for­mu­la­tion changes to pon­der when mak­ing a snap call.
The FDA is tak­ing no chances with Keytru­da, a land­mark drug by any de­f­i­n­i­tion that is be­ing pushed through hun­dreds of com­bi­na­tion stud­ies and new ap­proach­es. Got­tlieb is like­ly to earn even more de­vo­tion from the in­dus­try's lead­ers for fol­low­ing through on im­prov­ing the FDA's re­spon­sive­ness. And Mer­ck is hap­py to have the fresh set of brag­ging rights to­day.
"Keytru­da is rapid­ly be­com­ing a foun­da­tion for the treat­ment of ap­pro­pri­ate pa­tients with metasta­t­ic non-small cell lung can­cer," said Mer­ck R&D chief Roger Perl­mut­ter. "To­day's ap­proval of the ex­pand­ed la­bel for Keytru­da based on da­ta from the KEYNOTE-189 tri­al is an im­por­tant mile­stone."