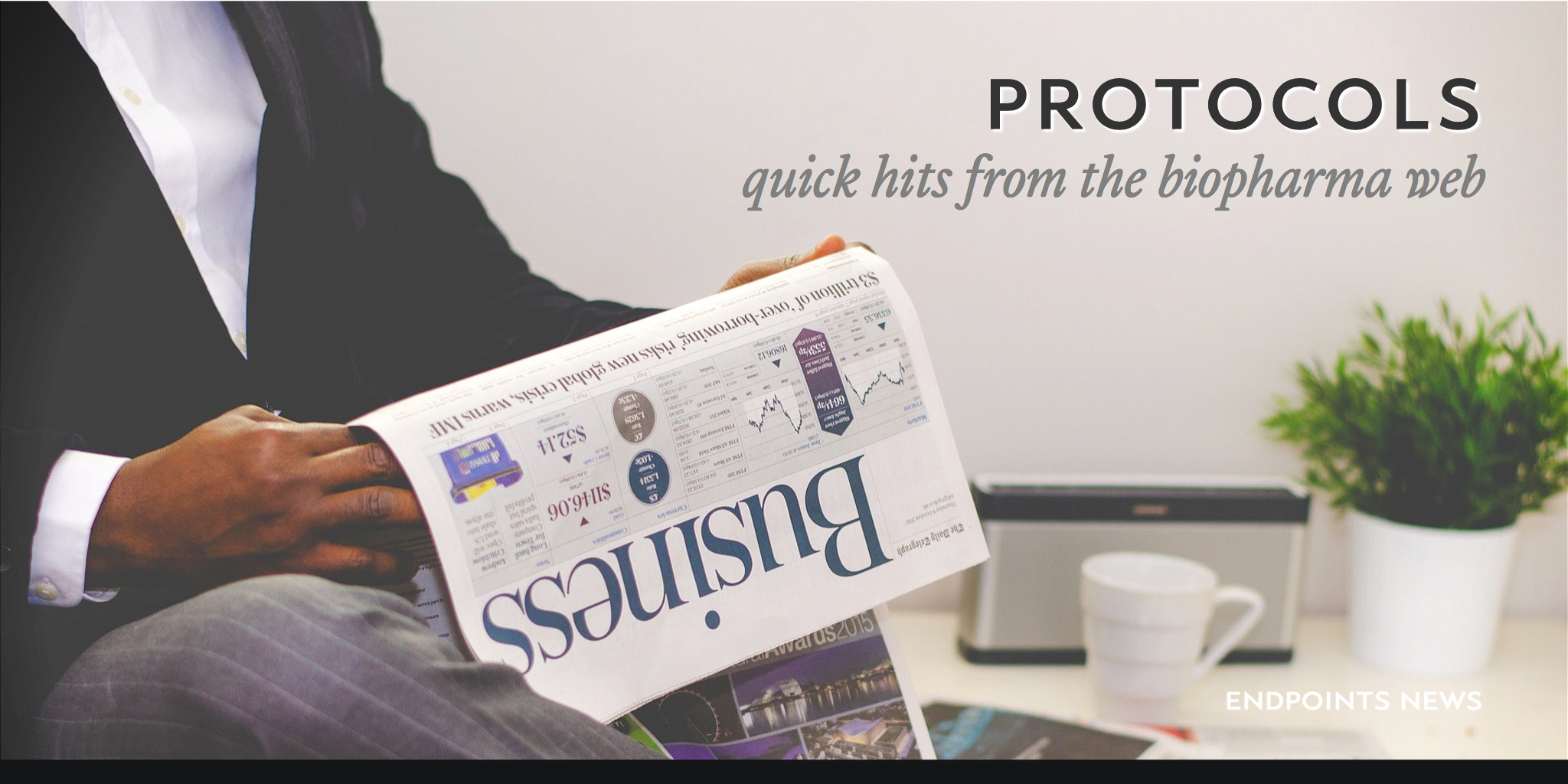 Pieris slammed with FDA hold; Bio­gen adds PhIV for Spin­raza
→ Boston-based Pieris $PIRS has been forced to hit the brakes on a slate of Phase I stud­ies for its 4-1BB/HER2 fu­sion pro­tein drug PRS-343 af­ter the FDA hit the com­pa­ny with a par­tial hold. The biotech can con­tin­ue to dose pa­tients al­ready in the stud­ies, but can't add pa­tients un­til af­ter it con­ducts "an ad­di­tion­al in-use and com­pat­i­bil­i­ty study of PRS-343 with var­i­ous in­fu­sion ma­te­ri­als un­der spe­cif­ic con­di­tions to con­firm suit­abil­i­ty of PRS-343 for ad­min­is­tra­tion in clin­i­cal set­tings." The biotech says no ad­verse events were cit­ed and still plans to launch their Phase II pro­gram for the drug lat­er this year — pro­vid­ed the FDA can be sat­is­fied. "We al­so re­main on track to present com­pre­hen­sive da­ta from both the monother­a­py and ate­zolizum­ab com­bi­na­tion phase 1 stud­ies at a med­ical con­fer­ence lat­er this year," says CEO Stephen Yo­der. Their stock was down about 6% in morn­ing trad­ing Tues­day.
→ Bio­gen wants to see ex­act­ly what ben­e­fits its big SMA block­buster Spin­raza can have on pa­tients who don't re­spond suf­fi­cient­ly well to No­var­tis' gene ther­a­py ri­val Zol­gens­ma. The big biotech says the Phase IV study was in­spired by the sto­ries of some pa­tients who went on Spin­raza af­ter the gene ther­a­py failed to prove a once-and-done treat­ment. "Avail­able da­ta now show that some pa­tients in the long-term study of Zol­gens­ma have moved on to treat­ment with Spin­raza. We be­lieve that, for cer­tain pa­tients, mo­tor neu­rons may be in­suf­fi­cient­ly treat­ed by this gene ther­a­py, and we plan to ini­ti­ate this study to un­der­stand the ex­tent to which Spin­raza may po­ten­tial­ly im­prove out­comes," said Ma­ha Rad­hakr­ish­nan, the CMO at Bio­gen.
→ Myokar­dia is jump­ing on board Ful­crum's dis­cov­ery plat­form in search of new drugs to treat ge­net­ic car­diomy­opathies. The deal starts with a pay­ment of $12.5 mil­lion, with a lit­tle more than $300 mil­lion on the ta­ble for the first drug and up to $150 mil­lion more for each ad­di­tion­al pro­gram. "We have been im­pressed by Ful­crum's abil­i­ty to dis­cov­er new bi­ol­o­gy around ge­net­ic mus­cle dis­or­ders," not­ed Myokar­dia CSO Robert Mc­Dow­ell.
→ UPMC En­ter­pris­es, Cas­din Cap­i­tal and Dol­by Fam­i­ly Ven­tures have stepped up with an ex­tra $20 mil­lion to add to Cere­vance's lat­est round, bring­ing the to­tal to $65 mil­lion. Fore­site Cap­i­tal al­so chipped in some ex­tra cash on the round, which al­ready in­clud­ed GV (for­mer­ly Google Ven­tures), Bill Gates, Take­da Ven­tures, Inc., the De­men­tia Dis­cov­ery Fund and Light­stone Ven­tures. The biotech is work­ing on a pipeline of drugs aimed at a range of CNS dis­eases.
→ Ger­many's Tubu­lis has raised €10.7 mil­lion in Se­ries A cash to back its work on an­ti­body-drug con­ju­gates. Bio­Med­Part­ners and High-Tech Grün­der­fonds co-led the launch round, with con­tri­bu­tions from some in­di­vid­ual in­vestors, the founders as well as Sev­en­ture Part­ners, co­par­i­on, Bay­ern Kap­i­tal, and Oc­ci­dent. "Tubu­lis' ob­jec­tive is to use our dual plat­form ap­proach to gen­er­ate unique­ly matched and dis­ease-spe­cif­ic AD­Cs that com­bine se­lec­tive an­ti­bod­ies with ef­fec­tive pay­loads," said Do­minik Schu­mach­er, CEO and co-founder of Tubu­lis.
→ In more emerg­ing-from-stealth news, Bethes­da, MD-based Gain Ther­a­peu­tics re­ports that the com­pa­ny bagged a $10 mil­lion Se­ries B for their work tar­get­ing "nov­el al­losteric bind­ing sites on en­zymes for the treat­ment of rare ge­net­ic and CNS dis­eases." They're set­ting up 2 IND-en­abling stud­ies for their lead pro­grams. "Our pro­pri­etary and patent­ed plat­form of­fers the abil­i­ty to dis­cov­er and val­i­date pre­vi­ous­ly uniden­ti­fied non-clas­si­cal bind­ing sites on en­zymes that can be reg­u­lat­ed by our nov­el first-in-class drug can­di­dates to re­store (or gain) en­zyme func­tion in rare and dev­as­tat­ing ge­net­ic dis­eases," said Khalid Is­lam, the founder and chair­man of Gain.
→ A col­lab­o­ra­tion in­volv­ing phar­ma gi­ants and a trio of tech trans­fer of­fices at top UK uni­ver­si­ties has out-li­censed a gene ther­a­py to Deer­field, which plans to hand it to re­searchers at their new­ly launched Cure build­ing in the heart of New York City. The pro­gram was ini­tial­ly de­vel­oped at Uni­ver­si­ty Col­lege Lon­don, which is part of the Apol­lo Ther­a­peu­tics al­liance.
→ There has been a slew of terms set for this week's biotech IPOs. The on­col­o­gy biotech iTeos plans to raise around $151 mil­lion by pric­ing shares at $16 to $18. Re­nais­sance Cap­i­tal is al­so track­ing a $75 mil­lion IPO from In­ozyme. An­nex­on, mean­while, is scout­ing for $150 mil­lion to back its work in de­gen­er­a­tive dis­eases.