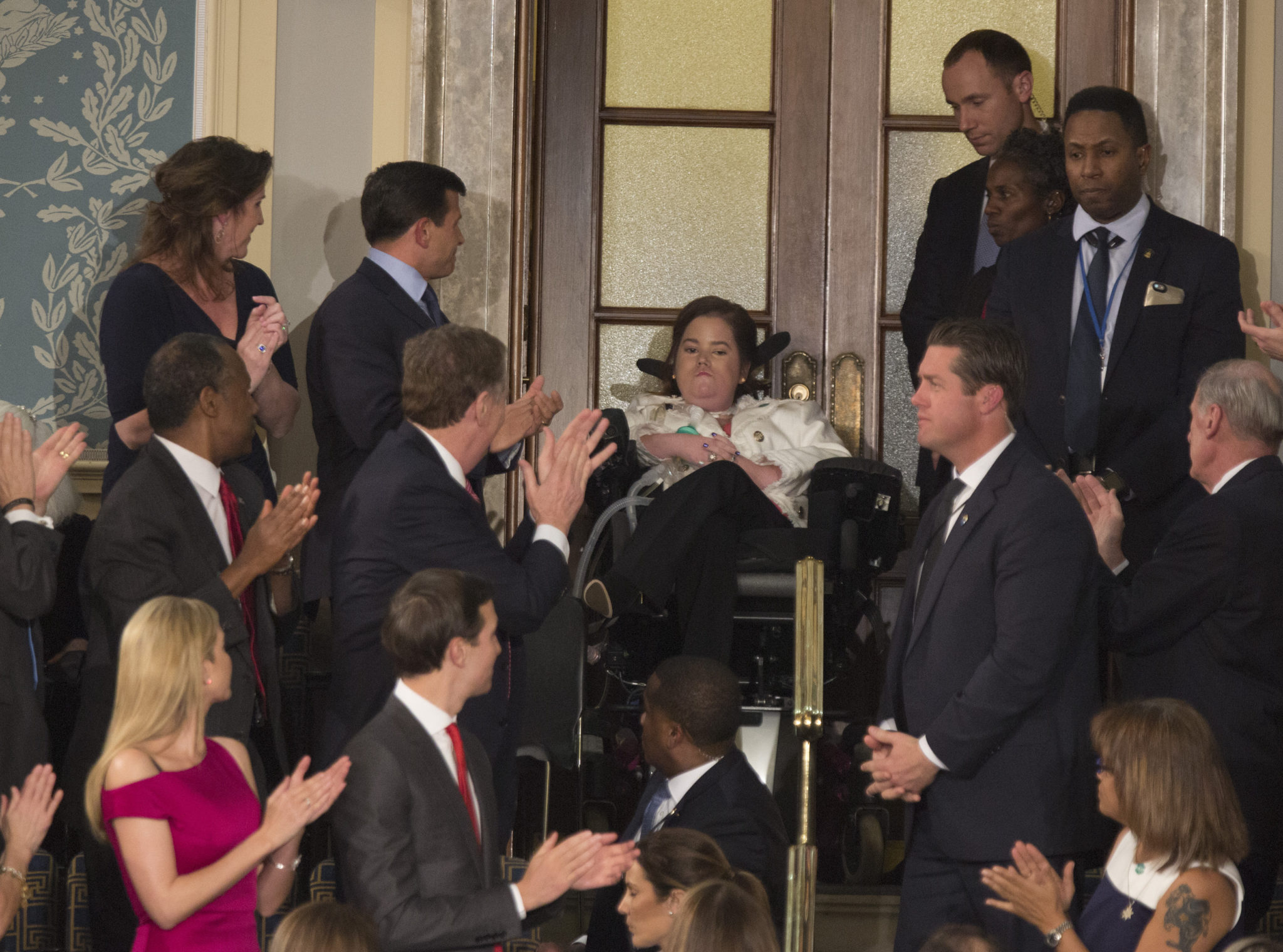 FDA or­ders a rare re­treat on Am­i­cus' mi­gala­s­tat, drop­ping PhI­II de­mand and sig­nal­ing a ma­jor shift for drug de­vel­op­ers
Megan Crow­ley is rec­og­nized by Pres­i­dent Don­ald Trump dur­ing his first ad­dress to a joint ses­sion of Con­gress on Feb­ru­ary 28, 2017. At 15 months old, Crow­ley was di­ag­nosed with Pompe Dis­ease and not ex­pect­ed to live more than a few short years. AP Im­ages
---
Am­i­cus Ther­a­peu­tics $FOLD an­nounced ear­ly Tues­day that the FDA has dropped its de­mand for a new Phase III study of its Fab­ry dis­ease drug mi­gala­s­tat af­ter it was stiff-armed by un­sat­is­fied reg­u­la­tors last fall — then un­der a dif­fer­ent ad­min­is­tra­tion with a dif­fer­ent FDA com­mis­sion­er.
In­stead of pur­su­ing a new and ex­pen­sive late-stage study, Am­i­cus CEO John Crow­ley tells me the com­pa­ny has the green light to file again with the da­ta at hand. And based on dis­cus­sions with the FDA, he adds, the com­pa­ny is shoot­ing to file in the 4th quar­ter, with an ac­cel­er­at­ed ap­proval that could ar­rive in 2018, po­ten­tial­ly slic­ing years off the process.
"These are the days it's good to be a biotech CEO," says Crow­ley, who has been on a roller coast­er ride at the FDA over the past year af­ter be­ing forced to walk back his own plans last No­vem­ber.
John Crow­ley
There is no guar­an­tee of an ap­proval here, but the agency's sud­den volte-face clear­ly sig­nals a new tone that vast­ly im­proves the biotech's shot at an OK — at least in so far as we hear it from Crow­ley. And that could have a ma­jor in­flu­ence on oth­er de­vel­op­ers tack­ling the same task.
In­vestors cheered on the sud­den change in for­tunes at Am­i­cus, bid­ding up shares by 43% in pre-mar­ket trad­ing Tues­day.
Crow­ley has nev­er made a se­cret of the fact that he felt the drug — ap­proved in Eu­rope last year — was ready to go in the US af­ter it com­plet­ed the piv­otal pro­gram. The FDA, though, re­ject­ed his ap­pli­ca­tion, say­ing reg­u­la­tors want­ed more safe­ty da­ta than the Eu­ro­peans need­ed.
That re­jec­tion be­came a cause cele­bre of sorts in DC, as Pres­i­dent Don­ald Trump turned to Crow­ley's daugh­ter, Megan, who suf­fers from Pompe dis­ease, and called out the FDA for the "slow and bur­den­some" process in­volved in new drug ap­provals dur­ing an ad­dress to Con­gress.
"Our slow and bur­den­some ap­proval process at the Food and Drug Ad­min­is­tra­tion keeps too many ad­vances, like the one that saved Megan's life, from reach­ing those in need," Trump said at the time. "If we slash the re­straints, not just at the FDA, but across our gov­ern­ment, then we will be blessed with far more mir­a­cles like Megan."
Crow­ley picked up on that change in think­ing at the White House in a blog post at the time in which he said: "The FDA's reg­u­la­tion of the or­phan de­vel­op­ment process is be­com­ing less flex­i­ble, less ef­fi­cient and less pa­tient-cen­tered."
I asked Crow­ley what had changed be­tween the set­back last fall and the new, soft green light that the FDA has switched to.
First and fore­most, Crow­ley hit the theme that the com­pa­ny had made a con­vinc­ing case with what was avail­able. That in­cludes new da­ta and analy­sis that was made pos­si­ble af­ter the re­jec­tion. The com­pa­ny start­ed from the be­gin­ning to mar­shal the ev­i­dence need­ed to meet the agency's gold stan­dard for an OK. That, he says, was ab­solute­ly key, ul­ti­mate­ly win­ning the day.
In ad­di­tion, he says there's al­so a new frame­work for drug re­views that's been gath­er­ing steam at the agency.
"I do think, can­did­ly, that there is an emerg­ing frame­work in rare dis­eases," he says, point­ing to new ap­provals for Bio­marin on Bat­ten dis­ease as well as a nov­el la­bel ex­ten­sion for Ver­tex based on their in vit­ro as­say.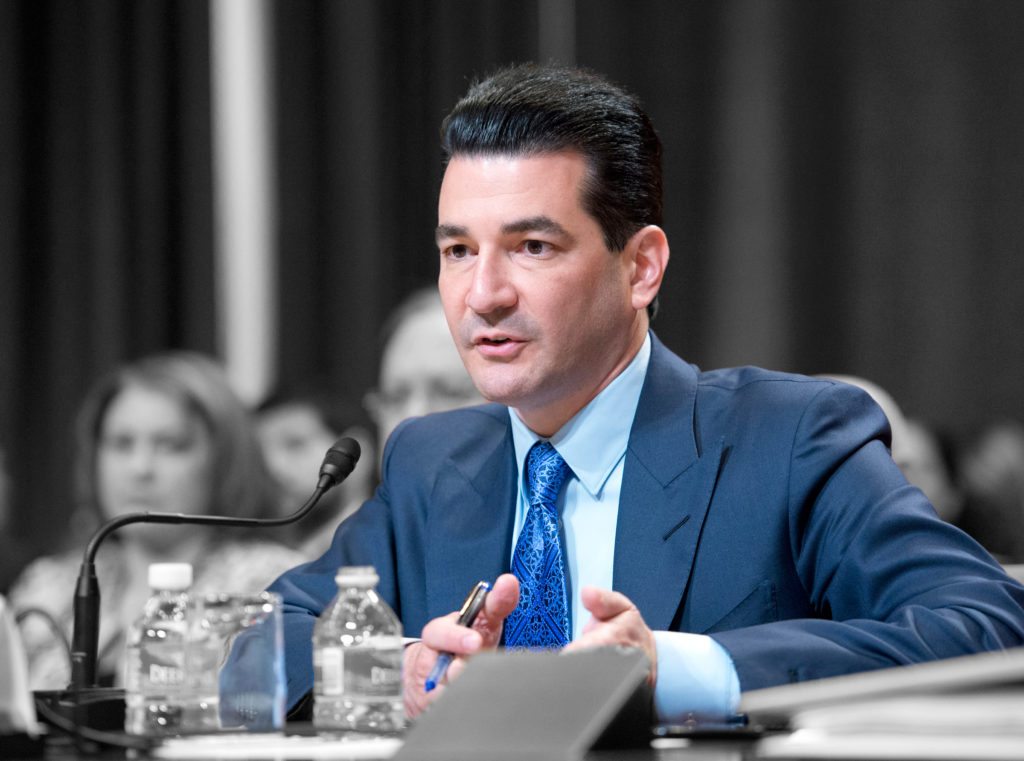 Scott Got­tlieb ap­pears be­fore a US Sen­ate sub­com­mit­tee, June 20, 2017

AP Im­ages
You can bet, though, that there will be plen­ty of sen­ti­ment sug­gest­ing that a change of ad­min­is­tra­tions and a new FDA com­mis­sion­er in Scott Got­tlieb made a telling dif­fer­ence for an abrupt about-face that is ex­tra­or­di­nar­i­ly rare to see at the FDA.
What­ev­er the cause, though, in­stead of prepar­ing to gath­er new da­ta that wouldn't be avail­able un­til 2019, Crow­ley is back to mak­ing launch plans in the US. That will prob­a­bly re­quire a com­mer­cial group of about 50, he says, com­pared to the 80 need­ed to ad­dress a more com­plex and chal­leng­ing pay­er en­vi­ron­ment in Eu­rope.
Biotech has large­ly cheered on new FDA com­mis­sion­er Scott Got­tlieb af­ter he won con­fir­ma­tion by the Sen­ate. He promised to turn to new tech­nolo­gies to help ac­cel­er­ate new ap­provals, but vowed to stick with the in­dus­try gold stan­dard that has gov­erned reg­u­la­tors thoughts on safe­ty and ef­fi­ca­cy date.
So did the FDA just soft­en its stan­dards or wake up to the fact that the drug should nev­er have been re­ject­ed in the first place?
Let's start the dis­cus­sion.