Feds ar­rest pop­u­lar Twit­ter day trad­er over al­leged 'pump and dump' scheme
A day trad­er has been ar­rest­ed and charged for op­er­at­ing a "pump and dump" scheme — on Twit­ter.
Steven Gal­lagher, through his Twit­ter alias@AlexDe­large6553 (named af­ter the fic­tion­al char­ac­ter in "A Clock­work Or­ange"), al­leged­ly tout­ed and en­cour­aged his 70,000 fol­low­ers to pur­chase shares in En­zolyt­ics, a Texas-based biotech de­vel­op­ing mon­o­clon­al an­ti­bod­ies and trad­ing over the counter, among oth­er pen­ny stocks.
As part of the en­force­ment, the SEC has se­cured a court or­der to freeze up to $6.9 mil­lion worth of Gal­lagher's as­sets, in­clud­ing stocks cur­rent­ly held in bro­ker­age ac­counts owned by him­self or his wife. An in­ves­ti­ga­tion is on­go­ing.
Gal­lagher was ar­rest­ed in the North­ern Dis­trict of Ohio on Tues­day af­ter­noon. As of Wednes­day morn­ing, his Twit­ter ac­count is no longer ac­tive.
"As al­leged, Steven Gal­lagher brought old-school boil­er room tac­tics to the Twit­ter age, and op­er­at­ed a so­cial me­dia pump-and-dump scam that de­fraud­ed or­di­nary in­vestors, all so that he could make over $1 mil­lion in prof­its," said Dami­an Williams, the Unit­ed States At­tor­ney for the South­ern Dis­trict of New York. "To­day's ar­rest of Gal­lagher demon­strates that this Of­fice and our law en­force­ment part­ners will be vig­i­lant as se­cu­ri­ties fraud schemes move on­to Twit­ter and oth­er forms of so­cial me­dia."
Ac­cord­ing to an un­sealed com­plaint fea­tur­ing a de­po­si­tion by Kingston Moy, a spe­cial agent with the Unit­ed States De­part­ment of Home­land Se­cu­ri­ty, Home­land Se­cu­ri­ty In­ves­ti­ga­tions, Gal­lagher lured oth­er re­tail in­vestors to pur­chase cer­tain stocks through false and mis­lead­ing state­ments in tweets and Twit­ter di­rect mes­sages, as well as ma­nip­u­la­tive trad­ing.
En­zolyt­ics, one of the cas­es Moy cit­ed, fit in­to that broad­er pat­tern.
As Moy told it, Gal­lagher was al­leged to have bought his first 3 mil­lion shares of $EN­ZC at $0.0007 per share, on or about Ju­ly 14, 2020. He then kept build­ing a stake un­til Sept. 16, at which point he held about 7 mil­lion shares. Mean­while, he made sure to let his Twit­ter fol­low­ers know about the in­vest­ment.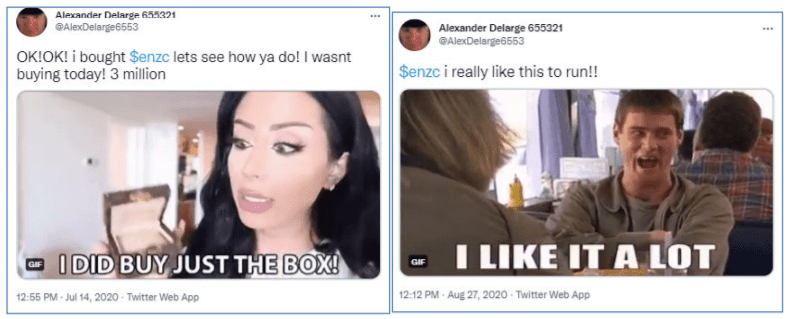 On Sep 16, he sold 3 mil­lion shares. Not that his Twit­ter fol­low­ers would no­tice: That same day, he sent a se­ries of en­thu­si­as­tic tweets re­mind­ing them of his in­vest­ment in the biotech, flag­ging an up­com­ing merg­er and en­cour­ag­ing oth­ers to "Load!! this!"
One of his mul­ti­ple tweets that day read: "$en­zc Will be #1 on my list do [sic] to this ma­jor med­ical news!! the buy­ers in the morn­ing will be many!! Alot [sic] less than now!! just satin [sic]."
The tweets kept com­ing over the next few days, when he tweet­ed en­dorse­ments like: "$en­zc still my #1 great run;" "$en­zc must own #1;" "$en­zc stock of the year!! great start;" and, "This is gonna be a life chang­er. I heard someome [sic] bought 70 mil­lion shares to­day!! Some­one knows what this merg­er means!!! I do!!"
On Sept. 22, he fol­lowed up with tweets call­ing En­zolyt­ics a "long hold" for him, high on his list and say­ing it's "buy­ing time," when in fact he had al­ready sold al­most all of his shares.
Bro­ker­age records and SEC in­for­ma­tion sug­gests that Gal­lagher pock­et­ed around $160,000 in prof­its from his En­zolyt­ics trad­ing. At least two un­named vic­tims, how­ev­er, claimed to have lost thou­sands of dol­lars af­ter fol­low­ing Gal­lagher's ad­vice.